Handyman from hell gets nailed
FOX 2 (WJBK) - This is a story of a manhunt. A handy manhunt. But this isn't just any handyman - he's the handyman from hell.
"I think that he was my friend," said Mary Lou. "And he deceived me. And how could he do that to me?"
And when it comes to manhunts, Rob Wolchek always gets his man - his handyman.
Meet 81-year-old Mary Lou. She lives alone in Sylvan Lake, about an hour north of Detroit.
Last year, Mary Lou was baffled.
"I started noticing I'm bouncing checks," she said. "And I'm taking money out of this account, transferring over to this account so it gets paid."
Mary Lou asked her niece Mary to take a look at her finances.
"She bounced this check, she bounced that check. She couldn't keep up with her credit card payments," said Mary. "This was something that never, ever happened in her past before."
Niece Mary pulled her Auntie Lou's bank records and found a whole lot of lot of checks that were written out to Mary Lou's handyman James Walsh. Checks she says aren't in the check registry.
That wasn't the only thing she noticed.
"There's about $22,000 or so in credit card fraud," her niece Mary said.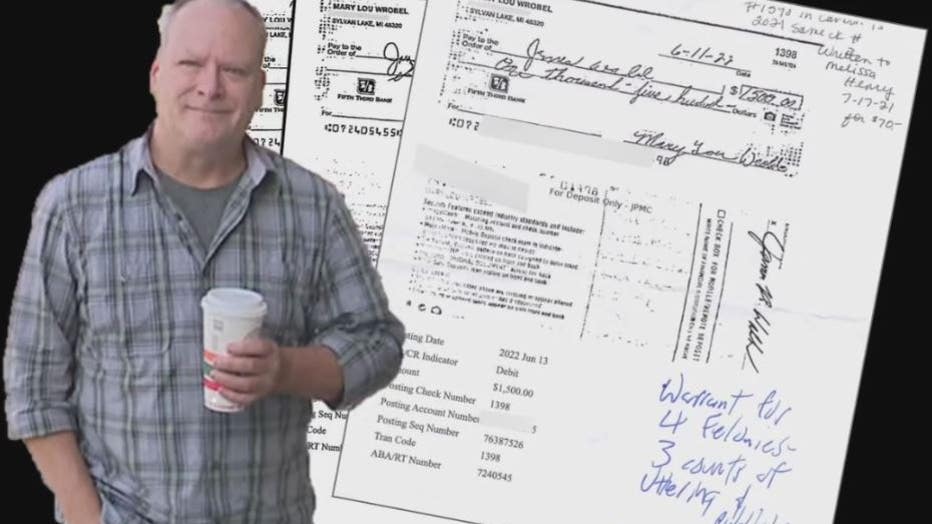 Mary Lou couldn't believe it. Not 'Johnny on the spot' James, who she has had mow her grass and do paint jobs.
"He would be the last person I would think," Mary Lou said. "He was my friend."
"When I looked in her Lake Trust checkbook there was a missing check right in the middle," Mary said.
And there were checks cashed out of order. Checks that James endorsed.
"A lot of them are to cash -- and he forged my signature," said Mary Lou, "I trusted this man," she said.
They took their suspicions about nice guy James to the Sylvan Lake Police Dpartment and filed a report.
Chief Cory O'Donahue spoke about the case.
"We found out over the last year he'd been stealing a lot of money through her," said O'Donahue. "Whether he was taking checks and writing them out to himself, or just tricking her into giving him money."
In all, they believe the handyman helper, helped himself to more than $30,000 from a vulnerable senior.
"I really liked him. He was nice," said Mary Lou.
And just so you know, Mary Lou isn't a rich lady. She worked 30-plus years for Detroit Edison, and now she says she's going to have to sell her house to survive.
As for James Walsh, he's disappeared.
"I can't sleep. I get stomach aches, I'm buying Pepto Bismol, he just made my life miserable," she said. "He was my friend."
Rob Wolchek interviewed Mary Lou in the spring and told her if the Sylvan Lake police got charges on James, he would find him for her.
And in early summer, James Walsh was charged with four felonies.
Now, Wolchek just had to find "The handyman from hell."
James was well known in Sylvan Lake.  he'd hung out with the locals but no one had seen him for a while. Everyone knew him as "JB."  Rob found out James Walsh had no valid driver's license, no car registered to him, and no current address.
There were some JB sightings but they always turned out to be the wrong guy.
Wolchek checked periodically on his Facebook page, and he claimed he was staying with his brother in Georgia.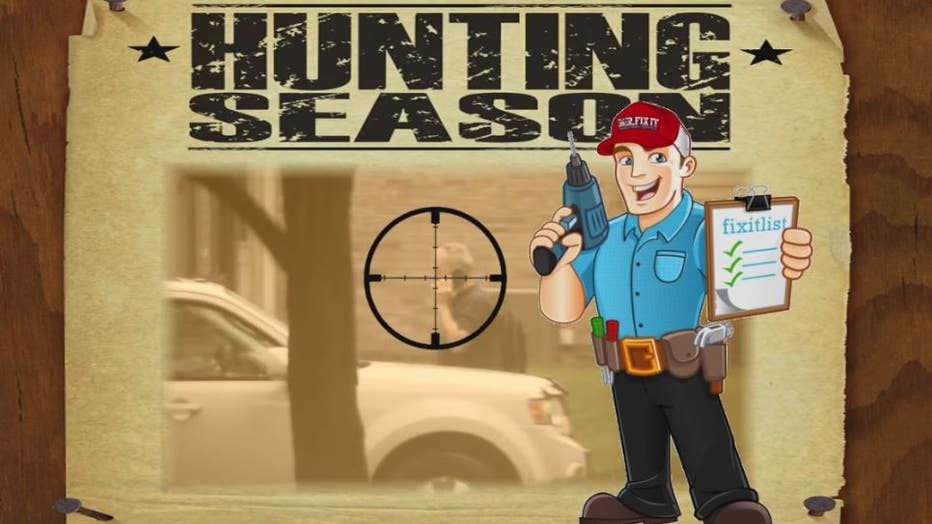 Rob even had the FOX 5 Atlanta Investigative Team do a little surveillance down south. They saw the brother, but no sign of the fugitive fix-it man.
Then, a couple of weeks ago, James changed his profile picture to a bridge that kind of looks like Michigan. It was time to do some sleuthing.
Wolchek found the bridge which is in Waterford. The foliage looked about the same as in James' picture, and even the poster on the bridge was the same.  Rob had a feeling JB was back in town.
Then, one of James' Facebook friends tagged JB in a post.at a University of Michigan football game. Next, he went to Tiger Miguel Cabrera's retirement weekend at Comerica Park. Rob heard that JB was seen playing beach volleyball at a place in Commerce.
A few days later, Wolchek saw an SUV at JB's Facebook friend's condo in Waterford. A basket of clothes in the front seat and Michigan license plates that looked kinda janky.
And a few hours later - it's him! James must have missed that Detroit-style pizza because he heads to Jets and chows down on a pie in his front seat.
The next day, Wolchek follows JB to a Waterford 7-Eleven. Okay James, time for a Big Gulp.
Wolchek: "Where have you been?"
James Walsh: "I've been around. I lived in Atlanta for a while. I just got back. I was having some cancer treatments."
Wolchek: "Oh okay. I'm sorry you're sick."
Rob guesses he's been too sick to call the police when they wanted to question him - for the past six months!
Wolchek: "I want to talk to you about Mary Lou - you remember her?"
James Walsh: "I do."
Wolchek: "Well, you were her handyman right?"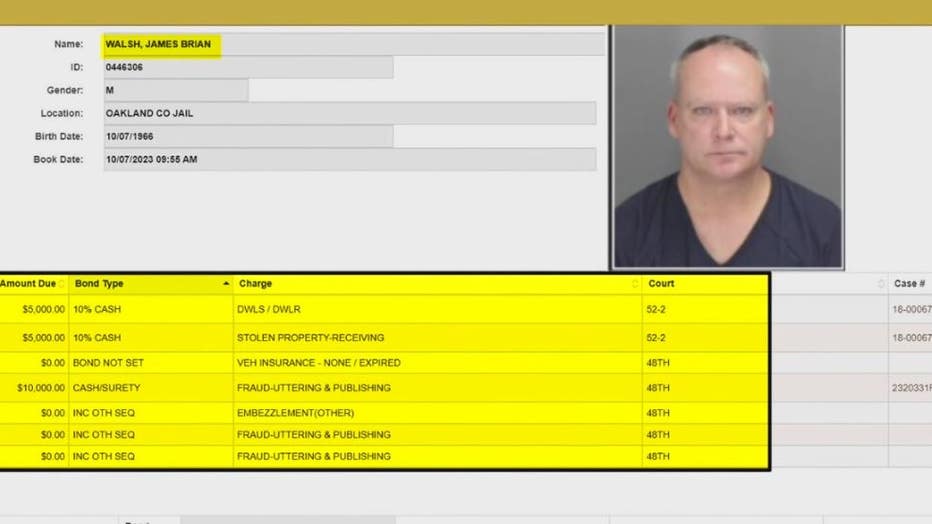 James Walsh: "For a little while, yes."
Wolchek: "Her family was looking and it appears you may have taken some money from her."
James Walsh: "That's false."
Wolchek: "That's false? You didn't take any money from her?"
James Walsh: "I did not."
Remember, niece Mary suspects the dandy handyman nabbed at least $30,000.
Wolchek: "How much money did you make off of her?"
James Walsh: "I don't know right now. I couldn't tell you."
Wolchek "Give me a rough ..."
James Walsh: "I don't know."
Wolchek: "You didn't forge any checks?"
James Walsh: "I did not."
Wolchek: "You didn't take checks out?"
James Walsh: "I did not."
Wolchek: "If you notice, sometimes the handwriting looks a little different.  She's missing a whole bunch of money and she thinks you took it."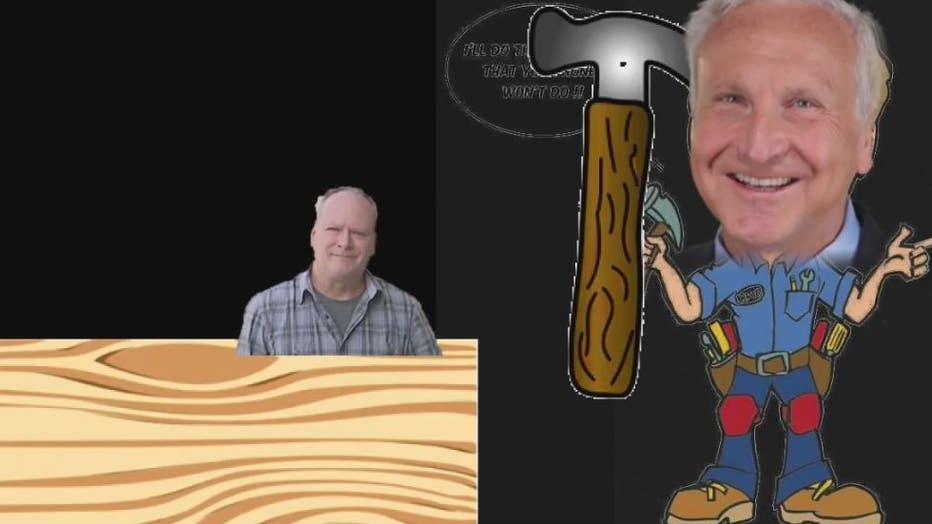 James Walsh: "Well that's false. Categorically that's false."
James denies everything - even stuff Rob is pretty sure he's lying about, like info he got from the Secretary of State's Office.
Wolchek: "I ran your plates and they come back as being like, stolen plates."
James Walsh: "It's not stolen."
Wolchek: "Missing plates?"
James Walsh: "No."
Wolchek: "Is the car registered?"
James Walsh: "Yes it is."
Wolchek: "It is? And do you have a driver's license?"
James Walsh: "I do."
Wolchek: "Here let me give you my .... can you show me that?"
James Walsh: "No. Not at the moment, no."
It was time for Rob to hammer the handyman.
Wolchek: "So you have a warrant for four felonies. Three counts of uttering and publishing, and one count of embezzlement out of Sylvan Lake."
James Walsh: "Okay. I'll have to get in touch with them then."
Wolchek: "You want to drive over there right now and turn yourself in?"
James Walsh: "Not at the moment. I need to get going right now. I got some doctor stuff to attend."
Wolchek: "So you've been sick. And that's all true?"
James Walsh: "Yes it is."
Wolchek: "And you didn't take her money?'
James Walsh: "No, I did not."
Wolchek: "And where are you staying now?"
James Walsh: "With a friend right now. I'm done right now."
Wolchek: "All right."
James Walsh: "Thanks for letting me know."
Wolchek: "I'll see you in court."
"Okay."
After Wolchek informed the police that he had located fugitive James Walsh AKA "JB."  Sylvan Lake and Waterford police head out to get him and it doesn't take long.
"We got him Saturday morning which we found out later was his birthday," said Chief O'Donohue. "So it was a nice way to celebrate his birthday by locking him up."
Ah, JB, that nickname fits you well.  JB - "Jailbird" in the Hhhhhall of Shame!
It turns out James Walsh actually had eight arrest warrants including one for receiving stolen property. He's being held in the Oakland County Jail.