How much could the Detroit casino strike could cost the city, Michigan?
DETROIT (FOX 2) - The Detroit casino strike has the potential to cost the city and state hundreds of thousands of dollars in tax revenue a day, according to the Detroit Casino Council.
Roughly 3,700 workers at MGM Grand, MotorCity Casino, and Hollywood Casino at Greektown walked off the job at noon Tuesday after the union and businesses failed to reach an agreement. Union contracts expired at 11:59 p.m. Monday, but the deadline was extended by 12 hours.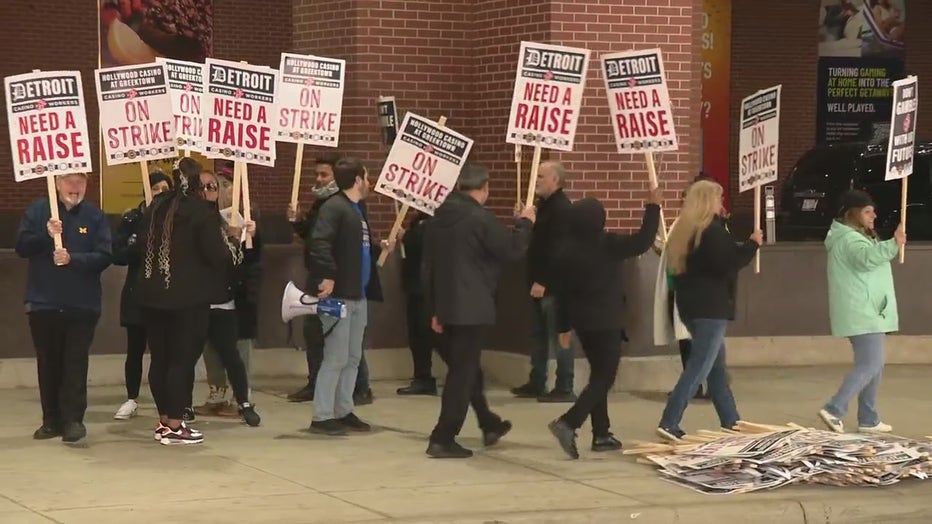 Casino taxes are a major source of revenue for the city, and the strike could potentially take a big bite out of that. 
According to data from the Detroit Casino Council, $738,000 in city and state tax revenue could be at risk daily. The city could lose the most money - $452,000 per day, while the state has $286,000 at risk.
The casinos are also at risk of losing millions of dollars during the strike:
$1.7 million per day in revenues for MGM Grand Detroit (operated by MGM ResortsInternational)
$1.1 million per day in revenues for MotorCity Casino
$652,000 per day in revenues for Hollywood Casino at Greektown (operated by PENNEntertainment)
The striking union members work in food and beverage, housekeeping, retail outlets, slots and table games, engineering, and more, meaning all these areas risk being impacted by the strike. 
Ahead of the strike, MGM Grand Detroit said it plans "to continue to operate our business during any potential strike and will remain open this week and beyond and "take whatever lawful action is necessary to fill shifts and continue providing our customers with entertainment and service."
Watch FOX 2 News Live