How To Get 10 Servings of Fruits and Vegetables In One Green Smoothie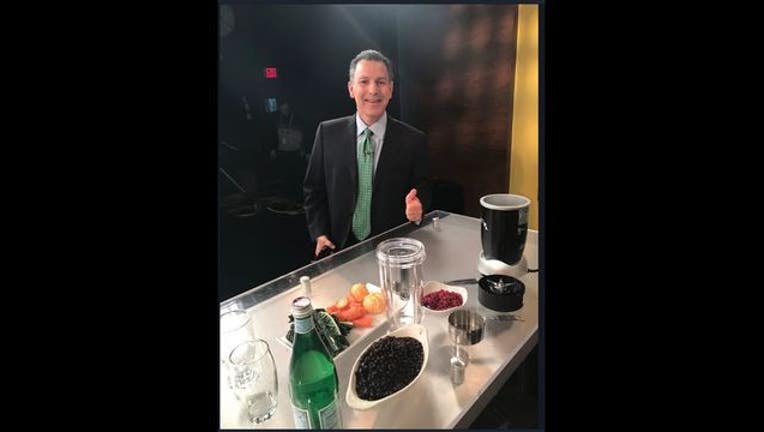 article

A Big, Delicious Green Smoothie!
Ingredients:
1 apple with skin, cored
1 orange, peeled
1 cup frozen, wild blueberries
1 small plum tomato
1 whole carrot
4 cups or handfuls of fresh baby spinach
1/4 avocado
8 ounces of water
Directions:
Start by adding the liquid to your blender followed by the soft fruit. Add the greens to your blender last. Blend on high for 30-60 seconds, or until the smoothie is creamy.
Serving Size: You can either drink this as one big meal, or share with a partner. You can also split this smoothie into breakfast and lunch portions if you are doing a green smoothie cleanse.
Nutrition Information
Calories: 433
Fat: 13g (grams)
Protein: 9g
Carbohydrates: 82g (includes 25 grams of fiber)
Vitamin A: 752% RDA (Recommended Daily Allowance)
B1 (Thiamine): 44% RDA
B2 (Riboflavin): 37% RDA
B3 (Niacin): 29% RDA
B5 (Pantothenic Acid): 32% RDA
B6 (Pyridoxine): 58% RDA
Folate : 89% RDA
Vitamin C: 160% RDA
Vitamin E: 34% RDA
Vitamin K: 506% RDA
Calcium: 27%
Copper: 61%
Iron: 71%
Magnesium: 50%
Manganese: 247%
Phosphorus: 37%
Potassium: 40%
Selenium: 7%
Sodium: 10%
Zinc: 25%
Omega-3 Fatty Acids: 163%
Omega-6 Fatty Acids: 10%