"I just signed your death warrant": Nassar gets 175 years after 7 days of testimony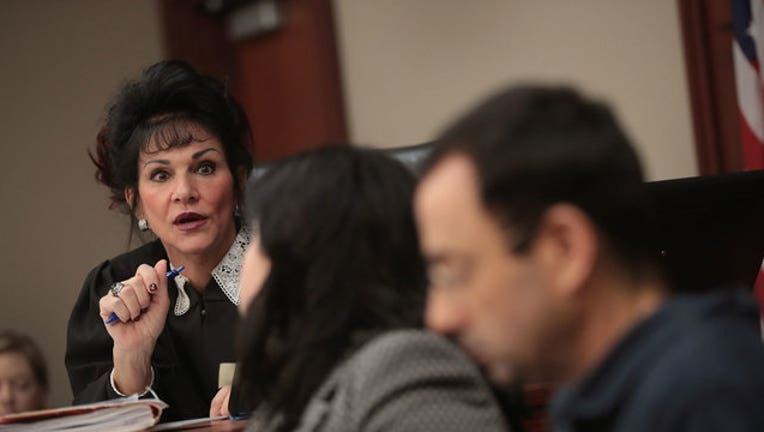 article
(WJBK) - After over 100 victim impact statements and seven days in court, Larry Nassar was sentenced to 40 to 175 years in prison.
Nassar, a former sports medicine doctor at Michigan State University and USA Gymnastics, pleaded guilty to seven counts of criminal sexual conduct in Ingham County, Mich. In November 2017, he accepted a plea deal that dictated the low end of his sentence would range from 25-40 years, and the high end being life in prison. It also required that he listen to all those wishing to give victim impact statements.
Over an extraordinary 7-day sentencing hearing, nearly 156 survivors shared their stories of sexual abuse and manipulation, and the ensuing destruction that derailed many of their lives. The number who wished to speak at first, about 90 women, grew day-by-day as survivors' powerful statements spread across the world.
Each day, prosecution would announce that more survivors had come forward and wanted to stand up in court.
Both teens and women in their 30s alike spoke of their sexual abuse, along with heartbroken parents expressing guilt for letting it all happen. Ingham County Circuit Court Judge Rosemarie Aquilina gave each hearing an individual response, encourage these survivors to leave their pain in the courtroom and stay strong. 
On the third day, Nassar wrote the judge a handwritten letter asking to end the sentencing early on the grounds that he was unsure he could handle it mentally. He added the judge was turning this case into a media circus, and complained of physical ailments as he sat in court each day. 
"You may find it harsh that you are here, listening. But nothing is as harsh as what your victims endured for thousands of hours at your hands," Aquilina said. "Spending 4 or 5 days listening to them is significantly minor considering the hours of pleasure you had at their expense and ruining their lives."
On day four, Olympians Jordyn Wieber and Aly Raisman gave powerful testimony live in court. Raisman, part of the famous Fierce Five at the London Olympics, eviscerated Nassar, along with the organizations he worked for.
"If just one adult listened and had the courage and character to act, this tragedy could have been avoided. I and so many others would have never, ever met you."
She said she represented the USA at two Olympics and both the USAG and USOC were quick to capitalize and celebrate her success. But they never reached out when she came forward.
On day five, 15-year-old Emma Ann Miller said Michigan State University is still billing her for her appointments where she was sexually assaulted. Her final treatment was in August 2016, meaning she may have been one of the final victims of Nassar before he was arrested. A week after last treatment, he was let go. 
One tearful parent used her time to speak to express a clear message: please stop blaming parents for what he did to little girls.
"Quit shaming and blaming the parents. Trust me, you would not have known and you wouldn't have done anything differently. So stop," she said. 
As the testimony continued day after day, Nassar's former employing organizations faced the heat. During a recess, one survivor confronted MSU President Lou Anna K. Simon, who many survivors felt turned a blind eye.  According to a Detroit News investigation at least 14 MSU officials were told Nassar assaulted young women. Simon claims she never knew who the culprit was.
MSU's student paper, the student government, and even state legislators are calling for Simon's ouster. But MSU's board of trustees is standing behind her in a prepared statement after a four-hour closed door meeting.
"We love the job she's doing, she does a good job," said trustee Joel Ferguson. 

On Monday, three members of USA Gymnastics Board of Directors resigned, including their chairman.
"We believe this step will allow us to more effectively move forward in implementing change within our organization," Kerry Perry, president and CEO, said in a statement.
On day six, USA Mattie Larson testified that she was so desperate to avoid heading to the national team's training ranch where Nassar abused girls, she purposely injured herself. She described moving a bathroom mat, splashing some water on the floor, and hitting herself against the floor to make a bump, and make it seem as if she'd fallen in an accident.
According to the New York Times, the NCAA announced Thursday they are looking into MSU's handling of the case.
"The NCAA has requested information from Michigan State about any potential rules violations," said Donald M. Remy, the association's chief legal officer  to the New York Times.
On the final day in court Wednesday, the victim impact statements were capped off by Rachael Denhollander, who was one of the first to come forward in September 2016. That's when she contacted Michigan State University police after reading reports that USA Gymnastics was mishandling complains of sexual misconduct. 
And moments before Nassar learned his sentence, Michigan Assistant Attorney General Angela Povilaitis spoke on behalf of the team that helped facilitate these seven days of powerful stories:
"To each survivor, thank you. Thank you for coming forward, for trusting us, for doing what is so hard and difficult, especially when you reported it to the police... especially to those who have had to testify in court. On behalf of the entire attorney general and MSU police department team, we believe you and always have. We thank you. We are proud to stand up for and with you, and you are our heroes."
Defense had the chance to speak as well, saying that although in pales in comparison, Nassar is a "broken shell of a human." They spoke on the threats made against them and their families for representing Nassar, which is required by law.
Then, Nassar himself spoke:
"Your words these past several days have had a significant emotional effect on myself and have shaken me to my core. I also recognize that what I feel pales in comparison to the pain trauma and emotional destruction that all of you (experienced.)"
Nassar was sentenced to 40 to 175 years in prison. He has 21 days to appeal.
Judge Aquilina praised the victims who appeared in her court since Jan. 16, calling them "sister survivors," while also assuring them that their perpetrator will pay. 
Separately, Nassar has already been sentenced to 60 years in federal prison for child pornography crimes, and is also scheduled to be sentenced next week on more assault convictions in Eaton County, Michigan.