Inside the Paint Bus - an art studio on wheels born in Detroit
DETROIT (FOX 2) - Imagine getting your closest dozens of friends together and getting on board a retro-fitted school bus. No, this isn't a party bus - this is the Paint Bus and it's a dream come true for a Detroit mom.
If necessity is the mother of invention, it was never more true for a Detroit mom. Lashay Heard is the founder and owner of The Paint Bus and, at 26-years-old, she's poured her heart into the business which started in the middle of the pandemic.
"I guess I got here by trying to find creative ways to stay a float especially during the pandemic," Heard said. "It started off with just single paint kits selling it, then I was doing parties, and I was like what's the next step?"
She skipped a traditional brick-and-mortar and took her show on the road.
"I got on another mobile business and I was like you know what? I think I could probably do a paint studio. And we started looking for buses and trailers and we found this and we ran with it," she said.
As a young mom of two, Heard says she was used to doors closing. But she always believed she would be her own boss one day – even if she didn't have all the answers right away.
With a little bit of trust of a seller in Grand Rapids, the young mom of two transformed a party bus into a mobile art studio.
"We went to Grand Rapids I gave him a down payment we both signed took a picture of each other's ID a came back a month later I gave him the rest of the money and we drove off," she said. "The neighborhood where the bus sits is the neighborhood where we're both from...and our neighbors, people in the neighborhood would just come to us and say just keep going, you can get it down."
Within a  ear, the bus has taken off with wood tables, stools, a sink with running water, lights, a sound system, and a wine cooler for grown-ups.
"Booking is off the chain. Detroit loves us and we love Detroit," she said. "We're going to get another bus before the end of the summer, business is super crazy!"
Reserve the Paint Bus at DKPaintd.com.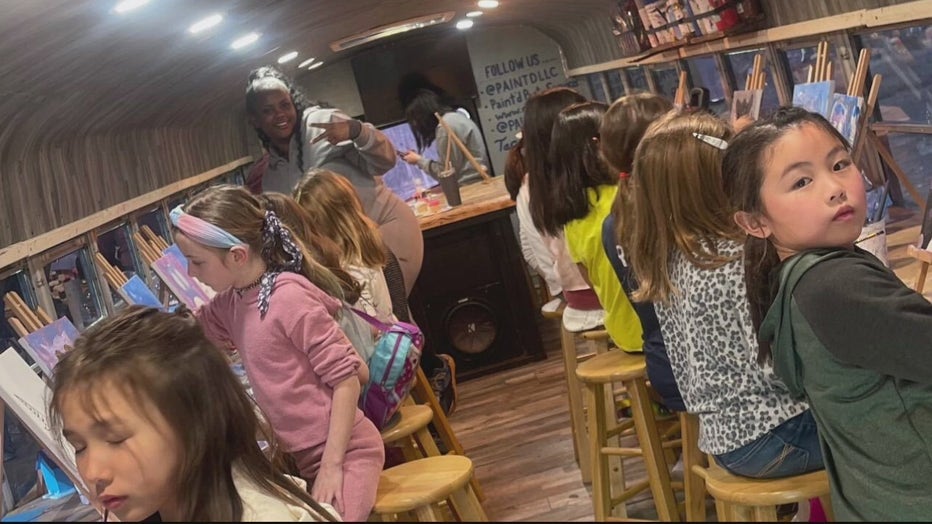 The Paint Bus - a Detroit original on wheels has room for 30