IS group claims responsibility for London car, knife attack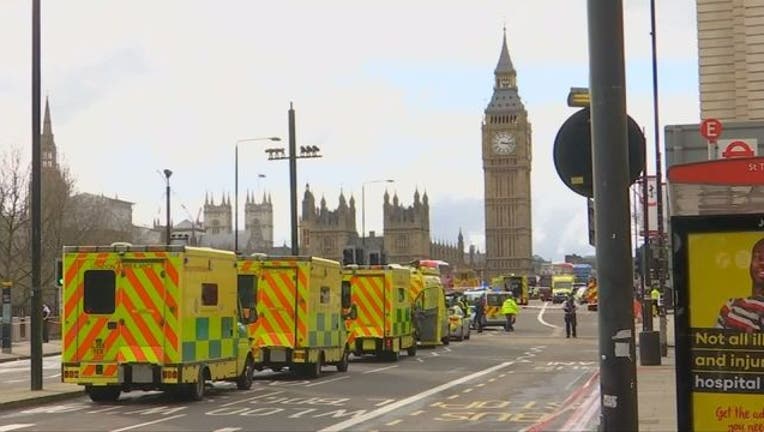 article
LONDON (AP) - The Islamic State group claimed responsibility Thursday for an attack by a man who plowed an SUV into pedestrians on a crowded London bridge and then stabbed a police officer to death on the grounds of Britain's Parliament.
The attacker was born in Britain and known to authorities who had once investigated him for links to religious extremism, British Prime Minister Theresa May said Thursday in a sweeping speech in which she also encouraged Britons to go about their lives.
The Islamic State group said through its Aamaq News Agency that the attacker was a soldier of the Islamic State who "carried out the operation in response to calls for targeting citizens of the coalition" of countries fighting IS in Syria and Iraq. In addition to the police officer and the attacker, who was shot by police, two people died on Westminster Bridge and at least 30 others were injured, seven critically.
British officials did not release the attacker's identity or confirm a link with the Islamic State group, though May did say it would be wrong to describe the attack as "Islamic" extremism.
"It is Islamist terrorism," she said. "It is a perversion of a great faith."
The IS group has been responsible for numerous bloody attacks around the globe and has specifically called for Western followers to carry out this kind of attack in their own countries, though the group has also claimed attacks later found to have no clear links to it.
May set an unyielding tone Thursday in a sweeping statement before the House of Commons. While she honored the police, she also saluted the actions of millions of people who went about their lives as normal, describing it as proof that the act of terror failed.
"As I speak millions will be boarding trains and airplanes to travel to London, and to see for themselves the greatest city on Earth," she told the House of Commons. "It is in these actions - millions of acts of normality - that we find the best response to terrorism --a response that denies our enemies their victory, that refuses to let them win, that shows we will never give in."
Parliament began its moment of silence at 9:33 a.m., honoring the shoulder number of the murdered officer, Keith Palmer, a 15-year veteran of the Metropolitan Police and a former soldier. Then Parliament, which was locked down after the attack, returned to business -- a counter to those who had attacked British democracy.
"Those who carry out such wicked and depraved acts as we saw yesterday can never triumph in our country and we must ensure it is not violence, hatred or division but decency and tolerance that prevails in our country," Trade Secretary Liam Fox said.
"Hear, hear!" lawmakers from all parties responded in unison.
Police believe the attacker acted alone and there is no reason to believe "imminent further attacks" are planned, she said. He had been investigated before but police believed he was a peripheral figure, May said. At least eight people were arrested in raids, some in the city of Birmingham, in the central part of the country.
Mayor Sadiq Khan called for Londoners to attend a candlelit vigil at Trafalgar Square on Thursday evening in solidarity with the victims and their families and to show that London remains united.
London went on. Parliament Square, Westminster Bridge and several surrounding streets remain cordoned off by police. Scores of unarmed officers in bright yellow jackets were staffing the perimeter tape, guiding confused civil servants trying to get to work.
In Parliament's New Palace Yard, a blue police tent was erected over the spot where the stabbing and shooting occurred, and two forensic officers worked at a trestle table nearby.
Metropolitan Police counterterrorism chief Mark Rowley revised the death toll from five to four, including the attacker, the police officer and two civilians. He said that 29 people required hospitalization and seven of them were in critical condition. He also said that authorities were still working out the number of "walking wounded." Police had previously given the total number of injured as around 40.
One of those killed was Aysha Frade, a British national whose mother is Spanish, the Spanish Foreign Ministry said.
A doctor who treated the wounded from the bridge said some had "catastrophic" injuries. Three police officers returning from a ceremony to honor their bravery were among the injured.
May said people from 11 countries were among the victims. They included: 12 Britons, 3 French, 2 Romanians, 4 South Koreans, 1 German, 1 Pole, 1 Irish, 1 Chinese, 1 Italian, 1 American and two Greeks required hospital treatment. Police earlier said that seven of the 29 who are hospitalized are in critical condition.
The threat level for international terrorism in the U.K. was already listed at severe, meaning an attack was "highly likely."
President Donald Trump was among world leaders offering condolences.
London has been a target for terrorism many times over past decades. Just this weekend, hundreds of armed police took part in an exercise simulating a "marauding" terrorist attack on the River Thames.
May underscored that the attack targeted "free people everywhere," and she said she had a response: "You will not defeat us."
"Let this be the message from this House and this nation today: our values will prevail," she said.