Jimmy Carter: The Carter Center now accepting "messages of support" for former president
ATLANTA - People from all over the world are leaving kind notes and sharing their favorite photos of the 39th U.S. president, Jimmy Carter.
In the wake of the announcement that Carter opted to spend the rest of his life at home receiving hospice care, surrounded by his loved ones, The Carter Center unveiled a new way for supporters to send messages of peace and comfort to him and his family.
"President Carter, you inspire Americans and citizens of the world to live a life of good work, loving relationships, and service to others. You will continue to inspire us and make a difference long after you leave this earth. Well done, good and faithful servant. Thank you - from a world that you made a better place," read a post from Mary Spencer.
Another admirer from the Dominican Republic thanked Carter for the years his center partnered with the Caribbean country, observing their presidential elections:
"President Carter, you're a man of supreme integrity, honesty, and honesty. You helped my country, The Dominican Republic, with our elections and ensured they were true and honest, showcasing the will of our people," said Bryan Verdier-Pockels. "God bless you now and always."
It is called 'Kudoboard', and it works almost like a virtual greetings card.
To leave your own message, use this link to visit The Carter Center's official website. Click "Add to board" and then fill out the requested information. Once your post has been reviewed, it may be public for the world to see.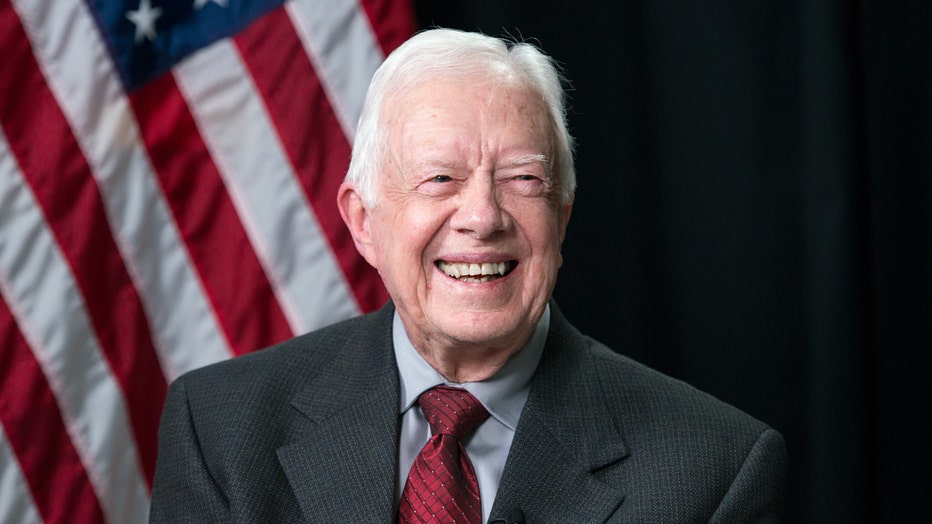 Former U.S. President Jimmy Carter, 2014.(Credit: LBJ Library/The Carter Center)
The Center: Former President Jimmy Carter enters hospice care
Former President Jimmy Carter, who at 98 years old is the longest-lived American president, entered home hospice care in Plains, Ga. on Saturday, Feb. 18. The Carter Center confirmed the decision in a statement shortly after.
According to a spokesperson with the center, Carter "decided to spend his remaining time at home with his family and receive hospice care instead of additional medical intervention." This came after the humanitarian took a series of short hospital trips.
Read more about this decision here.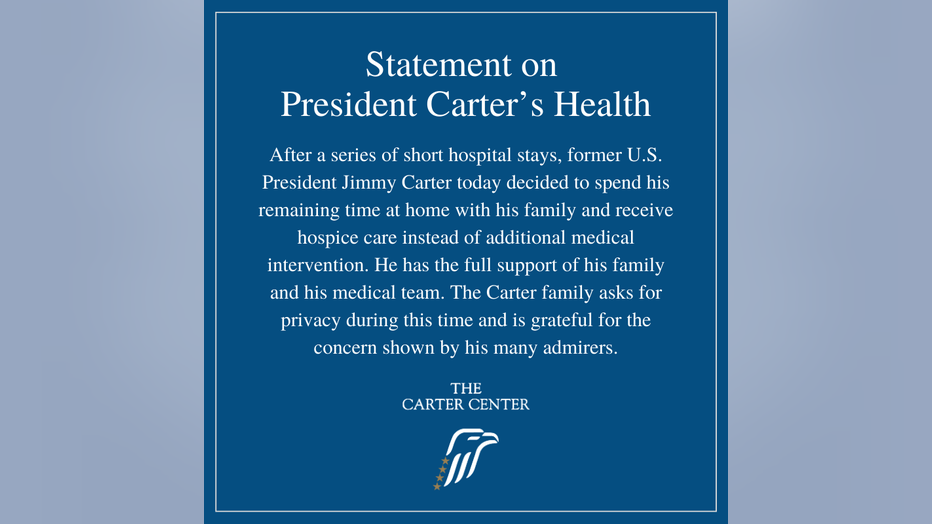 (Credit: The Carter Center)
Timeline of Jimmy Carter's health over the last nine years
FOX 5 Atlanta has reported on the former president's health throughout the years.
2015
At 90, Carter shared he had received surgery to remove a small mass in his liver. The surgery ended up revealing he had cancer that was spreading.
A statement released by the 39th president read:
"Recent liver surgery revealed that I have cancer that now is in other parts of my body. I will be rearranging my schedule as necessary so I can undergo treatment by physicians at Emory Healthcare. A more complete public statement will be made when facts are known, possibly next week."
In a news conference at The Carter Center, he revealed he had four small spots of melanoma on his brain and would begin radiation.
"I was surprisingly much more at ease than my wife was."
Carter said he found out in May, but didn't tell his wife until June.
At the news conference, Carter appeared to be upbeat and in good spirits.
"I'm ready for anything and looking forward to a new adventure," he said. "It's in the hands of God."
Former President Jimmy Carter said a new brain scan showed no signs of cancer. The 91-year-old made the announcement during his Sunday School class at Maranatha Baptist Church. 
"When I went in this week, they did not find any cancer at all, so I have good news," said the former president to a congregation of about 350 who followed with applause.
2016
In March 2016, Carter announced that his recent scans still showed no signs of cancer and that he would no longer need doses of an immune-boosting drug.
Carter said he had an MRI in September "and it turned out to be OK." He said scars from the small tumors once detected on his brain were still visible but hadn't changed in size.
2019
According to a statement issued from the Carter Center, the former president was getting ready to go turkey hunting, something he is known to frequently do, when he suffered a fall.
The statement said he underwent surgery at Phoebe Sumter Medical Center in Americus, Ga. His surgeon said the operation was a success.
Former President Jimmy Carter was released from the hospital just days after the fall that broke his hip.
The Carter Center said he made plans to teach Sunday school that weekend at Maranatha Baptist Church in Plains.
Former President Jimmy Carter canceled plans to teach Sunday school just days after undergoing surgery for a broken hip.
"Though he is progressing well, he underestimated the amount of time he would need to recover from his recent hip replacement," Carter spokeswoman Deanna Congileo said in a statement.
Less than a month later, the former president returned to teaching Sunday school in Georgia for the first time since breaking his hip.
Carter told people gathered at the Maranatha Baptist Church in Plains that he and his wife, Rosalynn, have nursing care at home and are doing fine. He thanked those present for their prayers and good wishes.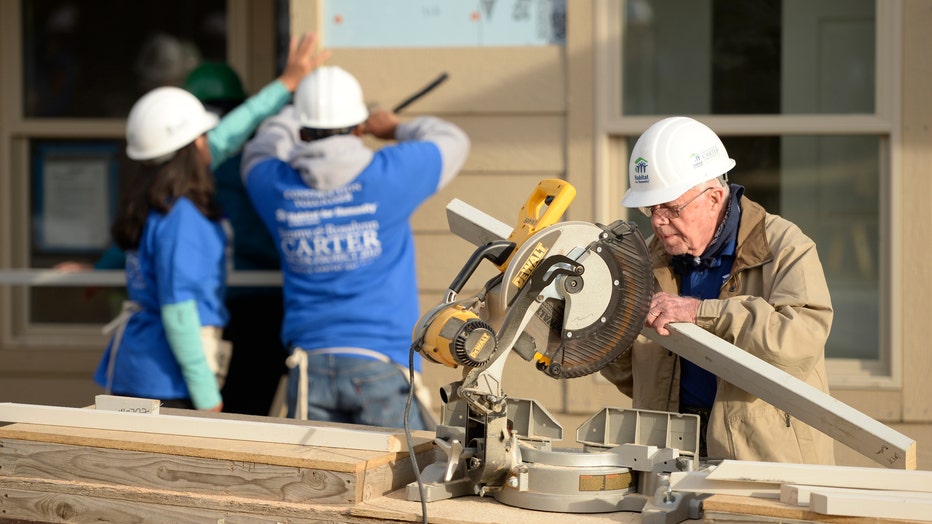 DENVER, CO - OCTOBER 09: Former president Jimmy Carter works on building a home during Habitat for Humanity's Carter Work Project event in the Globeville Neighborhood in Denver, October 09, 2013. Since 1984 the former president and his wife have dedi
FOX 35 Orlando originally reported on Carter when he picked up a hammer and nails again just months after the surgery.
Carter and his wife Rosalynn were getting ready to build homes for Habitat for Humanity in Nashville, Tenn. by October.
A spokesperson for the nonprofit organization told The Hill: "There have been many times when people have tried to count President Carter out, and they have never been right. We are excited that they will both [be] back."
Note: The picture shown above is from 2013.
Former President Jimmy Carter had another fall at his home in Plains, Ga. This time, he fractured his pelvis and went to the hospital for treatment and observation.
Carter Center spokeswoman Deanne Congileo described the fracture as minor. Her statement said that the then 95-year-old was in good spirits at the Phoebe Sumter Medical Center after falling, and that he was looking forward to recovering at home.
Carter was released from the hospital three days after his fall.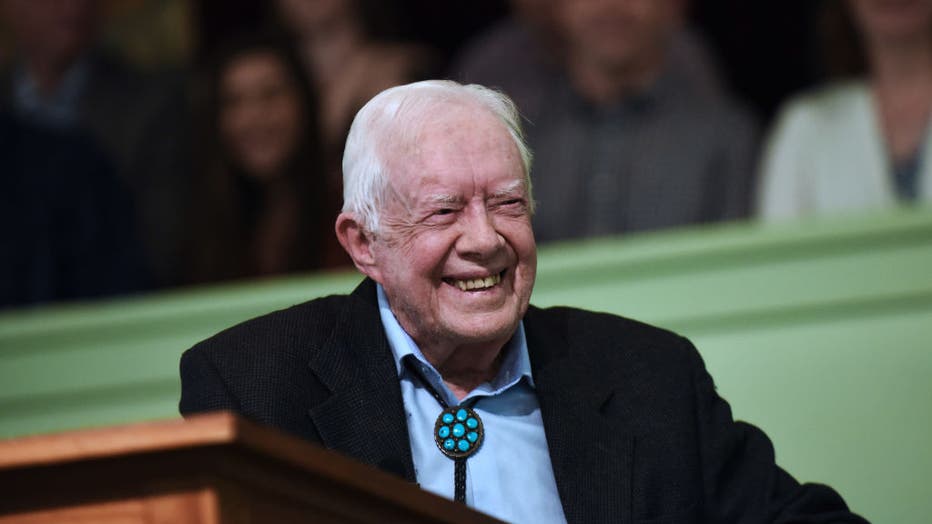 Former U.S. President Jimmy Carter speaks to the congregation at Maranatha Baptist Church before teaching Sunday school in his hometown of Plains, Georgia on April 28, 2019. Carter, 94, has taught Sunday school at the church on a regular basis since
It's going to take more than a fractured pelvis to prevent Jimmy Carter, a lifelong Baptist and the nation's oldest former president, from teaching Sunday school.
Carter's church in Plains, Ga. said the 95-year-old ex-president planned to teach his Sunday school class just a week after fracturing his pelvis in a fall.
Carter was admitted to Emory University Hospital to undergo a procedure to relieve pressure on his brain from a subdural hematoma, which was caused by his recent falls.
A spokesperson with The Carter Center told FOX 5 that there were no complications from the surgery, but he was expected to remain at the hospital for observation.
Former President Jimmy Carter was released from Emory University Hospital after successful brain surgery and recovery.
"The Carters are grateful for all the prayers, cards, and notes they have received and hope everyone will join them in enjoying a special Thanksgiving," a spokesperson with The Carter Center said in a statement.
Deanna Congileo, a spokesperson for The Carter Center, said Carter was admitted to Phoebe Sumter Medical Center in Americus for treatment of a urinary tract infection.
Carter was discharged from the hospital following successful treatment.
2021
Former President Jimmy Carter and his wife Rosalynn returned to their beloved church in Plains, Georgia after being vaccinated against COVID-19.
In a Facebook post, Maranatha Baptist Church in Carter's hometown announced that the couple was back to attending worship in-person at the church.
The Carters sat in their usual spots and wore masks.
The Associated Press contributed to this report.