Karl's Cabin restaurant suffers major fire damage after blaze burns through iconic log cabin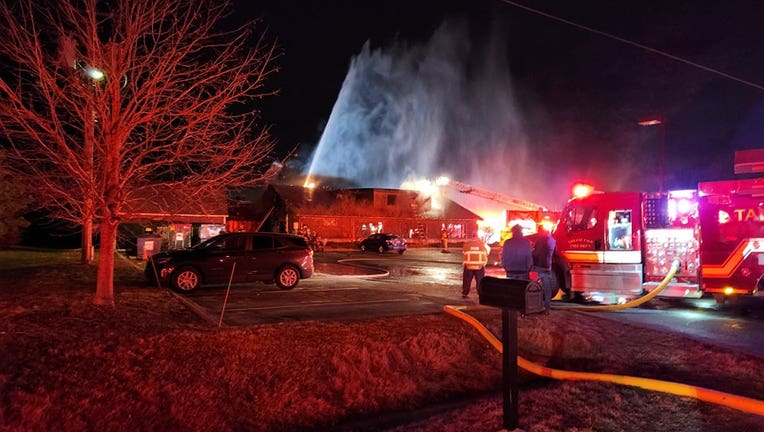 article
SALEM TOWNSHIP, Mich. (FOX 2) - A staple of Michigan's restaurant landscape and one of the most iconic log cabins in the state sustained major damage from a fire overnight. 
A three-alarm fire was reported at Karl's Cabin Restaurant & Banquets near Plymouth late Wednesday night, prompting calls from fire departments around the area. According to the Ann Arbor Fire Department, the building sustained fire, smoke, and water damage.
However, a "significant portion of the building" remains intact, the department said.
Karl's Cabin has been in business for 41 years, opening in 1982 as a family restaurant that serves homemade comfort food. It's history as a source of community and gathering goes back much earlier to 1947, when it opened as a refuge for those returning from the war. 
Built on the corner of a 220 acre farm in Salem Township, it was first branded as a roadhouse. Various forms of entertainment and food for sale, as well as a small apartment located above were all in operation.
Even Johnny Cash performed at the spot in 1956. It eventually earned a rougher reputation as the Rustic Tavern where fights frequently broke out. After two stints as restaurants, it wasn't until 1981 that it was discovered by Karl Poulos, who would later open it with his wife.
According to the Salem Township Fire Chief, the fire that broke out at the cabin took a while to calm down due to the rural location of the restaurant. Water needed to be tanked in by fire trucks since there were no nearby hydrants.
The banquet room suffered extensive damage, as well as the upstairs. 
A cause of the fire is still being investigated, however, there were no injuries and everyone made it out okay.