Kelly Stafford praises brain tumor doctor: 'his patience saved my hearing'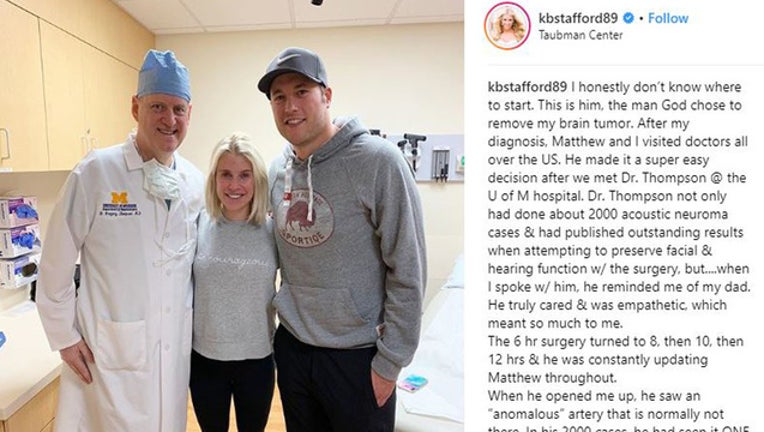 (FOX 2) - In a heartwarming social media post Tuesday, Kelly Stafford, wife of Detroit Lions quarterback Matthew Stafford, introduced the doctor who removed her brain tumor, saying he saved her ability to hear.
On April 3, Kelly announced that she needed surgery to remove a tumor from her brain on her cranial nerves. She said the medical term doctors uses was acoustic neuroma or vestibular schwannoma.
In an Instagram post Tuesday, she explained that after she was diagnosed, they visited doctors all over the country and found Dr. Thompson at the University of Michigan hospital. She wrote that he had worked on thousands of acoustic neuroma cases.
"He reminded me of my dad," she wrote. "He truly cared and was empathetic, which meant so much to me."
MORE:
The regularly six-hour surgery turned into a 12-hour process after doctors found an abnormal vein.
"In his 2000 cases, he had seen it ONE other time. BUT bc it was so rare, he & his team wrote a paper on it for other surgeons. Then, God sent him me & although surprised when he cut in to see the artery, he was confident & prepared. He took his time & was patient. There was a moment when they thought I might have lost my hearing completely. He made everyone & everything stop, they all sat, & waited for some time.. the audio wave returned. His patience saved my hearing, as well as my face. You read right, he PRESERVED MY HEARING!" she wrote.
Kelly said Matthew told her that when Dr. Thompson gave him the rundown of what happened, he said it was a "team victory."
"He kept giving credit to his team which included, Dr. Telian (ENT), Dr. Joseph (neuro chief resident) Dr. Welch (ENT Fellow) & Jane (Dr. Thompson's NP). This team is my dream team.. like the '92 bulls with DR. Thompson as my MJ & Dr. Telian, my Scottie pippen.. MVP's of their craft," Kelly wrote.
She said that Dr. Thompson visited everyday and when she was forced to return to the hospital after the surgery due to pain and massive headaches, he drove an hour to make sure he saw her in person and check her out. 
"I will forever be in debt to this man & his team. I can't express how grateful I am for him.. his kindness, empathy, patience, knowledge, & steady hands. Thank u Dr. Thompson, thank u so much to u & your team."
Read the full Instagram post below.