Kermit and Miss Piggy announce breakup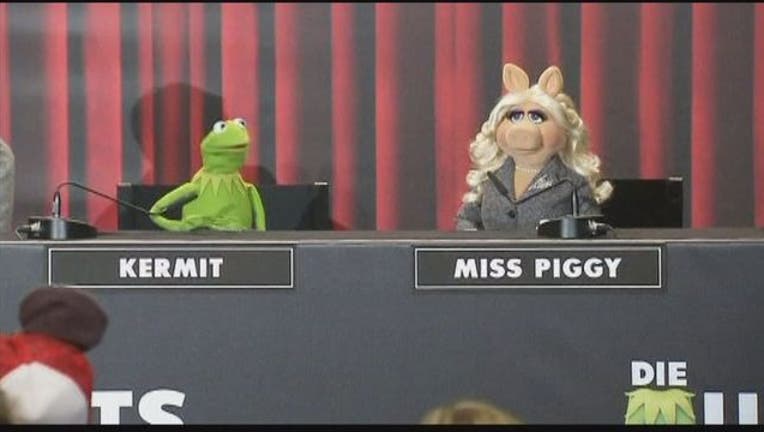 article
Beverly Hills, Calif (AP) - BEVERLY HILLS, Calif. (AP) — Kermit the Frog and Miss Piggy, who have been on-again, off-again over the years, have now called it quits. But they're vowing to remain professional on their new prime-time comedy, "The Muppets," premiering Sept. 22 on ABC.
The pair confirmed their breakup at a biannual ABC panel for TV critics Tuesday. A statement followed on their official Twitter accounts.
Here is the official joint statement from Miss Piggy and Kermit regarding their relationship: 

"People change. So do frogs and pigs. ... We were together for a long, long time and it's personal," Kermit said.
Kermit also acknowledged starting a new relationship with another pig, a woman named Denise who works in ABC Marketing.
"The Muppets" is a mockumentary-style look at Kermit, Piggy, Fozzie and the gang as they produce a late-night talk show for Miss Piggy called "Up Late With Miss Piggy."
The former couple sat at Tuesday's panel with co-executive producers Bill Prady and Bob Kushell.
Prady said the idea to bring "The Muppets" back to prime time came up eight years ago but the timing wasn't right. He took the idea to ABC in February. He said the network wanted a pilot right away so he created a 10-minute presentation.
He hoped to take the summer to do more, but ABC ordered the show to series with a fall premiere.
"There's no part of me whatsoever that did not want to wait," Prady said. "This went very fast and, you know, it makes the work harder."
Although there will be musical guests, the show will be less like a variety show and more like "The Office" or "Modern Family."
This is a new direction for "The Muppets," but Kushell said he believes it will appeal to both old and new fans.
"Anybody that hasn't seen 'The Muppets' in the past will see this whole new world and it will seem fresh and original and new to them, and anybody that has grown up with that will have that nostalgic feel but also their minds blown by the way we are doing the show," he said.