Kid Rock continues criticism of Kaepernick, others at Grand Rapids concert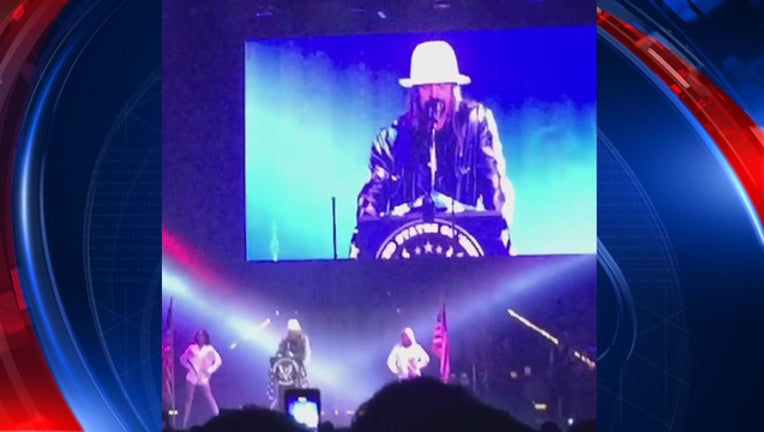 GRAND RAPIDS, Mich. (WJBK) - Kid Rock has again criticized NFL quarterback Colin Kaepernick, while insulting white supremacists and also teasing at some kind of political future.
The Romeo-born entertainer spoke between songs Wednesday at a concert in Grand Rapids. He spoke used a podium with a faux-federal seal that read "United States of `Merica" and delivered a profanity-laden speech where he dismissed those who are calling him "racist."
Kid Rock also blasted those who "take a knee or sit" during the national anthem. Kaepernick refused to stand during the national anthem while with the San Francisco 49ers last year in protest of police violence and social injustice. Kid Rock previously made comments about Kaepernick during an Iowa concert.
Instagram user madamasuka captured video of part of Kid Rock's commentary at the Grand Rapids concert. Click here to watch if you can't see the video below. Warning, the video contains offensive language.
Earlier this summer, the artist launched a website indicating that he may be considering a run for U.S. Senate in Michigan. No formal announcement or election filing has been made.
Kid Rock confirms plans to run for U.S. Senate are real
Publicists for Kid Rock sent out a memo saying the artist plans to give some political "insight" during his concerts at Little Caesars Arena in Detroit next week. He has six sold-out shows at the new stadium, beginning September 12.
The email states that Kid Rock will give his fans "exclusive insight on his political views and aspirations for Michigan while on stage." It's unclear right now if that's the same message he shared at his Grand Rapids concert.
The National Action Network Detroit chapter has demanded arena officials cancel Kid Rock's shows next week and plans to protest the concerts. Kid Rock has used the Confederate flag previously during his concert tours, a move that doesn't sit well with NAN.
National Action Network calls for Pistons to drop Kid Rock as 'face of Detroit'
NAN has spoken out against Kid Rock before, back when the Detroit Pistons used him in a TV ad campaign to announce their move from The Palace of Auburn Hills to Detroit.
"[The Pistons are] moving to Detroit, America's blackest city. You can't have a man being a frontman like Kid Rock with his history of the Confederate flag waving," Sam Riddle told FOX 2 earlier this summer on behalf of NAN.
Kid Rock is also opening a restaurant inside Little Caesars Arena. It's called Made in Detroit and is inspired by his brand and his music.
Kid Rock bringing Detroit, southern fare to restaurant at Little Caesars Arena
The Associated Press contributed to this report