Krispy Kreme looking for first-ever 'Chief Doughnut Dreamer'
Do you have the best doughnut flavor sitting in the back of your mind? 
Krispy Kreme wants to hear about it – and make you their Chief Doughnut Dreamer. 
The Charlotte, North Carolina-based doughnut chain often makes headlines for its inventive promotions, and now it's wanting to bring one lucky doughnut lover "in" on the job. 
Now through June 18, any fan can "apply" via social media for the chance to be crowned the so-called Chief Doughnut Dreamer.
You'll be flown to the company's headquarters and join their Innovation Team to develop their future Fan Fav doughnut. 
Of course, something a little extra sweet is also part of the deal – free doughnuts for a year. 
RELATED: Krispy Kreme bringing 'fan favs' back to menu for limited time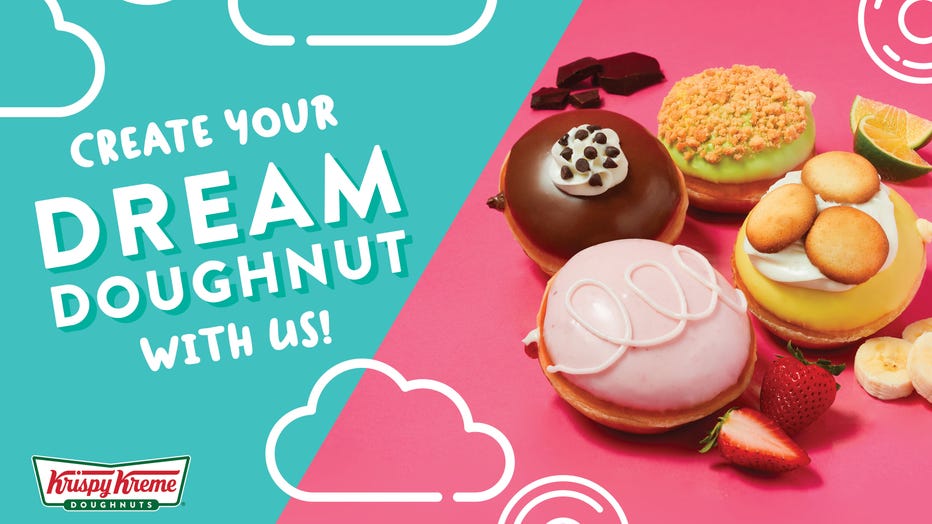 How to apply
To apply, Krispy Kreme fans should share a video on Instagram or Twitter that demonstrates they have what it takes to become Chief Doughnut Dreamer, using the hashtags #ChiefDoughnutDreamer and #Contest. 
Krispy Kreme is wanting to hear a flavor suggestion for your dream doughnut and the reasons why you should be the first Chief Doughnut Dreamer. 
The video must be received before 11:59 p.m. ET on Sunday, June 18. 
You can see further submission guidelines and the official rules here.
A panel of judges will select the winner, based on the creativity and crave-ability of the doughnut flavor, the passion shown for Krispy Kreme and the quality and professionalism of the content. 
A winner will be announced on or around July 25, 2023. 
RELATED: You could earn $15,000 for eating spicy food at Schlotzsky's – here's how
Chief Doughnut Dreamer prize
The winner will be treated to a trip to Krispy Kreme headquarters in Charlotte, North Carolina for the opportunity to participate in an event at the company's Innovation Kitchen to create the dream doughnut. 
The prize also includes a year of Krispy Kreme doughnuts. 
You can get more information from Krispy Kreme here.
This story was reported from Detroit.