Lions draft Iowa LB Jack Campbell at pick 18, RB Jahmyr Gibbs at 12 in 1st round
FOX 2 (WJBK) - The Lions ended Thursday night with a trade back to pick 12 from six, and added a piece to the offense and defense from the NFL Draft's First Round Thursday.
The Detroit Lions grabbed game-breaking running back Jahmyr Gibbs of Alabama with pick no. 12 in the first round of the NFL Draft.
At No. 18 of the first round, the Lions selected Iowa linebacker Jack Campbell, the Butkus Award winner and a 1st Team All-American.
On the second day of the draft, Detroit has three second-round picks - coming at 34, 48 and 55. The Lions have one third-round pick at 81.
Campbell is 6 feet, 4 inches and 250 pounds, and plays the inside linebacker position.  Last season he amassed 128 tackles, including 5.5 for loss in 13 starts while winning the Big Ten Conference Defensive Player of the Year.
Gibbs is listed at 5 feet, 9 inches and 199 pounds and is known for his change of ability and pure speed to run away from defenders. He was a third-team AP All-American, and rushed for 2,132 yards and 15 touchdowns in this NCAA career with a 5.6 yards per carry average.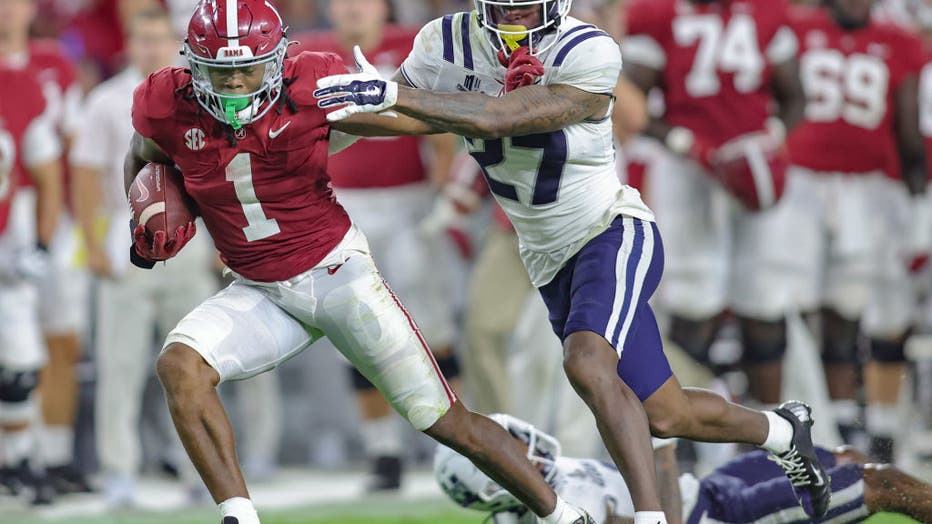 TUSCALOOSA, ALABAMA - SEPTEMBER 3: Jahmyr Gibbs #1 of the Alabama Crimson Tide shakes off Hunter Reynolds #27 of the Utah State Aggies at Bryant Denny Stadium on September 3, 2022 in Tuscaloosa, Alabama. (Photo by Brandon Sumrall/Getty Images)
Last season Gibbs rushed 151 times for 926 yards and 6.1 per carry average with seven TDs in 12 games including 11 starts. He added 44 receptions for 444 yards, 10.1 per catch and three TDs.
 The Lions traded out of the No. 6 pick in the first round with the Arizona Cardinals. The Cardinals sent the No. 34 pick of the second round and pick 168 in the fifth, to the Lions. Detroit also added pick 81 in the third round to Arizona.
The sixth selection originally came from the Los Angeles Rams completing the 2021 trade package for former quarterback Matthew Stafford.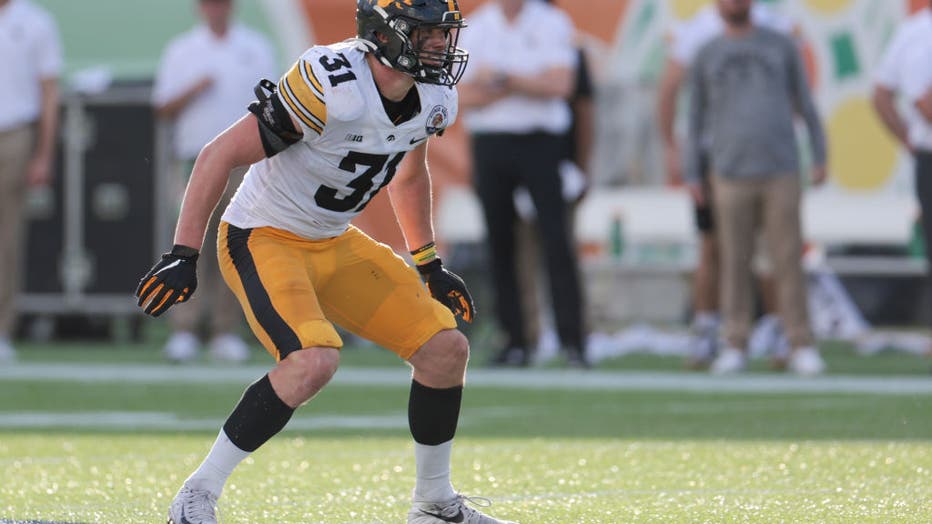 ORLANDO, FLORIDA - JANUARY 01: Jack Campbell #31 of the Iowa Hawkeyes in action during the second half against the Kentucky Wildcats in the Citrus Bowl at Camping World Stadium on January 01, 2022 in Orlando, Florida. (Photo by Douglas P. DeFelice/Ge
Alabama quarterback Bryce Young went with the No. 1 overall pick to the Carolina Panthers, while the Houston Texans shook up the draft with Ohio State quarterback CJ Stroud with the second pick and then traded up to three to pick Alabama defensive end Will Anderson. 
The Cardinals drafted Ohio State offensive tackle Paris Johnson with the Lions' former No. 6 pick. 
2023 NFL First Round Picks
1. Panthers: QB Bryce Young, Alabama
2. Texans: QB CJ Stroud, Ohio State
3. Texans: OLB Will Anderson Jr., Alabama
4. Colts: QB Anthony Richardson, Florida
5. Seahawks: CB Devon Witherspoon, Illinois
6. Cardinals: OT Paris Johnson Jr., Ohio State
7. Raiders: DE Tyree Wilson, Texas Tech
8. Falcons: RB Bijan Robinson, Texas
9. Eagles: DT Jalen Carter, Alabama
10. Bears: OT Darnell Wright, Tennessee
11. Titans: OT Peter Skronski, Northwestern
12. Lions: RB Jahmyr Gibbs, Alabama
13. Packers: DE Lukas Van Ness, Iowa
14. Steelers: OT Broderick Jones, Georgia
15. Jets: LB Will McDonald IV, Iowa State
16. Commanders: CB Emmanuel Forbes, Mississippi State
17. Patriots: CB Christian Gonzalez, Oregon
18. Lions: LB Jack Campbell, Iowa
19. Buccaneers: DT Calijah Kancey, Pittsburgh
20. Seahawks: WR Jaxon Smith-Njigba, Ohio State
21. Chargers: WR Quentin Johnston, TCU
22. Ravens: WR Zay Flowers, Boston College
23. Vikings: WR Jordan Addison, USC
24. Giants: CB Deonte Banks, Maryland
25. Bills: TE Dalton Kincaid, Utah
26. Cowboys: DT Mazi Smith, Michigan
27. Jaguars: Anton Harrison, Oklahoma
28. Bengals: DE Myles Murphy, Clemson
29. Saints: DT Bryan Bresee, Clemson
30. Eagles OLB Nolan Smith, Georgia
31. Chiefs: Felix Anudike-Uzomah, Kansas State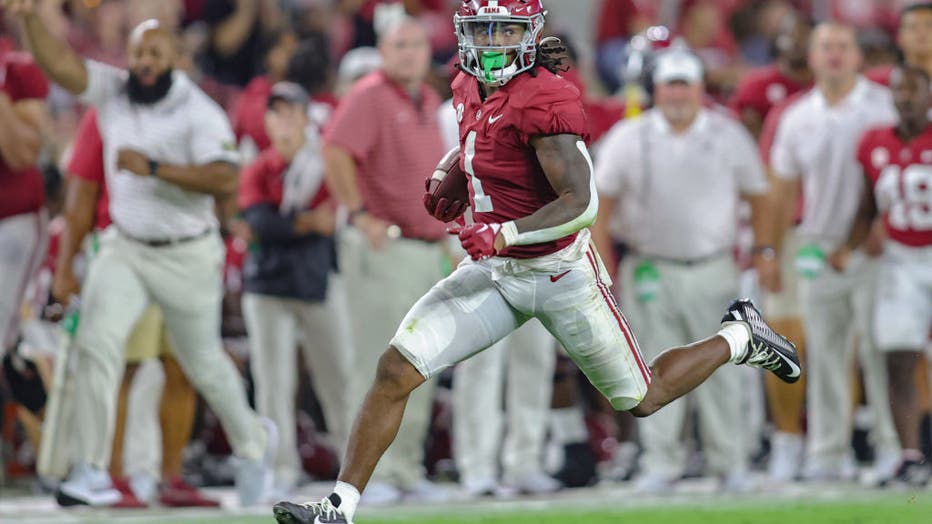 TUSCALOOSA, ALABAMA - SEPTEMBER 3: Jahmyr Gibbs #1 of the Alabama Crimson Tide runs in the open field against the Utah State Aggies at Bryant Denny Stadium on September 3, 2022 in Tuscaloosa, Alabama. (Photo by Brandon Sumrall/Getty Images)