Louisiana police officer fatally shoots suspect, video sparks more protest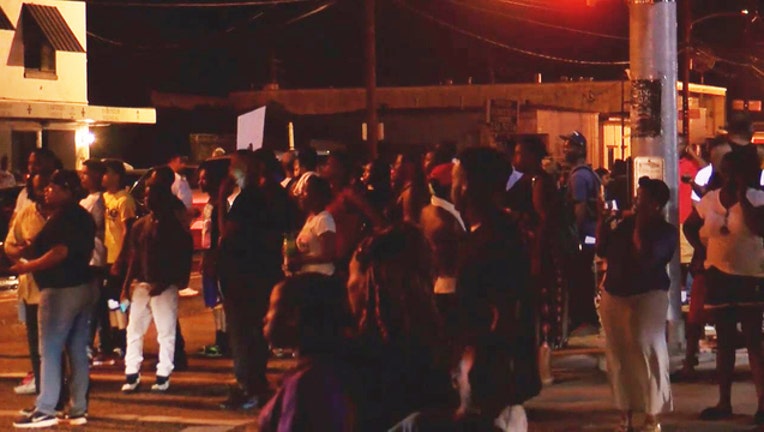 article
BATON ROUGE, La. (AP) - A Louisiana police officer shot and killed a black man during a confrontation outside a Baton Rouge convenience store, authorities said, prompting hundreds to protest at the site where the man died.
An online video that surfaced purporting to show the killing of Alton Sterling, 37, of Baton Rouge on Tuesday added to protesters' outrage. The protest lasted into the night, with people chanting and holding up signs.
The Advocate reported the crowd that gathered late Tuesday afternoon at the store where Sterling died grew to more than 200 people. They chanted "black lives matter" and "hands up don't shoot" and waved signs late into the night, according to the newspaper.
An autopsy shows Sterling died of multiple gunshot wounds to the chest and back, East Baton Rouge Parish Coroner Dr. William Clark said.
Officers responded to the store about 12:35 a.m. Tuesday after an anonymous caller indicated a man selling music CDs and wearing a red shirt threatened him with a gun, Cpl. L'Jean McKneely said.
Two officers responded and had some type of altercation with the man and one officer fatally shot the suspect, McKneely said. Both officers have been placed on administrative leave, which is standard department policy, he said.
The store's owner, Abdul Muflahi, told WAFB-TV that the first officer used a stun gun on Sterling and the second officer tackled the man. Muflahi said as Sterling fought to get the officer off of him, the first officer shot him "four to six times."
The owner said Sterling did not have a gun in his hand at the time but he saw officers remove a gun from Sterling's pocket after the shooting.
McKneely said late Tuesday that he could not confirm Muflahi's description of the event or any other details of the investigation.
Kimberly Lang said she purchased CDs from Sterling on occasion and said he did not have a reputation for violence, according to a report by NOLA.com/The Times-Picayune. If Sterling did have a gun on him, Lang said, it was probably because he feared being robbed while peddling his CDs late at night, not because he wanted to threaten anyone.