Man loses 390 pounds, seeks help for skin removal surgeries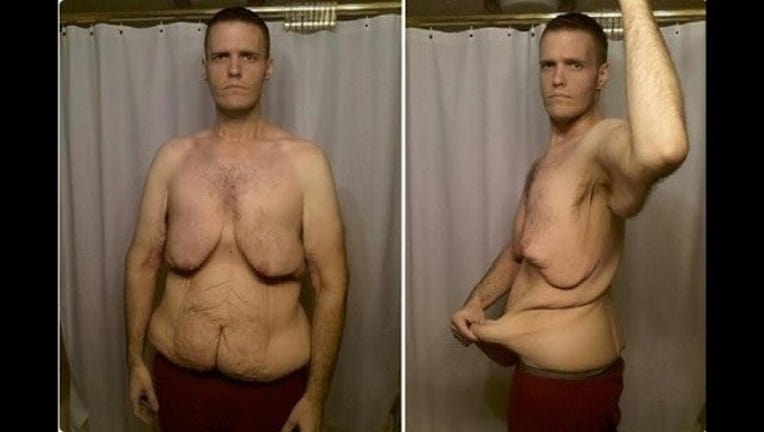 article
Remember Brian? Deena Centofanti talked to him last year about losing almost 400 pounds. Now, he needs help losing a bit more: all that excess skin.
You may remember Brian Flemming's story. He once weighed 625 pounds and lost an astonishingly large amount thanks to a stranger in England. Now, he needs a bit more help for what the weight left behind. 
Brian once weighed 625 pounds. He told FOX 2's Deena Centofanti last spring that he was inspired by a woman he met while playing the game Draw Something. The complete stranger gave him the confidence to get up and get moving. 390 pounds later, Brian was a different man.
Brian said he was 500 pounds in college and he suffered from depression. Finding comfort in massive amounts of food and alcohol, he admits to drinking a fifth of vodka each night.
Draw Something changed his life. He was randomly paired up with a British woman and she gave him the motivation.
Now, almost a year later, Brian is down to 235 pounds and a size 38 waist. As his body shrinks, the big problem now is the skin.
He said on YouTube that he has 30-40 pounds of excess skin. He unveiled his body in a five minute long YouTube video.
He wrote "This is very difficult for me to show, but it is a constant reminder of who I was when I was obese. It is embarrassing and leaves me very self conscious. It give(s) me back pains and keeps me from doing healthy things that I now love, like running. I have not gone swimming in over 10 years because I was ashamed when I was obese and now I am ashamed because of my skin. I hope to one day get it removed so that I can move on once and for all."
Brian is just a few thousand dollars shy of reaching his goal of $20,000. Click here to donate.