Michigan Gov. Whitmer 2021 State of The State urges to 'fix the damn road ahead'
FOX 2 - In her third State of the State Address, Governor Gretchen Whitmer pointed out how our state came together facing a national health crisis, businesses retooled to produce PPE for front line workers, who put their lives on the line to protect us, while city and state workers still provided essential services we needed.
The Democrat pitched a multibillion-dollar pandemic relief plan and other policy initiatives Wednesday night in her third State of the State Address, held in a virtual broadcast, highlighting the many changes and sacrifices born out of necessity due to the coronavirus.  
"2020 was a tough year despite incredibly hard decisions and dangerous threats my year has been lighter than many of you," she said, emphasizing that 2020 required a lot of things including, "Michigan grit." 
"Every day I think about the loved ones lost to this virus. The spouses who now sleep alone for the first time in years, the Michiganders who still haven't had time to properly mourn. We have lost 14,411 Michiganders to COVID-19, all 14,411 are people with stories, parents, siblings, children, friends and loved ones." 
"It's easy to look back and focus on the bad but need to focus on what it took to protect our families," Whitmer said. "The state of our state is resilient." 
 
She said she knows more work must be done. To help fight the pandemic, Whitmer claims she will be ramping up vaccinations - hoping the general population who wanted one, could within months. 
Despite the push back she has received for her stay-at-home orders and closing restaurants - Whitmer remained positive hoping lawmakers would find a way to work together, revitalize the economy and get kids back to school, which she hopes will happen by March 1st.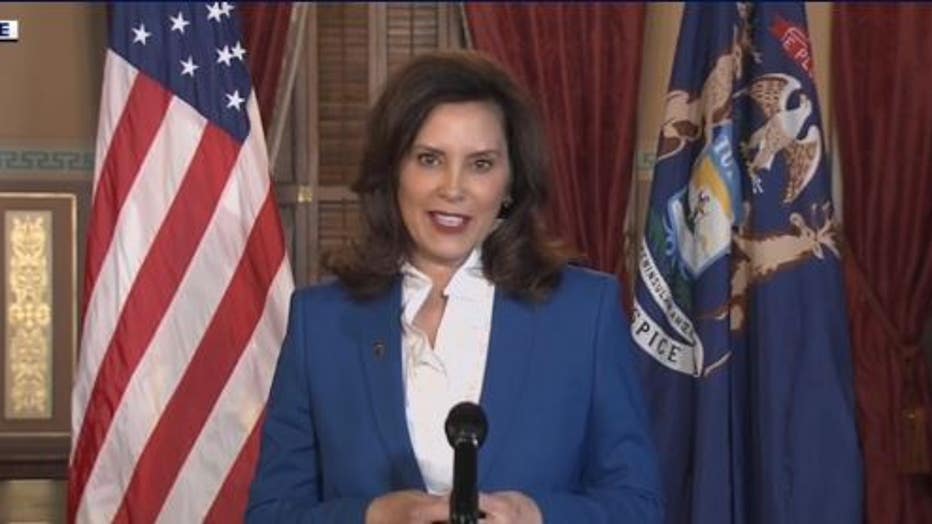 "While common ground less common these days have never been more important to work toward it."
Revamping her campaign slogan, Whitmer said she wanted to fix the damn road ahead - pushing bills she claims will revitalize our economy like the $55 million in relief for small businesses, although she continues to get pushback across the aisle.
She loosely laid out economic development plans to get Michigan back to work, the clean water plan which spends millions to replace lead pipes and replace sewer systems,  a $2 raise for direct care workers, extending unemployment to 26 weeks.
And although millions have been spent on our roads - Whitmer wants to boost spending into the billions to fix the rest.
   
"Even combatting COVID-19 we moved a lot of dirt," she said.
Whitmer praised the work of first responders to frontline workers of every stripe and spoke about the vaccine numbers in the state, which are on the upswing despite a muddled initial rollout.
"We are now in the second wave of distributing safe, effective vaccines," she said. "We have distributed 800,000 vaccines which makes us 6th in the nation. We don't have the supply we need yet, but we will. Every Michigander who wants a vaccine will get one."
Whitmer spoke of the sacrifices made by many in the state and spoke of the long term benefits from them.
"When we rang in the new year 2020 we had plans for it, including for me, a high school graduation," she said. "It is easy to look back on the last year and focus on the bad but we cannot look back and forget (what we did). Your actions saved lives. Your actions insure that Michiganders will be able to spend Thanksgiving and the holidays of 2021 with their families in-person."
WATCH THE FULL SPEECH BELOW:
Whitmer, who says she is looking forward to working with the Biden administration - says her mission is to find common ground so we can emerge from this crisis stronger than ever.
"To focus on what unites us, improve how we talk to each other, and together we will fix the damn road ahead," she said. 
Michigan GOP Chair Laura Cox released a rebuttal arguing that Whitmer is a "failed leader." This is her response: 
"Over the past year, Governor Whitmer has left our state in disarray due to her failed leadership. Governor Whitmer has spent the last year ignoring the people's representatives in government by refusing to work with the state legislature, implementing deadly policies like her nursing home strategy, and betraying the trust of voters with her administration's lack of transparency. The only thing we need to hear from Governor Whitmer tonight is an apology."