Michigan police officers handcuff screaming girl, 11, at gunpoint, video shows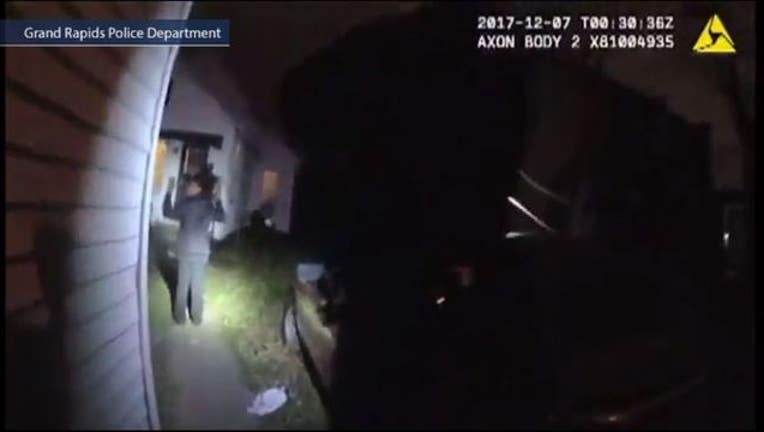 Michigan police officers searching for a stabbing suspect instead handcuffed an 11-year-old girl at gunpoint while she screamed in terror - an incident caught on video that the police chief called "inappropriate."
On Dec. 6, Grand Rapids Police Department officers were searching for Carrie Sue Manning, 41, who was accused of stabbing her younger sister. Police officers approached a home as Honestie Hodges, her mother Whitney and one of her aunts were walking out, FOX17 West Michigan reported.
"I didn't know what was going on," said Hodges. "I didn't do anything wrong, I've never got in trouble by the Grand Rapids Police. I used to want to be a Grand Rapids police officer,  but ever since that happened, I want nothing to do with them."
When the three were leaving their home, they suddenly encountered police in the middle of their search.
"The cops turned on their flashlights and had guns in their hands," the 11-year-old told the news station. "We were all put into separate cop cars."
Police told the station they believed Manning was hiding in the house the ladies just left. Manning is Honestie's aunt. They later located her in the neighboring residence and arrested her. Manning was charged with attempted murder.
WATCH IT HERE:
The department has opened an internal investigation into the matter.
In a body camera video the police department released on Tuesday, Honestie is heard screaming while police officers are pointing a gun toward her as they place handcuffs on her wrists.
Grand Rapids Police Chief David Rahinsky admitted on Tuesday the officers' actions were "inappropriate," adding that the department does "have a problem."
"The juvenile was treated the same way we would have treated any adult, and when you're dealing with an 11-year-old, it's inappropriate," Rahinsky said. "The screams of the 11-year-old, they go to your heart, you hear the mother yelling from the steps 'that's my child,' and that's our community's child."
He added, "That's someone who lives in Grand Rapids, that's somebody who should feel safe running to an officer."
Rahinsky said Honestie, her mom and aunt were handcuffed to ensure they weren't carrying a weapon. He added that changes are necessary for the future and an internal investigation is being conducted.
The Hodges family are filing a complaint against the police department.