Michigan state park pet-friendly cabins that let you take your dog or cat camping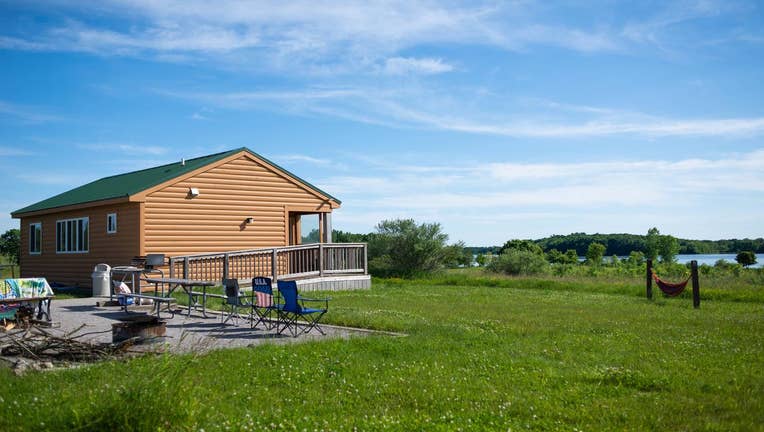 article
(FOX 2) - Your dog or cat can join you on your camping trip this summer.
Certain Michigan state park cabins are pet-friendly, so you can camp without leaving your furry friend at home. 
According to the Michigan Department of Natural Resources, there is a $10 fee per pet per night. That fee is $15 for lodges. Up to two pets are allowed per cabin, and only dogs and cats are permitted.  
Cabins can be booked up to a year in advance here.
Michigan state park pet-friendly cabins:
Cheboygan State Park - Poe Reef cabin
Craig Lake State Park - Teddy Lake Yurt and small cabin
Harrisville State Park - mini cabin #186
Lime Island State Park - mini cabin #4
Little Presque Isle Cabins - cabins #4 and #5
Leelanau State Park - Hemlock and Cedar mini cabins
Porcupine Mountains Wilderness State Park - Crosscut 2, White Birch 2, Whitetail 8, Union River 8, Gitche Gumee 8; Union Bay East 4 Yurt, Union Bay West 4 Yurt, Little Union River 4 Yurt and Kaug Wudgoo Lodge
Port Crescent State Park - mini cabin A
Sleepy Hollow State Park - modern cabin and rustic cabin
Van Riper State Park - Rustic Peshekee Cabin and mini cabin #2
RELATED: Michigan state park dog-friendly beaches
In addition to the cabins above, the cedar mini cabin at Ludington State Park will be pet-friendly beginning Jan. 1, 2024.
When outside, pets must be on a 6-foot leash.
Also, be sure to clean up after your pet and prevent them from interacting with wild animals.