Bloomfield Township woman wins $2 million COVID-19 vaccine lottery grand prize
LANSING, Mich. - Michigan's COVID-19 vaccine lottery officials announced its largest winnings to date Monday, naming a Bloomfield Township resident the winner from the $2 million grand prize.
Christine Duval scored the golden ticket of Michigan's vaccine lottery, which included dozens of $50,000 awards for daily winners and nine college scholarships. The state had already announced several daily $50,000 winners and the million-dollar prize, which was awarded to Grand Blanc resident LaTonda Anderson weeks ago. 
"The sweepstakes and news coverage helped spur conversations between families and friends about the sweepstakes," said Protect Michigan Commission Director Kerry Ebersole Singh. "Several winners who were previously unvaccinated before the sweepstakes said they were inspired to get their vaccinations based on those discussions and the prizes they could win."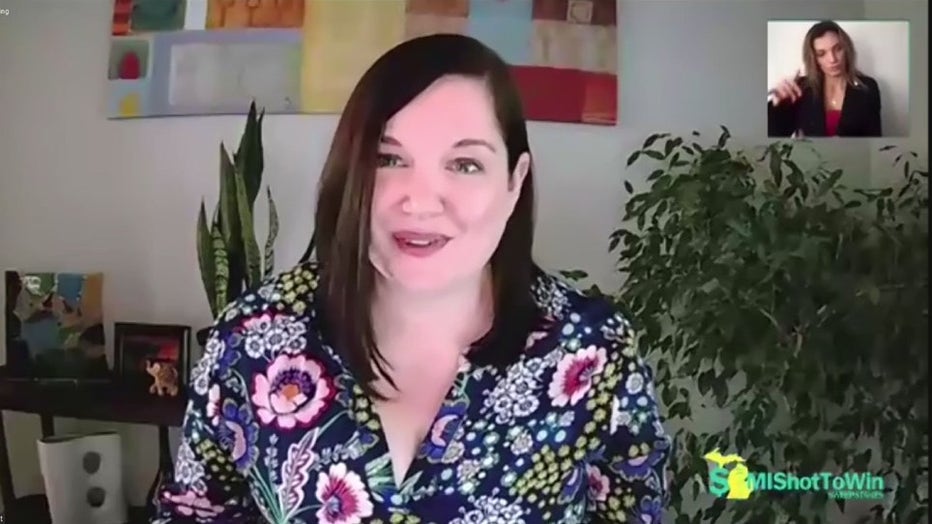 Christine Duval of Bloomfield Township
Monday was the first time any of the high school students that had signed up for the lottery had their names announced. They include:
Landon Burkhart, Dakota High School, Macomb County
Karan Choudhary, Plymouth High School, Wayne County
Josiah DeBaets, Eastern High School, Kent County
Ian Miller, Salem High School, Wayne County
Meadow Surman, White Lake Middle School, Oakland County
Mallory Wheeler, Reading High School, Hillsdale County
Jackson Wittwer, Eisenhower High School, Macomb County
Kamare Wright, Thurston High School, Wayne County
Hudson Chambers, Grand Rapids City High Middle School, Kent County
Five million dollars was to be awarded during the lottery. But in that time since the lottery was announced, the state dial for tracking vaccination rates didn't move much. 
According to the state, 2.4 million residents signed up for cash prizes while 106,000 high schoolers entered to win the scholarships. 
As of Aug. 23, 65% of the state has gotten its first dose of the vaccine, while 59.8% have gotten the full series, according to the state vaccine tracker. While vaccine numbers have begun to tick back up in recent weeks, going up continuously since July 10, it hasn't been at a fast enough rate to blunt the surge in Delta variant spread around the state.
RELATED: Michigan's next COVID-19 surge is coming and 25K more hospitalizations could come with it
Health officials around the country are reassessing the best approach to manage COVID-19 as the school year approaches. The state of Michigan has yet to issue a ruling on masks in schools, instead offering a recommendation of support for districts that do implement a mandate. 
But the scatter-shot solution may prove to have imperfect results after the health department estimated without masking in schools the chance of infection could climb fast. The chief medical executive for the state told reporters that she had recommended to the governor to issue such a ruling.