Michigan veteran's two dogs pardoned from death row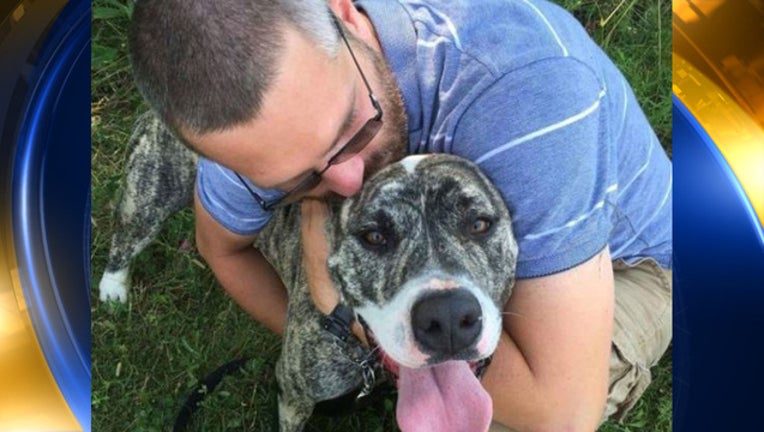 article
IONIA, Mich. (AP) - A U.S. Army veteran's three dogs who were accused of killing a farmer's goats and cat in Michigan have been pardoned from euthanization.
Ionia County District Court Judge Raymond Voet decided Monday there wasn't enough evidence to prove Mario and Luigi, the mixed pit bull service dogs Allen Hustin depends on to comfort him, killed three goats inside a pen where they were found after escaping their own backyard in July 2016. The two dogs, registered with the U.S. Army, were released from the Ionia County Animal Shelter they were being held at on Tuesday.
The third dog, a German shepherd named Major, was with the other two dogs during the incident and is owned by Susan Owen Vamvakias, Hustin's mother-in-law. Major was also seized but disappeared from the shelter last fall and is still missing.
"Allen, I'm bringing `em home," Vamvakias said to Hustin, who was not present at the hearing because he lives in North Carolina. "They're getting in the van, and they're getting ... out of this county."
Hustin and his wife were visiting Vamvakias at the time of the incident.
Three veterinary experts testified at the hearing that there was no blood found on any of the dogs.
"No blood is direct evidence that these dogs did not do it. How do you get beyond that?" said Celeste Dunn, one of Hustin's attorneys.
Dunn also said that the wounds found on the goats were likely to have come from coyotes rather than dogs.
Voet initially ruled that common sense dictates the dogs should be put down, but the family was granted a new hearing in March.
"Peace of heart," Vamvakias said. "Home will be full again."
A YouCaring account and a petition had been set up online to help the veteran fight for his dogs' pardon.

   Information from: Lansing State Journal, http://www.lansingstatejournal.com