Michigan's 1931-era abortion ban officially repealed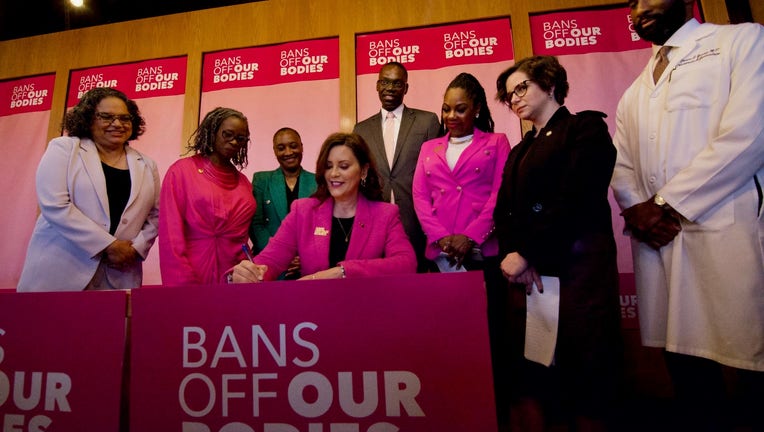 article
BIRMINGHAM, Mich. (FOX 2) - Nearly a year since the status of abortion in the U.S. was thrown into limbo following the repealing of the court case that protected the medical practice, Michigan has repealed its own ban.
Governor Gretchen Whitmer signed legislation Wednesday that repealed Michigan's 1931-era abortion ban which was one of the most restrictive in the country - outlawing it in cases of rape or incest.
Despite being on the books for nearly a century, the law hasn't been used in decades since the Supreme Court's decision on Roe v. Wade. When Roe was repealed in 2022, lawsuits challenging the state's ban soon followed. 
Then, a ballot proposal provided to voters during the 2022 Midterm elections asked if the right to an abortion should be protected by the state constitution. It passed by a wide margin. Since then, a newly-positioned legislature introduced then passed a bill that repealed the abortion ban. 
On April 5, Whitmer signed HB 4005 into law during a ceremony in Birmingham. She was flanked by lawmakers, medical doctors, the executive director of Planned Parenthood and the president of EMILY's List.
"Today, we are coming together to repeal the extreme 1931 law banning abortion without exceptions for rape or incest and criminalizing nurses and doctors for doing their jobs," Whitmer said in a statement. "Standing up for people's fundamental freedoms is the right thing to do and it's also just good economics. 
By getting this done, we will help attract talent and business investment too. I will continue to use every tool in my toolbox to support, protect, and affirm reproductive freedom for every Michigander, and I'll work with anyone to make Michigan a welcoming beacon of opportunity where anyone can envision a future." 
Find more coverage of abortion issues here
With the legislation, Michigan became the 11th state to move on abortion access since last year's Dobbs v. Jackson case.