MLB's bigger bases could lead to more steals, fewer injuries, experts say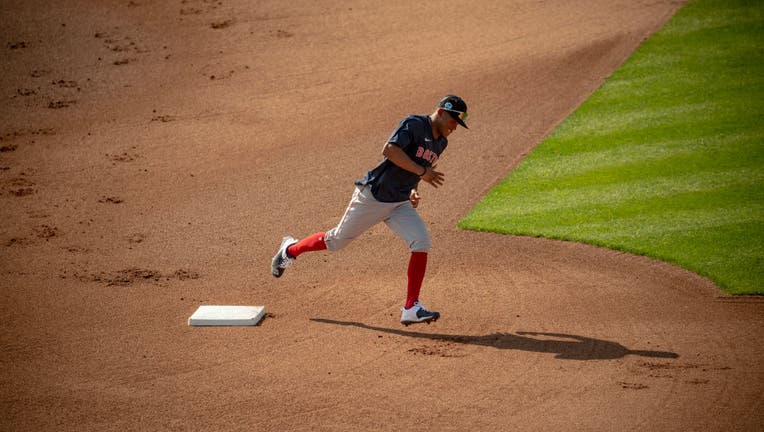 article
Like a violin virtuoso using a new music stand, San Diego Padres third baseman Manny Machado noticed a difference right away.
Not only are the bases bigger, but they feel different, too.
"It's definitely different, for sure," said Machado, a two-time Gold Glove winner. "They look better. I just got to kind of keep playing with it and stepping on it and kind of like getting the feel for it. But it's definitely different for sure."
The bigger bases — going from 15- to 18-inch squares — are part of a flurry of changes by Major League Baseball designed to put more action and athleticism back in the game and make it more appealing to a younger generation of potential fans.
When the new rules were adopted by baseball's 11-person competition committee in September, the four players on the panel supported the bigger bases and voted against the use of a pitch clock and limits on defensive shifts.
The new bases — "They look like a pizza box," Red Sox manager Alex Cora cracked — cut down the distance between the bases by 4 1/2 inches. The distance between third and home and home and first was trimmed by 3 inches.
It doesn't sound like much, but the impact could be considerable.
Instead of waiting around for a three-run homer, big league teams could try a more aggressive approach on the basepaths. Coupled with new limits on what MLB calls disengagements — pickoff attempts or steps off the rubber — it's more important than ever that pitchers are quick to the plate and strong-armed catchers stay alert with runners on.
"The run game, preventing the run game, is something that we've talked about, we're going to continue to talk about, because ... the stolen-base attempt should increase a good bit, I think," Dodgers manager Dave Roberts said.
Major league teams finished with 2,486 steals in 3,297 attempts last year, up from 2,214 steals and 2,926 attempts in 2021, according to Sportradar, but much lower than 3,229 steals and 4,365 attempts a decade ago in 2012.
In testing in the minors, two Triple-A leagues used the bigger bases for half of the 2021 season. One experienced a 2.2% increase in successful steals, and the other posted 0.7% increase.
The 2012 season — when Mike Trout led the majors with 49 stolen bases — was the last time the big leagues surpassed 3,000 steals and 4,000 attempts.
"I've definitely been thrown out by less than (4 1/2) inches ... so maybe that starts factoring into results," said Chicago Cubs second baseman Nico Hoerner, who swiped a career-best 20 bases in 22 attempts last year.
Of course, it also gives the majors' top defensive first basemen an even better chance of keeping runners off base altogether.
"I think it could help. It'll give me another inch or so of reach on a throw that wants to pull me off the base," said Arizona Diamondbacks first baseman Christian Walker, who won his first Gold Glove last year.
Besides the activity on the basepaths, Major League Baseball is hoping the change will help reduce injuries. While testing the bigger bases in the minors, there was a 13% decline in what the league calls "injury events near the bases" from 2021 to 2022.
There's more room for first basemen to avoid getting stepped on, or to pull their arm away in time to avoid a batter hustling up the line. It also should help avoid collisions all over the diamond.
"When you walk on the field, you don't really notice it, and getting closer to the bag, you definitely do notice it," said Cubs first baseman Eric Hosmer, a four-time Gold Glove winner. "It seems like a little flatter, too, as well. Not only bigger and longer, but definitely a little flatter.
"But yeah, I think it's going to prevent some injuries, so I think anytime you can even knock that number down one or two guys, that's well worth it."