Mom killed in head-head collision in Clinton Twp described as an explosion
CLINTON TWP, Mich. (FOX 2) - A horrific head-on crash in Clinton Township claimed a mom's life and left two people hospitalized, including her daughter and the other driver.
The crash happened around 5:30 on Tuesday in Clinton Township when two cars collided head-on and caught fire - trapping all three people inside the cars.
Michael Young was just in front of one of the cars and did everything he could to help.
"I happened to look in my rearview mirror and I seen an explosion. And I didn't think twice but to turn around," he said.
There was no explosion – but two cars that were mangled and on fire.
Young jumped to help and found a 51-year-old Macomb Township mom and her 8-year-old daughter trapped inside of a Chevy Suburban. 
"I seen a couple people run up to the car I heard them say baby and I ran and got my hammer and bashed out the windows. Made sure we got the kid out of the car. Once the kid was safe, I gave her to a lady, I don't know who she was, and I went back into the car and I knew they weren't getting the other person out. So I stayed with her until the fire department got there," Young said.
The little girl was hospitalized with critical injuries. Unfortunately, her mom didn't make it.
Based on what investigators know so far the suburban was heading south on Groesbeck when the woman had to make an evasive maneuver for some reason and swerved into oncoming traffic hitting a Lincoln Nautilus head-on. A 50-year-old woman heading north was behind the wheel of that car and they hit head-on. That driver was last listed in critical condition after she was pulled from the vehicle.
Young said he knew he had to jump in to help when he watched the horrific crash happen.
"It is a very terrible situation. it's natural for me (to help), I don't have a reaction to it. I'd do it again. I'm always watching save somebody, that's like the mission in life," he said.
Clinton Twp police say they're still very early on in the investigation and after accident reconstruction, they need to talk with witnesses and the driver of the other vehicle. Police ask anyone know knows something to come forward.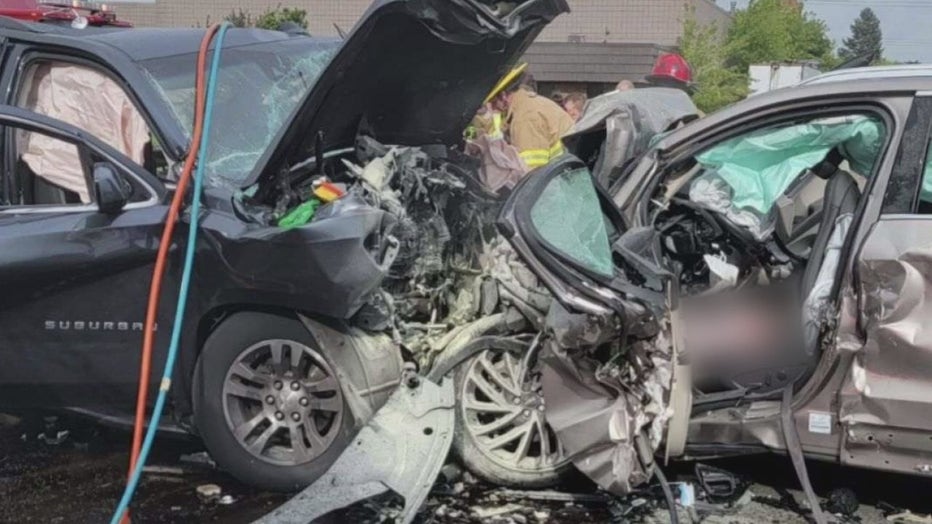 A 51-year-old Macomb Twp. woman died after hitting another car head-on in a horrific crash on Tuesday.