Mom thanks Olive Garden for server's kind gesture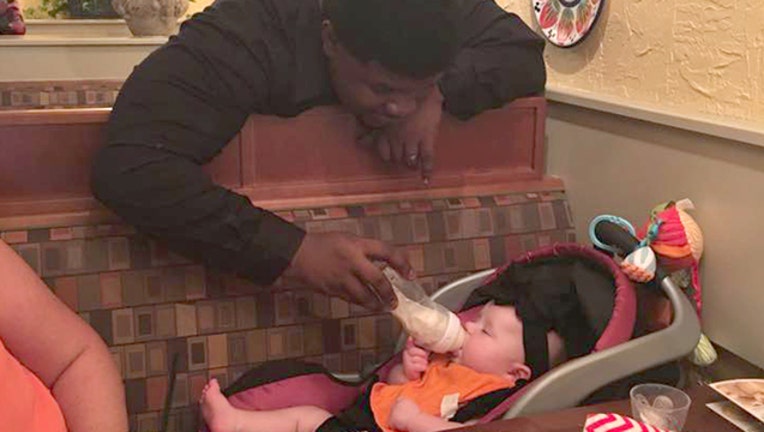 article
LITTLE ROCK, Ark. (FOX 13) - A caring waiter made life a little easier for a family he was serving at Olive Garden, but he didn't know just how needed his kind gesture was. 
Dallas French posted a photo on Facebook Sunday of a server at Olive Garden in Little Rock, AR feeding her daughter a bottle. In her post, French said the moment happened the previous Thursday after the family left the local Children's Hospital. 
French explained in the post, her daughter, Ellee just finished undergoing tests at the hospital when they decided to get dinner at the Italian-themed chain. As she prepared a bottle for Ellee at the table, she spilled it on herself and the floor. 
As she made another bottle for her baby, the waiter offered to help. 
"Our waiter (wish I knew his name) watched all that had happened and just had brought our salad and bread sticks and said here let me feed her and you eat," French wrote. "He fed her I ate my salad and bread sticks and that milk on the floor got cleaned up after we left because he just understood!" 
French added, the server did not know what the family was going through, but was just kind and wanted to help.
"This melted all of us and this is what we need more of!" she wrote.
Her post received hundreds of thousands of reactions and shares, and caught the attention of Olive Garden's corporate headquarters. In the comments, Olive Garden wrote to French about her experience at one of its locations. 
"We're so pleased our team was able to help, Dallas! We will be sure to share these kudos with our Little Rock team so this team member can be recognized!" the comment said. 
Also within the comments of French's post were hundreds who said they had similar experiences at the Olive Garden location near Children's Hospital in Little Rock, and some named the server in the photo by name. French told FOX 13 News she confirmed the server's name is Robert Davis.
"Gosh I wish I woulda got his name because he deserves the recognition!!" French wrote at the end of her post. 
It would appear Davis is now the center of attention at work, and for a very good reason.