Mother traumatized after U.S. Marshals raided wrong apartment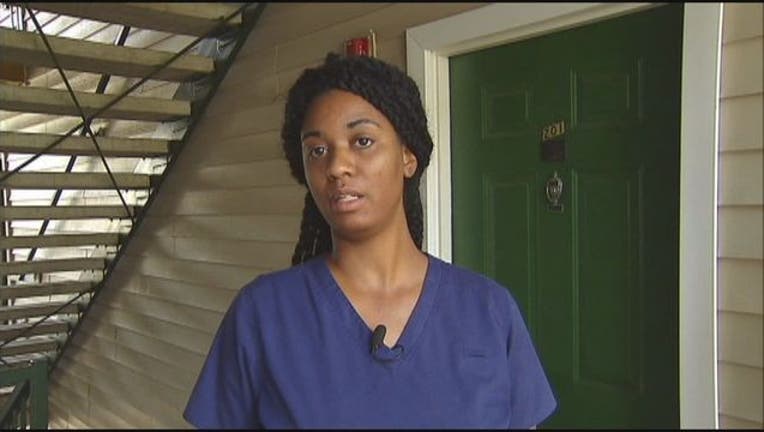 article
A D.C. mother is outraged after U.S. Marshals mistakenly raided her Southeast apartment while she and her two children were sleeping.
Hannah Lanes and her kids were woken up by knocking at their front door around 6:30 Thursday morning.
"My daughter went to the peep hole. They had the finger over the peep hole, so we couldn't identify who they were," Lanes said. "They just knocked down the door. We didn't have on any clothes. I was completely naked. My daughter didn't have on any clothes. They started screaming, telling everybody to get out of the house."
Authorities used a crowbar to break a lock and about eight U.S. Marshals burst into the apartment.
"They dragged me and my daughter out of the house. All I could grab was a sheet and wrap it around myself. And when they pulled us out I was like, 'What's going on? My son is in there,'" she said.
Lanes, a 32-year-old nursing assistant, begged them not to hurt her son.
"Then my little boy, my 4-year-old, came walking out and they screamed at me to call him to us and I was like, 'Please don't shoot my son,'" Lanes said.
Finally, the lead agent realized something went wrong.
"The lady goes, 'Isn't this apartment 203?' And me and my daughter was like, 'No!' So then she goes, 'Oh, we have the wrong house,'" the mother said.
Lanes and her children live in apartment 201, which is clearly marked on the door. The U.S. Marshals were looking for the person in apartment 203, who they later arrested.
"So we're standing on the balcony, outside with no clothes on, shaking, crying, scared. Guns have been pointed at us from the time we wake up and they have the wrong house," Lanes said.
The U.S. Marshals released the following statement to FOX 5 about the incident:
"Annually, the U.S. Marshals arrest more than 100,000 fugitives, with the safety of the public and law enforcement personnel as an utmost concern.  Whenever U.S. Marshals deputies and task force officers enter private residences, they do so in accordance with the laws of the United States.
Today, while serving both a search warrant and an arrest warrant for a fugitive wanted for First and Second Degree Child Sexual Abuse, USMS task force members mistakenly breached the door of a neighboring apartment.  Immediately thereafter, the fugitive was apprehended in his nearby apartment.  USMS personnel notified building management, who then repaired the door locks and provided the occupant with new keys prior to the USMS personnel leaving the scene. 
At this time we cannot comment on potential or pending litigation.  However, any member of the public who believes that their property has been damaged as a result of a USMS operation may submit a claim under the Federal Tort Claims Act."
Jason Matthew
Deputy United States Marshal
DC Superior Court
Click here to watch the story from our sister station, WTTG.