Motor City Pride 2023: What to expect at annual LGBTQ+ festival, parade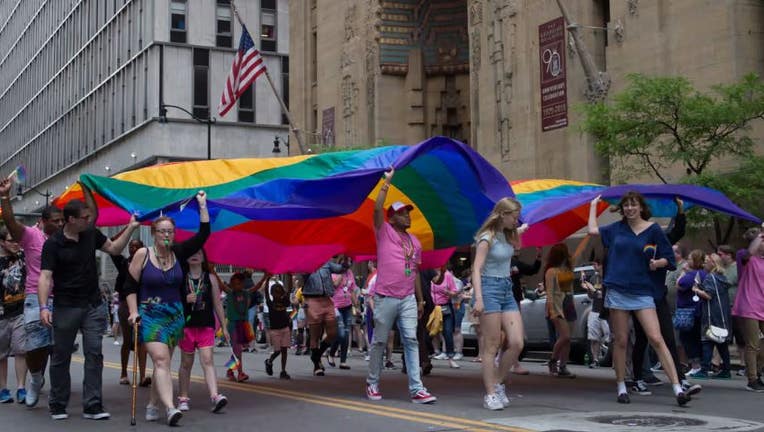 article
DETROIT (FOX 2) - Motor City Pride will take over Detroit's Hart Plaza with rainbow flags this weekend for the annual LGBTQ+ festival and parade.
Both Saturday and Sunday will feature activities for the whole family, including Sunday's parade. Dozens of performers will take the stages and more than 140 vendors will be selling merchandise and sharing services that they offer to the LGBTQ+ community. 
Saturday's events start at 1 p.m., with entertainment scheduled all day and a family area open from 2-5 p.m. The last act takes the stage at 8 p.m.
Sunday starts with the parade step-off at Griswold and Fort streets at noon before the festival gates open at 12:30 p.m. The last act takes the stage at 6 p.m.
Looking for more Pride events? Check our guide.
Pride entry
Attending the Motor City Pride Parade is free. 
Entry to the festival is $5. Tickets can be purchased online in advance or by using QR codes that will be on display outside the festival. 
The entry gate is off Jefferson Avenue at the UAW-Ford building on the west side of Hart Plaza.
Pride entertainment schedule
Pride Stage
Saturday, June 10, 2023
Hosted by Sabin
1:15 p.m. Breakfast for Dinner
2 p.m. Better Love
3 p.m. Sabin's Drag Revue
4 p.m.The Iron Roses
5 p.m. Boys of Fall
6 p.m. Sabin's Drag Revue
7 p.m. Siena Liggins
8 p.m. The Robyn Party
Sunday, June 11, 2023
Hosted by Andrew Christian
Noon DJ CIV
1 p.m. PRISM Men's Chorus
2 p.m. Drag Show: Robin Fierce from RuPaul's Drag Race, Jasmine Kennedie from RuPaul's Drag Race, Sabin
3 p.m. Little Visits
4 p.m. Mama Yaya
5 p.m. Andrew Christian
5:30 p.m. JORDY
6:15 p.m. DJ CIV
Festival Stage
Saturday, June 10, 2023
1:30 p.m. The Science Fair
2:30 p.m. Desert Sharks
3:30 p.m. Killing Pixies
4:30 p.m. Hayley and the Crushers
5:30 p.m.Rodeo Boys
6:30 p.m.The Idiot Kids
7:30 p.m. Synthia Looper
8:15 p.m.Stage Closes
Sunday, June 11, 2023
1:15 p.m. OneLineDrawing
2:30 p.m. The Dick Withers Band
3:30 p.m. Larah Helayne
4:30 p.m. CHECKER
5:30 p.m. Acts of Violets
Pyramid Stage
Saturday, June 10, 2023
2 p.m. DJ DigiMark
3 p.m. Bronsyn Sacker
4 p.m. THAY
5 p.m. Nugisy
6 p.m. Robert Bannon
7 p.m. Anthony J Fink
Sunday, June 11, 2023
1:30 p.m.DJ Edward Alan
2:30 p.m. Sharp Lives
3:30 p.m. Crystal Harding's Drag Revue
6 p.m.Stage Closes
Riverfront Dance Stage
Saturday, June 10, 2023
1 p.m. HOUSECATS: HOTWAXX HALE and Jenny LaFemme
3 p.m. Jesse Cory B2B Ben Scott
5 p.m. TYLR_ and KASS DETROIT
7:30 p.m. Ladylike
Sunday, June 11, 2023
Noon Ashton Swinton and Garrison XR
2 p.m. Kindle
3:30 p.m.Mister Joshooa and LOREN DETROIT
5:30 p.m.John Collins
Items prohibited at Pride
Weapons
Umbrellas larger than a golf umbrella
Beverages (including bottles of water; empty bottles allowed)
Coolers and Camelbacks
Bicycles, skateboards, and skates
Drones
Remote-controlled cars and toys
Flyers and samples not from vendors
Air horns
Laser pointers
Poles
Pride Parade map