Mysteries swirl around object shot down over Lake Huron
(FOX 2) - Was it a balloon? A drone? Something more nefarious?
The military wasn't very specific when describing the UFO shot down by a fighter jet over Lake Huron this weekend. The head of NORAD and U.S. Northern Command declined to give any details about what it could be.
"I'm not going to categorize them as balloons. We're calling them objects for a reason," said General Glen D. Vanherck on Sunday.
Michigan Congresswoman Elissa Slotkin said while much remains unknown about the object that was shot down by the U.S. military over Lake Huron this weekend, it was not a national security concern.
"NORAD, which has the mission of protecting the United States, is paying extremely close attention to anything that's flying in our skies," she said Monday. "They've really lowered the threshold of what they're looking at and this pinged on their radars about 24 hours ago."
What is for sure is the U.S. has now shot down four separate objects that had been over American airspace in the past eight days. The first incident, which has since been labeled a Chinese Spy Balloon, was spotted over Montana before it was shot down and recovered in the Atlantic Ocean.
Two other objects were downed over Alaska and Canada before a fourth was shot down 15 miles off the Upper Peninsula's coast. 
The actions are unprecedented in a time of peace, officials have said.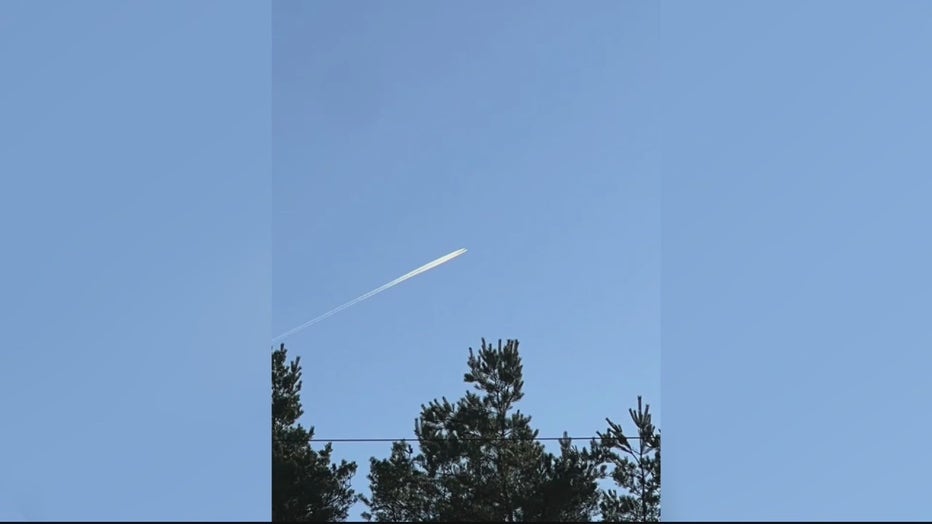 The sky over Lake Huron in Michigan after an object was shot down Sunday.  (Photos from Twitter handle @DLDT_MrHills. Used with courtesy from FOX. )
And while the U.S. military has claimed the actions its taken have been in the interest of security and "heightened alert" since the spy balloon's downing, little has been done to stamp down on questions over what the objects were. 
RELATED: Unidentified object shot down over Lake Huron -- Everything we know about it
Even extra terrestrials haven't been ruled out.
"I haven't ruled out anything at this point," said VanHerck.
There is the potential that there's been a spike in overhead objects appearing in the U.S. It's also possible the military is getting more adept at spotting foreign objects.
Later Sunday evening, images of objects floating in the sky were reported. Many featured a string of lights which have frequently been associated with a Starlink satellite, a company owned by Elon Musk.
The downing of objects has also stirred questions and frustrations among lawmakers. Rep. John James wondered about U.S. and Canadian security, while Elissa Slotkin said there was much still to understand from the object, and that hopefully questions would be answered after it's in possession of the military.