New Big Ten policy says teams unable to compete due to COVID-19 will forfeit match
ROSEMONT, Ill - If the University of Michigan or Michigan State University is unable to play in one of their upcoming games this fall season due to COVID-19, they'll be forced to forfeit.
That's the official policy handed down by the Big Ten Conference Monday, which determined the match would not be rescheduled in the event of a forfeiture.
Officials had hoped the 2021-22 college sports season, including football, would have a more complete schedule, following the patchwork of wins, losses, and cancellations last year due to the pandemic. 
While official vaccine policy from both U-M and MSU mandates the doses for anyone returning to campus, not every university in the Big Ten has. Additionally, mutated strains of COVID-19 are showing increasing chances of breaking through vaccine protections and infecting some who already had received the shot.
A media statement that was delivered around 10 a.m. Monday also said if both teams are unable to participate in a scheduled game, it will be considered "no contest."
RELATED: Which universities will mandate vaccines for the next school year?
During the 2020-21 season, teams only played conference matches and would sometimes spend weeks without taking to the field. 
Here are the scenarios if a COVID-19 infection forces a team to cancel its match:
If one team can't compete due to COVID-19, the game will be considered a forfeit by the team unable to participate. It will not be rescheduled.
If two teams competing are unable to do so, the match will be considered a "no contest."
If the outcome of a match will affect the composition of the conference standings, but one of those teams is unable to play and has to forfeit, they will "be assessed a 'loss,' each of its opponents a 'win,' and Conference standings shall be adjusted accordingly."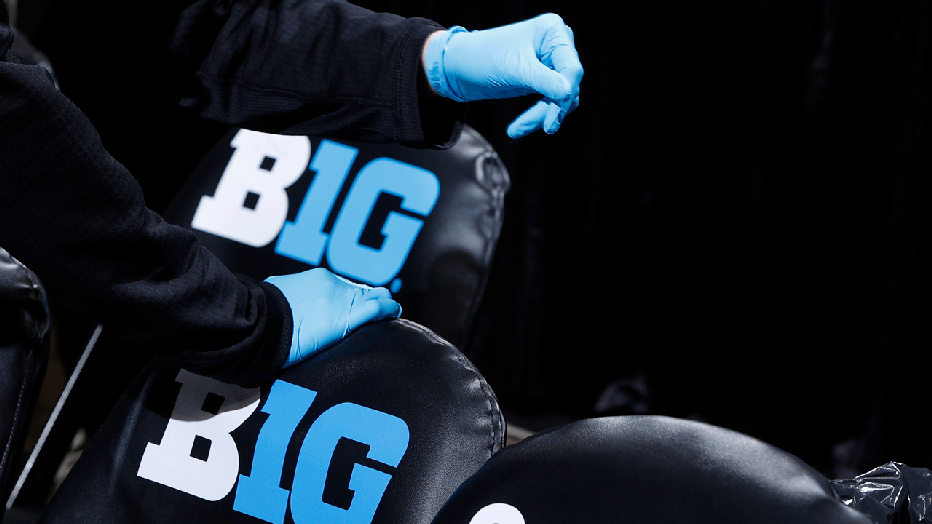 Trainers wear rubber gloves as they work in the bench area during the first round of the Big Ten Men's Basketball Tournament game between the Nebraska Cornhuskers and Indiana Hoosiers at Bankers Life Fieldhouse on March 11, 2020 in Indianapolis, Ind