Everman missing boy: Investigators believe human remains were once in shed near where he lived
EVERMAN, Texas - Investigators in Everman say they believe human remains were once in a shed near where missing 6-year-old Noel Rodriguez-Alvarez lived with his family.
On Monday, investigators dug up a new, unpermitted concrete patio paid for by the boy's mother, Cindy Rodriguez-Singh.
Everman police say early in the investigation they learned Noel's stepfather, Arshdeep Singh, disposed of a large indoor/outdoor carpet in a dumpster prior to the family fleeing the country.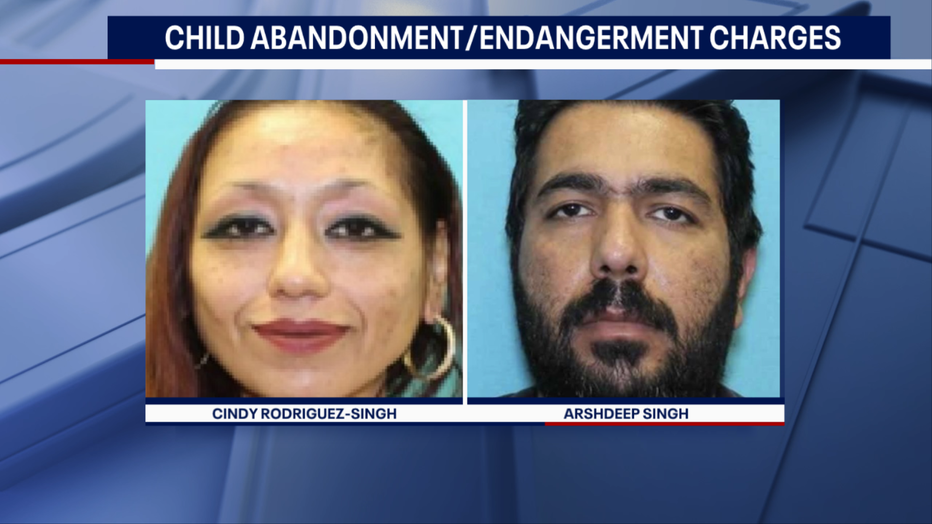 Multiple Human Remains Detection Canines alerted officers to the carpet, which was used at the base of a makeshift shed that was on the property until about a month ago. It was previously built where the current patio sat.
Police say the same piece of carpet was once on the floor of an older shed that stood on the property until a month ago. 
Both the carpet and the concrete where the shed once stood caused the cadaver dogs to react. 
As the digging continued, topsoil was removed and placed in areas nearby.
The canines followed the soil, and stopped alerting the investigators to the patio area. No body or any physical evidence was found, but investigators say they now believe human remains were contained in the shed, before the installation of the patio.  
"One of the interesting pieces was the carpet wasn't even at the house. It wasn't even at the location," said Everman Police Chief Craig Spencer. "So the canines to be able to alert on a piece of evidence at one place and then go over and alert again where it was previously, all that tends to add up. It does lead us to believe that there were human remains at one point in time in the shed that used to exist where now that concrete patio sits."
The Everman man who owns the property where Noel Rodriguez-Alvarez, who police now believe is dead, lived says investigators are "desperate" and looking in the wrong place.
Charles Parson, 71, spoke to FOX 4 Tuesday morning and for a second time. 
Rodriguez-Singh, her new husband Arshdeep Singh, and 7 of her kids, including Noel, lived in a shed behind Parson's house on Wisteria Drive in Everman.
"The slab was poured after Noel supposedly had disappeared. Why would he be underneath the slab?" said Parson. "I think they just tore it up because they don't have no idea where the boy is and they are frustrated."
Parson said Rodriguez-Singh paid for the patio to watch her kids and because she wanted to add a room onto the back of the house for her daughter to live.
"I know the police are desperate to find the boy, but they are looking in the wrong place," said Parson.  
Everman police say that city crews are clearing out the debris from the backyard and will work with a contractor to repair and replace the patio.
Investigators say even though the search revealed minimal physical evidence, it has provided more guidance as teams work to determine more areas to search for Noel.
Crews will rest on Tuesday before continuing their search.
Rodriguez-Singh, her husband and six children flew to Turkey and then to India after an investigation into the boy's whereabouts began. 
Parson says he believes the boy is still alive in Mexico and that Rodriguez-Singh left the country because she was afraid she would have her other kids taken away. 
"Until you show me a body that he's dead, then I'll believe you. I think no way he is dead. Somebody's got him. Somebody's scared that they are going to get in trouble with the law because they've got him, and they got him illegally," said Parson.
Rodriguez-Singh had told Parson Noel was taken to his father in Mexico. Everman police say they have disproved that story.
FOX 4 reached out to the FBI on Tuesday regarding efforts to find Rodriguez-Singh and her husband in India.  A spokeswoman said the agency continues to support the investigation, but it cannot reveal specifics.
Lingering questions remain unanswered.
"We're on three, four weeks of this since this case started. She's been out of the country. Surely, she knows this is going on," Spencer said. "She knows we're looking for Noel. And had there not been anything suspicious or had there been a reasonable explanation, you would've thought somebody would've reached out and told us that. We haven't had that contact."
A felony warrant has been issued for Rodriguez-Singh and Singh for abandoning and endangering a child.
An AMBER Alert was issued on March 25. The AMBER Alert and then an Endangered Missing Persons Report have both been discontinued. Everman police say they have transitioned from a search to a death investigation. 
Police say the last time they can prove the boy was seen was in October 2022. Police say the boy was unhealthy and malnourished at the hospital.
Everman police are asking that anyone with information should come forward as they continue to investigate and look for the boy's body.