Nor'easter pounds region, affecting many DTW flights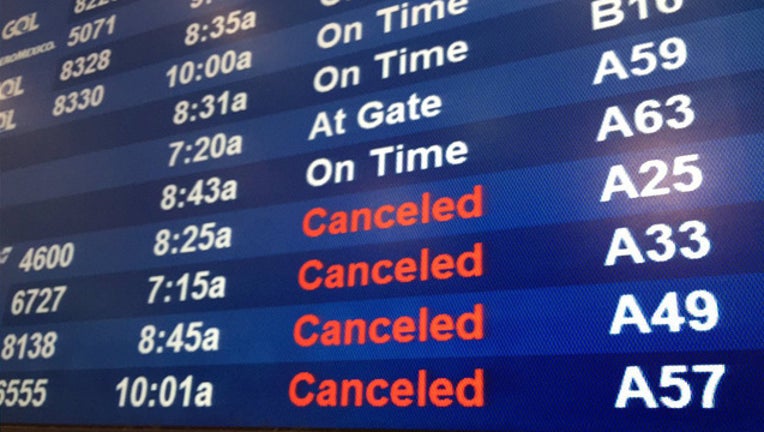 article
NEW YORK (AP) - A powerful nor'easter pounded the mid-Atlantic and the Northeast early Tuesday, prompting flight cancellations, school closures and warnings from city and state officials to stay off the roads.
Flights in and out of Detroit Metro Airport are already being affected. Thousands of flights nationwide have already been canceled. Travelers are advised to check their flight status with their airline before heading to the airport.
The National Weather Service issued blizzard warnings for parts of Pennsylvania, New Jersey, New York, Connecticut, Rhode Island, Massachusetts, New Hampshire, Maine and Vermont.
The storm was expected to dump 12 to 18 inches of snow on the New York City metro area with wind gusts of up to 55 mph.
The weather service's office near Philadelphia called the storm "life-threatening" and warned people to "shelter in place." Coastal flood warnings were in effect from Massachusetts to Delaware.
According to the airline-tracking website FlightAware, more than 5,000 flights Tuesday were canceled, including more than 2,800 in the New York City area, where about 200 passengers were stranded at John F. Kennedy airport. Amtrak also canceled and modified service up and down the Northeast Corridor. In New York City, the above-ground portions of the subway system were being shut down Tuesday morning.
In the nation's capital, the U.S. Office of Personnel Management announced a three-hour delayed arrival for non-emergency employees at area federal offices -- with an option of unscheduled leave or telework. Emergency employees of the federal government in the Washington, D.C., area were to report on time unless otherwise directed.
In Massachusetts, where forecasts called for 12 to 18 inches of snow, Gov. Charlie Baker encouraged motorists to stay off the roads and to take public transit only if absolutely necessary. The fast snowfall rates will "create hazardous driving conditions across the Commonwealth," he said.
Schools in New York City, Philadelphia, Boston and elsewhere were all closed Tuesday.
Juan Castro, of Pittsburg, California, waited at a hotel by the World Trade Center for his pre-dawn ride to a hospital where his sister was having surgery. The hospital had assured his family that the procedure would go on despite the weather. He was layered up and wore boots he'd bought just for the storm. Castro, a pastor, reasoned that the weather was OK with him. "It's beautiful," he said as the snow swirled on a Lower Manhattan street. "You've got to be positive."
Bank teller Jana White said her plans for riding out the storm included "lots of hot chocolate and a couple of sappy movies."
"It's a reminder that winter is always ready to take shot at you, so you have to stay prepared," the 23-year-old Trenton, New Jersey, resident said. "We've got food and snacks and drinks, so as long as the power stays on we should be in good shape."
In Maryland, Gov. Larry Hogan declared a state of emergency and urged residents not to be lulled into a false sense of security due to the mild winter.
"This is a serious winter storm," Hogan said, adding that some parts of the state could see over a foot of snow. "It's obviously going to be the biggest event we've had this season and people need to be prepared. They need to be safe."
The heaviest snowfall was expected Tuesday morning through the afternoon, with snowfall rates as high as 2 to 4 inches per hour.
Pennsylvania Gov. Tom Wolf said that approximately 700 National Guard members would be deployed, along with more than 2,000 snow plows to keep up with the storm that was expected to bring a foot or more of snow to some parts of the state.
Early Tuesday, the NWS said the dividing line between snow and a wintry mix had moved farther inland, through southern New Jersey into Philadelphia, cutting anticipated snow totals, but increasing the chance of icing.
In Illinois, state police say snowy weather caused two crashes on a Chicago expressway that involved a total of 34 cars. A State Police spokesman says seven people sustained minor injuries in Monday night's pileup on the Kennedy Expressway. Both wrecks occurred in the express lanes of the highway on the city's North Side.
The nor'easter comes a week after the region saw temperatures climb into the 60s. Spring officially starts on March 20.
The snow threat in the Northeast also was causing college basketball teams to alter their travel plans as the fierce storm bore down on the region.
"We are closely tracking the weather and working with our travel partners and teams in the tournament to ensure the safety of our student-athletes, coaches, administrators, officials and fans," the NCAA said in a statement.
Villanova, top overall seed in the men's NCAA Tournament, left Philadelphia on Monday afternoon for Buffalo, New York, to get ahead of the storm.
There is less of a chance that the women's tournament would be affected: UConn is the only Northeast team hosting a game and they play Saturday, giving teams more time to arrive in Connecticut.
Teams in the men's and women's NCAA Tournaments have chartered flights so any backlog on commercial planes shouldn't be a problem.