Obama: Time to bury 'last remnants' of Cold War in Americas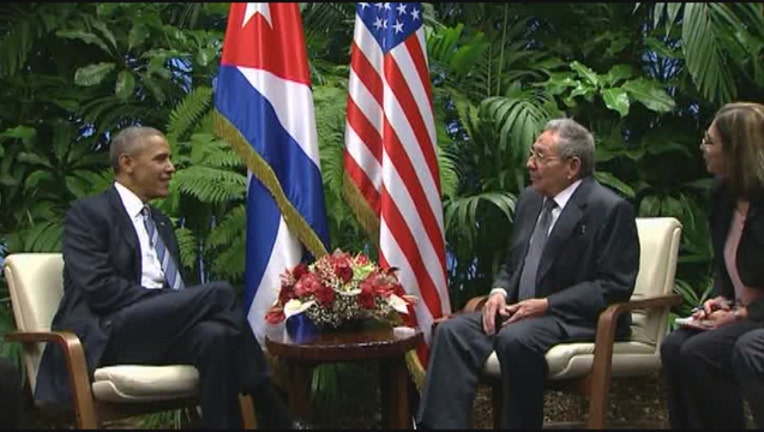 article
HAVANA (AP) - President Barack Obama on Tuesday urged Cubans to look to the future with hope, casting his historic visit to the communist nation as a moment to "bury the last remnants of the Cold War in the Americas."
You can watch a replay of President Obama's remarks here.

Obama's address opened a whirlwind final day on the island that includes a meeting with Cuban dissidents and attendance at a baseball game featuring the country's beloved national team -- events made possible by the normalization of U.S. and Cuban relations 15 months ago.
"Havana is only 90 miles from Florida, but to get here we had to travel a great distance," Obama said during his address at Havana's Grand Theater. 
Despite the enthusiasm in both the U.S. and Cuba about the new relationship between the former foes, Obama acknowledged the deep differences that persist, including on human rights and democracy. With Cuban President Raul Castro looking on from a balcony, he called for citizens to be able to "speak their minds without fear" and pick their leaders in free and fair elections.
The president was cheered enthusiastically when he reiterated his call for the U.S. Congress to lift the economic embargo on Cuba, calling it an "outdated burden on the Cuban people."
The embargo is loathed on the island. During a joint appearance with Obama on Monday, Castro called it "the most important obstacle" to Cuba's economic growth." 
Obama's last day in Cuba was shadowed by the horrific attacks in Brussels, where scores of people were killed in explosions at the airport and a metro station. The president opened his remarks by vowing to do "whatever is necessary" to support Belgium. You can read more about the Brussels attack here.