Erin Brockovich coming to East Palestine, Ohio after toxic train derailment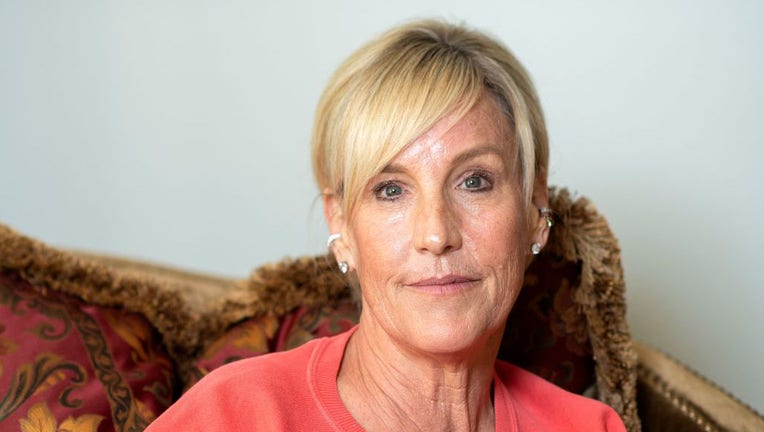 article
Activist Erin Brockovich says she coming to East Palestine, the site of the freight train derailment where toxic chemicals spilled or were burned off in Ohio more than two weeks ago. 
Brockovich is holding a town hall on Friday, Feb. 24 at the local high school. Registration is required to attend for those who live in the area. 
Brockovich has been vocal in the weeks since the hazardous disaster. 
Government officials have been assuring the 5,000 or so people who live near the Pennsylvania state line that the water is fit for drinking and the air is safe to breathe — but residents are afraid and skeptical. As is Brockovich. 
"They absolutely must have independent testing going on," she tweeted last week in criticism of how officials have responded. "It's the only way people in the town and in the immediate area are going to feel safe."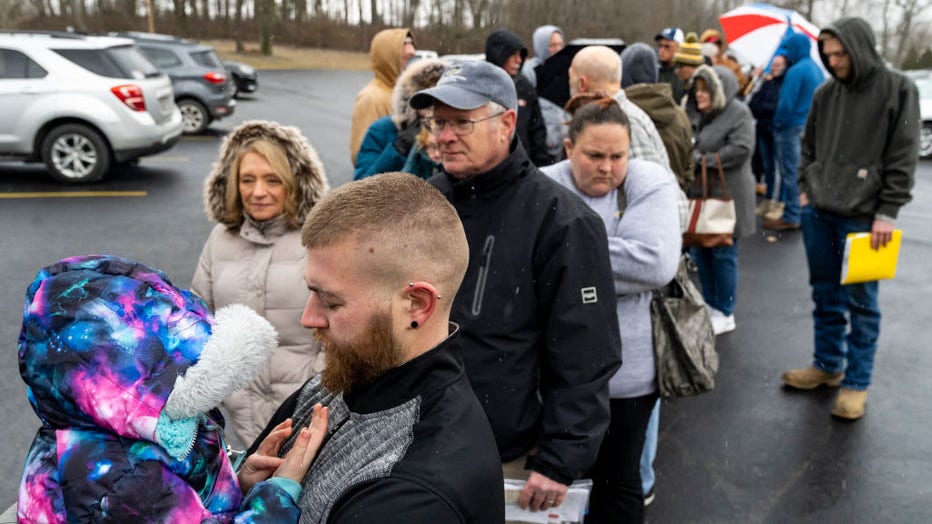 Neil Figley, 28, holds his daughter, Harlie, 4, as they wait in line at the Norfolk Southern Assistance Center to collect a $1000 check and get reimbursed for expenses while they were evacuated from East Palestine, Ohio on February 17, 2023. (Photo:
RELATED: 'Trust the government' says head of EPA during visit to Ohio train derailment site
In the aftermath, some have complained about finding their cars covered in soot, their homes filled with overpowering odors and their pets getting sick or dying.
The chemicals also spilled into nearby creeks, killing thousands of fish, and a smaller amount eventually made their way into the Ohio River.
Ohio Gov. Mike DeWine said Friday that the chemicals that spilled into the Ohio River are no longer a risk, even as people in the community say they have constant headaches and irritated eyes.
RELATED: Ohio derailment: Clinic to open as health fears linger
DeWine said testing results from East Palestine's municipal water source have determined that municipal drinking water is safe to drink, but that those getting their water from private wells were still encouraged to use bottled water until their water is tested. 
Brockovich agreed, saying in a Feb. 15 edition of 'The Brockovich Report' that those who are on private well water are more likely to be at risk for adverse health effects than those on public utility water due to a lack of professional oversight.
Brockovich was a legal researcher who blew the whistle in the '90s on toxic water in the town of Hinkley, California. She was instrumental in building a case against Pacific Gas and Electric Company (PG&E) for leaking poisonous chemicals into the groundwater, infiltrating the health of the town. Her work helped lead to a historic settlement in 1996 of $333 million.
The story made it to Hollywood, where Brockovich was portrayed by Julia Roberts in the 2000 film "Erin Brockovich."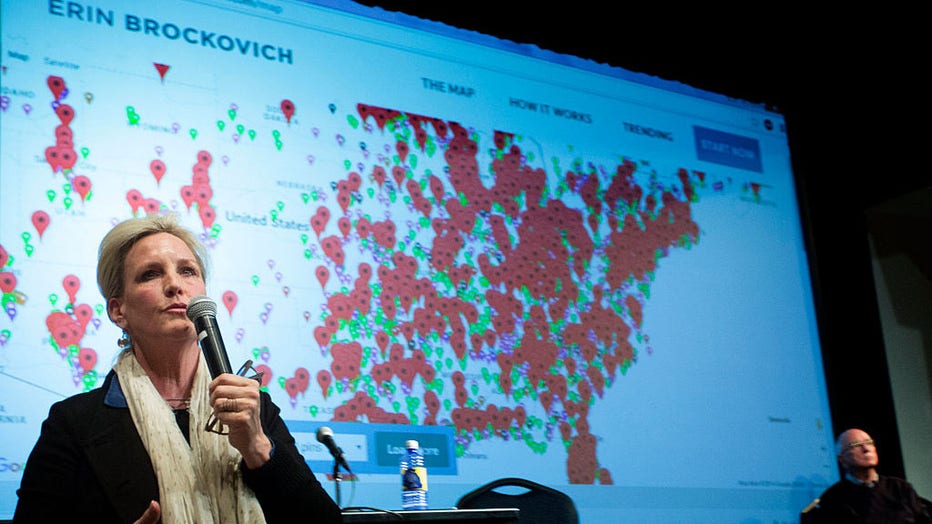 Erin Brockovich uses a computer model to display the growing environmental hot spots as she speaks during an Oklahoma Earthquake Town Hall Meeting at the University of Central Oklahoma February 23, 2016 in Edmond, Oklahoma. (Photo by J Pat Carter/Get
Meanwhile, the 62-year-old has remained in the public eye as a consumer advocate and environmental activist. She has spoken out about other environmental health disasters including the water crisis in Flint, Michigan, where accountability and justice are still being sought nearly a decade after lead from old, damaged pipes leeched into the water system for more than a year.
"Please understand that Superman isn't coming to make everything all better. This will likely get worse before they get better," Brockovich tweeted Friday to the people in East Palestine.
"But #eastpalestine you are not alone and we aren't going anywhere."
Brockovich said the point of her town hall, during which she will be joined by prominent attorney Mikal Watts, is to explain to the people of East Palestine their legal rights so they can be better equipped to hold the railroad accountable. 
The 50 or so cars that derailed on Feb. 3 belonged to Norfolk Southern. Five of the cars that were part of the derailment contained hazardous chemicals. Norfolk Southern had no immediate information about what caused the crash. 
At least five lawsuits have been filed against the railroad, and lawyers have been showing up in the area to offer advice and legal options.
RELATED: Ohio train derailment: Should New Englanders be worried about air quality?
Cities downriver from East Palestine and along the Ohio River have also been on heightened alert for air or water quality disturbances. 
This story was reported from Detroit. The Associated Press contributed.