Oklahoma students make dead cats 'dance', school ends cat dissections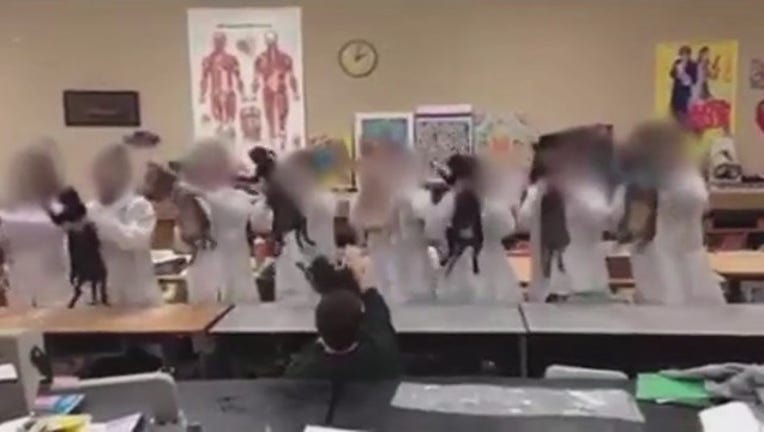 article
An Oklahoma City high school criticized over a video that shows former students puppeteering dead cats to a well-known jingle will end its dissection of the felines.
PETA sent the video several media outlets in Oklahoma City including FOX 25. The video shows students at Harding Charter Preparatory High School making the cats, to be dissected in their anatomy class, dance to the "Meow Mix" jingle.
Eight students in white lab coats stand in a row and each are holding a dead cat behind a line of desks. Kneeling in front of them is another students who is directing the others in a choreographed routine.
At the end of the video, the student director holds a sign that reads "Piccolo and the Pussycats". PETA says Piccolo is the last name of the teacher at the school.
According to FOX 25, the video was uploaded to Facebook last year and the students have now all graduated. PETA called on the school to "drop cruel and archaic cat dissection in favor of humane alternatives."
On Thursday, the school agreed and said they will the dissection of felines. The school said it will replace the anatomy class exercise and dissection of a different animal hasn't been ruled out.
Harding Charter Preparatory High School Assistant Principal Mylo Miller says the issue has distracted from the school's successful college placements and other academic accolades.
Information from the Associated Press and FOX 25 was used in this report.