Oxford shooting survivors share their stories at End Gun Violence Michigan vigil
OXFORD, Mich. (FOX 2) - On average, more than 1,200 people die by guns in Michigan every year. The End Gun Violence Coalition is working to change that holding vigils all across the state today.
In Oxford the community tragically knows gun violence all too well, although that shooting in Oxford High School over a year ago, the folks FOX 2 spoke to today, the survivors of that, says it is still very real.
There were seven vigils across the state hosted by End Gun Violence Michigan. There were seven including in Detroit, and here in Oxford,
The activist group is asking the state legislature as they go into the 1st 100 days of the 2023 year to call for action for "common sense gun laws."
The group is pushing for safe storage laws, universal background checks and extreme risk protection - which would allow judges to remove temporarily guns from people that are at risk and, of course, restrictions for domestic abusers to have guns.
We heard from some of those survivors today, including two students who have taken it upon themselves to organize in a group called No Future Without Today, fighting for the same common sense gun laws.
We also got to hear for the first time teacher Lauren Jasinski, who was at Oxford High School November 30th, 2021.
"No amount of training could have prepared me for what followed on November 30th when I heard for the first gunshots outside of my classroom door." she said  "I sheltered in place with a classroom full of ninth-grade students, where we had to wait nearly three hours only able to hear calls for help, the sounds of first responders, and the walkie talkie chatter from down the hallway. We had to wait while the place that we loved became a crime scene."
Also: For more on the Oxford school shooting, go here.
Maddie Johnson was one of the students and shared her experience.
"I was in the hallway with my best friend Madisyn (Baldwin) when it happened, and we were separated in the chaos," she said. "All of the classroom doors were closing, so I had no choice but to run for my life through the hallway. Until I found an open exit. I thought hearing about what happened to me and my peers would be a reality check for legislators, both federal and state-wide. I thought that the changes needed would happen overnight.
"But here I am, a year later, no change has been made. And I'm still speaking about a tragedy that has changed the course of my life."
Maddie Johnson added she is thankful for the thousands of thoughts and prayers. But now she wants to see action. They will continue to get the word out and, of course, put pressure on the Michigan state legislators.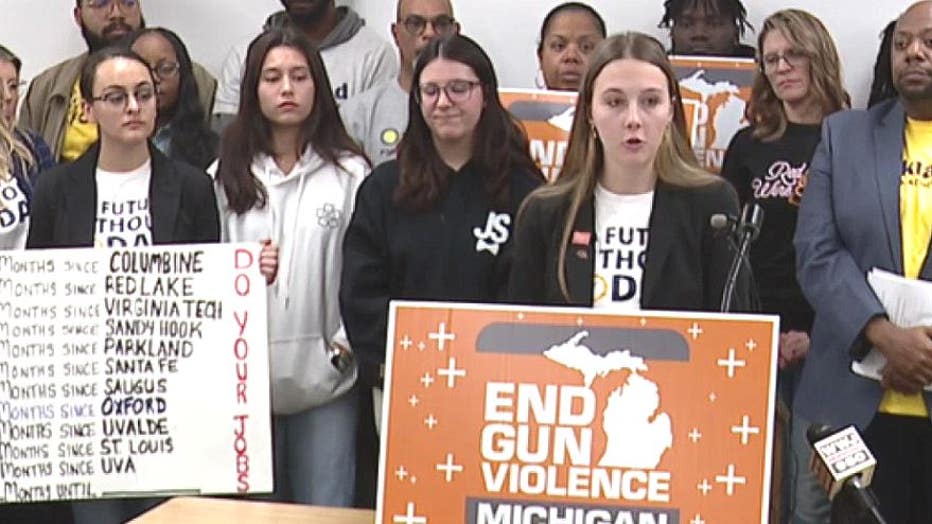 Oxford High School shooting survivor Maddie Johnson.