Papa John's stolen car a replica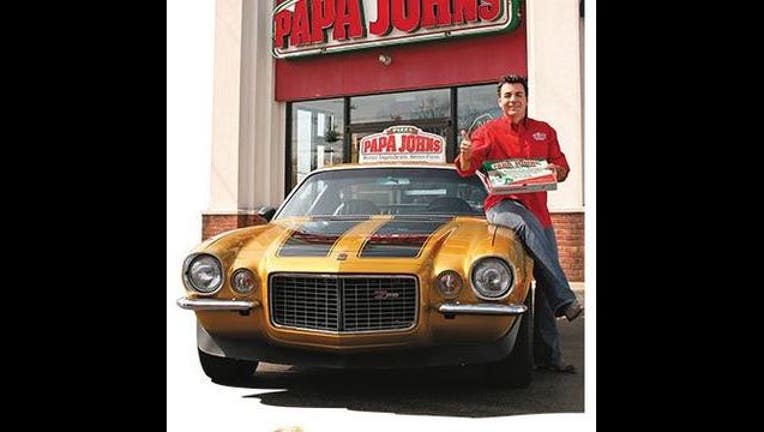 article
DETROIT (AP) — A Chevrolet Camaro used in promotions for pizza chain Papa John's was found Monday after being among three vehicles stolen from around a Detroit-area event showcasing classic cars, police said.
The car turned up on Detroit's west side after a truck that was hauling the car and a trailer for it were recovered Sunday, Detroit police Officer Shanelle Williams said. The car was spotted in the driveway of a vacant home.
Ernest Webster, 48, arrived to mow a nearby area on Monday morning when he recognized the vehicle from a TV report and called 911. Police arrived and found paperwork in the car, the Detroit Free Press reported.
"I said, 'Man, that looks like that Papa John's car,'" Webster told the newspaper. "I looked inside and it was really clean. I called my brother-in-law, who is a cop, and he told me to call 911."
"We believe the pressure of the media forced them to dump the vehicle," Sgt. Jonathan Parnell of the Detroit Police Department's commercial auto theft unit told The Detroit News.
The car is a replica of the 1971 Camaro Z28 owned by the Louisville, Kentucky-based company. It was reported missing Sunday morning from Detroit. The car was displayed for the Woodward Dream Cruise on Saturday in suburban Detroit, Papa John's spokesman Bob Kraut said.
Papa John's founder John Schnatter sold the original gold-and-black car decades ago to help his father's tavern in Indiana, leading to the start of what would become Papa John's.
Schnatter received $2,800 for the original Camaro. He used the money to save the family business and launch Papa John's.
Meanwhile, two other vehicles were reported stolen, including a red 1966 Chevrolet Corvette that was taken from Birmingham. A 1966 Chevy Chevelle also was reported stolen and a pickup used to haul it was found in Detroit, authorities said.
___
This story has been corrected to show that the stolen car was a replica of the Camaro Z28 owned by John Schnatter.