Paper mill fire in northern Michigan prompts shelter in place order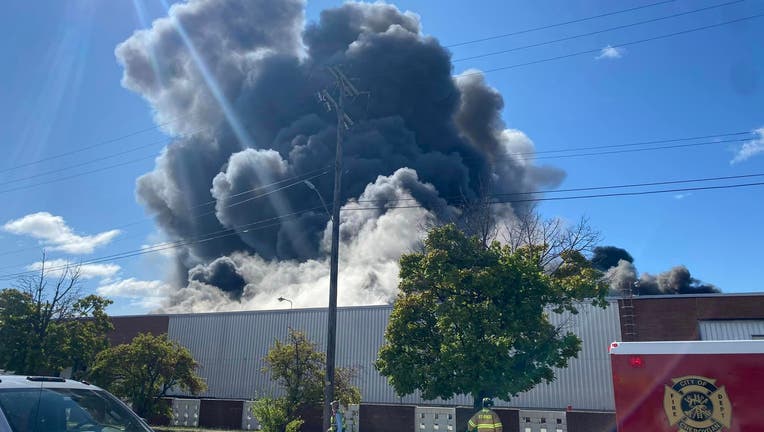 article
CHEBOYGAN, Mich. (AP) - A fire at a northern Michigan paper mill closed several roads Wednesday and prompted city officials to tell residents to shelter in place, while state police warned people to stay away from the area.
Plumes of thick and heavy black and gray smoke billowed from the Tissue Depot property along M-27 in downtown Cheboygan, about 290 miles (466 kilometers) northwest of Detroit.
Cheboygan Fire Chief Don Dailey said the fire started in a part of the mill where no employees were working at the time. Crews were alerted that there were several tons of plastic stored in the building, he said.
No employees of the mill or firefighters were injured, Dailey said.
The nearby Cheboygan Lock and Dam, which allows boats to navigate the different levels of the Cheboygan River, also was temporarily closed.
"Please shelter in place until further notice and shut all windows due to fire" was posted on the City of Cheboygan Facebook page.
Staff with Michigan's Department of Environment, Great Lakes, and Energy were sent to Cheboygan Wednesday afternoon "to help assess the situation," spokesman Jeff Johnston told The Associated Press in an email.
"The smoke billowed for hours," said Trisha Leask, an employee at a convenience store a few blocks from the fire. "It looked like black storm clouds."
Leask said she noticed the smoke Wednesday morning. It's not the first time the property has caught fire, she added.
Kaiden Miller said he could see the flames from the nearby eatery where he works as a cook.
"There was a bunch of smoke going up," he said, noting that by 2:30 p.m. Wednesday the amount of smoke had subsided as firefighters worked to extinguish the blaze.
Miller also said the property has had a history of fires. "Lots, at least once a year," he said. "That place is always on fire."
Formerly known as Great Lakes Tissue Co., the mill once employed about 300 workers.