Police: Church bus driver charged in deadly crash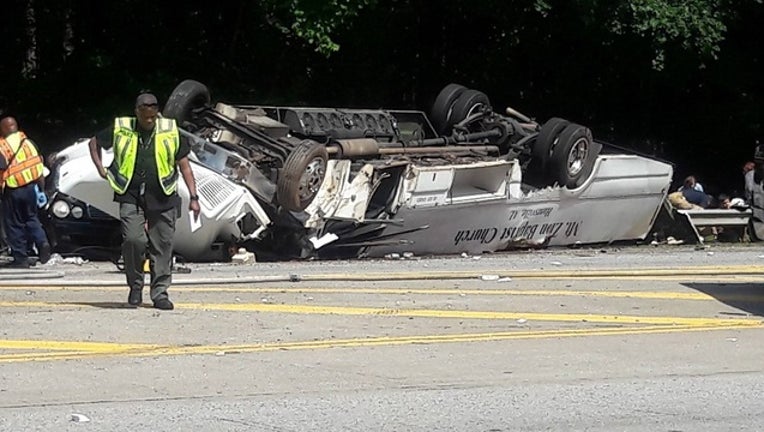 article
ATLANTA - The driver of the church bus from Alabama which crashed last week in south Fulton County has been charged with second degree homicide by vehicle and failure to maintain lane.
The driver, Jerry Sims, is reportedly still in the hospital.
%INLINE%
Sarah Harmening, 17, was killed and 39 others injured when their church bus overturned on Camp Creek Parkway last Thursday.
Church members of Mount Zion Baptist Church in Huntsville, Alabama said some of the teenagers suffer broken bones, fractures, and internal injuries. Most of the victim have been released from the hospital.
Sims' lawyer, Jason W. Swindle Sr., released the following statement late Wednesday night:
"My client, Jerry Sims, has been charged with Failure to Maintain Lane and Homicide by Vehicle - 2nd Degree.  These charges are misdemeanor traffic offenses because neither drugs nor alcohol were involved in the accident.  Jerry, who is still recovering in the hospital, has received nothing but love and support from the families affected by the accident and the fellowship of the entire Christian community." 
App users: View embedded items in this article
%INLINE%
Police said the bus attempted to change lanes when it struck a Chrysler, which caused the bus driver to steer left and lose control. The bus entered the uneven median and rolled over, according to police. The upside down bus slid into a Mercedes that was traveling in the westbound lanes, according to investigators.
The crash happened around 3:30 p.m. along Camp Creek Parkway in south Fulton County, just outside Atlanta.
The church bus was carrying student missionaries headed to Hartsfield-Jackson Atlanta International Airport to fly to Africa.