Power outage townhall held in Westland - but DTE Energy not in attendance
WESTLAND, Mich. (FOX 2) - There was a packed house at Westland City Hall as people wanted to hold DTE Energy accountable for the power outages and rate hikes.
And while elected officials and activists were there Monday night - the story was more about who wasn't in attendance, namely no one from DTE,
"(It's) very frustrating. Something has to be done," said Ruby Richards, Westland resident.
Those at the town hall meeting were looking for someone to hold accountable.
"I think everybody is frustrated," said Westland Mayor Michael Londeau. "The grid is notwithstanding some of the storms we are having lately. DTE knows they can do better and they will do better."
Furious residents gathered  to formulate a way to get that message across.  
"To tell DTEin a very large group setting, that enough is enough," said Melissa Sampey, Westland council member.
But despite an invitation, no one from DTE was at the meeting.
FOX 2: "What do think about them not showing up to town hall meetings?"
"They are not showing up? I thought they were," said Richards. "Okay, what is this about then?"
According to Congresswoman Rashida Tlaib (D-Detroit), this was about formulating a strategy.
"They don't answer to us, the customers, the residents," she said. "They answer again, to their shareholders."
The activist group We the People Action Fund also spoke at the town hall.
"DTE has unfortunately learned that if they invest in our politics, they don't need to invest in our grid," said a spokesman from the group.
The people who were affected by the outage, also spoke up.
"If they are in violation, why can't we the people file a class action lawsuit and sue them?" asked one resident.
They also addressed the rate increases. DTE is asking for $622 million additional dollars from their customers. Last year they asked for an increase of $388 million but only got a 30 million increase approved by The Public Service Commission.
"I'm tired of rich people just walking all over us," said one man.
Instead of sending someone to the meeting, DTE President and COO Trevor Lauer sent over a statement which reads in part:
"We hear the concern from our customers. When a historic ice storm struck our state, 20 percent of them were left without power. Our customers deserve better, which is why we need to continue to invest to improve the reliability of our electric grid in the face of increasingly severe storms."
The people on Monday were asked to share their concerns with the Public Service Commission which meets on March 20 at Dearborn Fordson High School.
The Public Service Commission is a three-person panel appointed by Governor Gretchen Whitmer which has the power to approve or vote down any proposed rate increase by DTE. The members are Katherine L. Peretick, Daniel C. Scripps and Tremaine L. Phillips.
There is a list of Michigan Public Service Commission townhalls it will be holding, including in Dearborn. That list can be found HERE.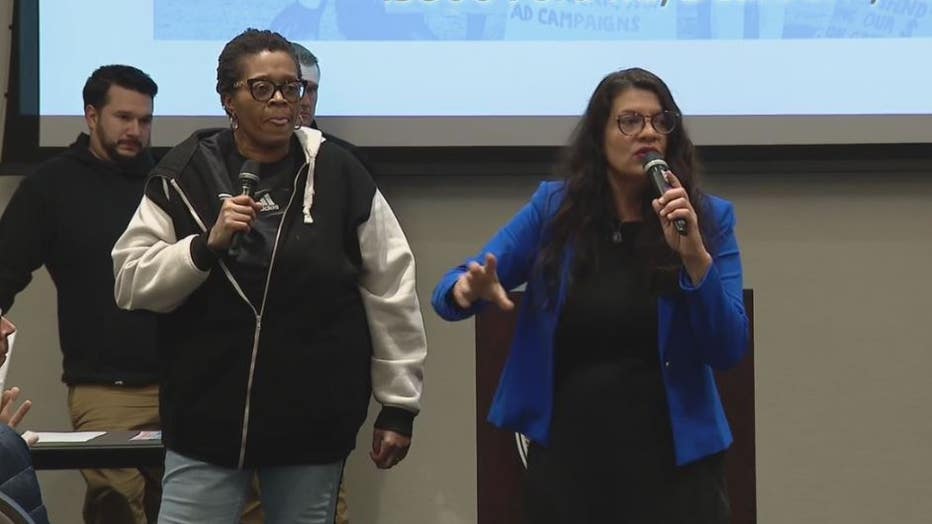 US Congresswoman Rashida Tlaib speaks at the townhall.