President Trump delivers 2019 State of the Union address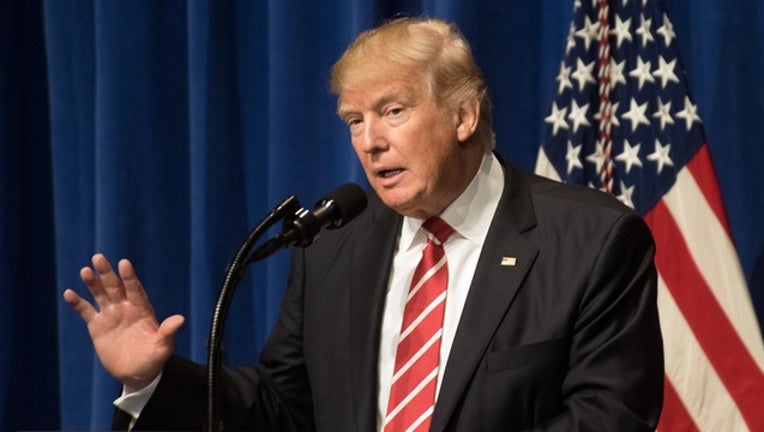 article
(FOX 2) - President Donald Trump delivered the 2019 State of the Union address Tuesday night, calling for unity among parties to enact change.
He delivered his second SOTU address in the chamber of the U.S. House of Representatives, addressed to the 116th U.S. Congress.
You can watch the address live on Fox 2's Facebook page, click here.
Or, watch it at fox2detroit.com/live
LIVE UPDATES:
Trump said the U.S. is experiencing an economic boom "that has rarely been seen before," citing 5.1 million new jobs and 600,000 new manufacturing jobs. He said the economy is growing almost twice as fast since he's taken office, with nearly 5 million Americans lifted off food stamps and unemployment at the lowest rate in almost half a century.
He boasted the U.S. has passed massive tax cut for working family and doubled the child tax credit, virtually ending the estate/death tax on small business for ranches and also for family farms.
Trump said America is the 1 producer of oil and natural gas anywhere in the world, net exporter of energy for the first time in 65 years.
Trump introduced his guest, Alice Johnson, who was harshly sentenced as a first-time nonviolent drug offender. Back in June, Trump commuted her life sentence and free Johnson, whose cause was championed by reality TV star Kim Kardashian West.
"Over the next 22 years she became a prison administer, inspiring others to choose a better path," he said. "She had a big impact on that prison population. and far beyond."
He said her story underscores the disparities and unfairness that can exist in criminal sentencing and the need to fix it.
On the topic of illegal immigration, a building block of Trump's presidential campaign, he said allowing illegal immigration "is not compassionate, it is actually very cruel."
He said one in three women is sexually assaulted on the journey north, as human traffickers take advantage of what he says are the wide open areas around the border to bring young girls and women into the U.S. to sell them into prostitution or modern day slavery.
Trump said most of the people in the room voted for a border wall, but: "the proper wall never got built. I will get it built."
Not just a simple concrete wall, he said it will be deployed in the areas identified by border agents as having the greatest need. He called for compromise and to make a deal to improve safety.
"Simply put: Walls work, and walls save lives," he said.
Trump said exactly one century after Congress passed the constitutional amendment giving women the right to vote: "we also have more women serving in Congress than in any time before." In response, a group of Congressional members, many of whom are women wearing white as a nod to the women's suffrage movement, stood and cheered.
On trade, Trump said he's met with people in Michigan, Ohio, Pennsylvania and other states  "whose dreams were shattered by NAFTA," saying the new USMCA will deliver for American workers.
Met with a standing ovation when calling out America's "crumbling infrastructure", he called for repair, including investments in the cutting edge industries of the future.
He said another major priority will be lowering the cost of healthcare and prescription drugs, and the protect patients with pre-existing conditions. He said it is wrong Americans often pay "vastly more than people in other countries for the exact same drugs, often made in the exact same place."
Trump said his budget will call on parties to make the needed committment to eliminate the HIV epidemic within 10 years. "Together we will defeat AIDS in America and beyond."
The president introduced the First Lady's guest, Grace Eline, who has spent every birthday since she was 4 years old, asking her friends to donate to St. Jude's Children's Hospital, not knowing she'd be a patient herself. She was diagnosed with brain cancer, but she beat it. 
"You are a great inspiration to everyone in this room," Trump said. He said he's asking for $500,000 million over the next 10 years for children's cancer research. 
Trump called for paid family leave, and called on Congress "pass legislation to prohibit the late-term abortion of children who can feel pain in the mother's womb."
"America was founded on liberty and independence -- not government coercion, domination and control. We are born free, and we will stay free. Tonight, we renew our resolve that America will NEVER be a socialist country," he said.
For LIVE fact checking from the Associated Press, follow along:
___________________________________
White House press secretary Sarah Sanders indicated the president would highlight what he sees as achievements and downplay discord.
"You're going to continue see the president push for policies that help continue the economic boom," Sanders said Monday night while appearing on "Hannity" on Fox News. "You're also going to see the president call on Congress and say, 'Look, we can either work together and get great things done or we can fight each other and get nothing done.' And frankly, the American people deserve better than that."
White House officials said Trump planned to highlight areas where he believes he can work with Democrats, including infrastructure and prescription drug pricing. The focus on reaching across the aisle is a tacit admission from the White House that Trump may need a course correction if he is to win re-election. His approval rating stands at just 34 percent after the shutdown, according to a recent survey conducted by The Associated Press-NORC Center for Public Affairs Research.
While Trump was still putting the final touches on the speech Tuesday afternoon, he was expected to use some of his televised address to showcase a growing economy. Despite the shutdown, the U.S. economy added a robust 304,000 jobs in January, marking 100 straight months of job growth. That's the longest such period on record.
Trump and his top aides have also hinted that he is likely to use the address to announce a major milestone in the fight against the Islamic State group in Syria. Despite the objections of some advisers, Trump announced in December that he was withdrawing U.S. forces in Syria.
The president's guests for the speech include Anna Marie Johnson, a 63-year-old woman whose life sentence for drug offenses was commuted by the president, and Joshua Trump, a sixth-grade student from Wilmington, Delaware, who was allegedly bullied because of his last name. They will sit with first lady Melania Trump during the address.
Stacey Abrams, a 2018 gubernatorial candidate in Georgia, will deliver the Democratic Response following the SOTU. You can also watch that live on Fox 2's Facebook page, click here. Abrams narrowly lost her bid in November to become America's first black female governor, and party leaders are aggressively recruiting her to run for U.S. Senate from Georgia.
Administration officials say the White House has been weighing several "moonshot" goals. An announcement is expected on a new initiative aimed at ending transmissions of HIV by 2030. "He will be asking for bipartisan support to make that happen," said White House counselor Kellyanne Conway.
On Jan. 16, House Speaker Nancy Pelosi asked Trump to postpone his State of the Union address to the national until the government reopened, says the partial shutdown raised concerns about security preparations for the speech. She noted that the Secret Service and Department of Homeland Security have been without funding for almost four weeks. Pelosi wrote that "given the security concerns and unless government reopens this week, I suggest that we work together to determine another suitable date after the government has re-opened."
Over a week later on Jan. 25, Trump signed a bill that temporarily opens the federal government for three weeks, ending the longest shutdown in U.S. history at 35 days. Trump backed down from his demand that Congress provide more border wall money before federal agencies get back to work. But he warns that the government could shut down again "if we don't get a fair deal from Congress."
AP FACT CHECK: Trump's claims in his 2018 State of Union address
The agreement to open the government came as about 800,000 federal employees missed their second consecutive paycheck. As part of the deal, a bipartisan committee of House and Senate lawmakers is being formed to reviewborder security recommendations. Trump said the deal will take care of millions of people who were getting badly hurt by the shutdown. 
After the date of the SOTU was moved to Feb. 5, Michigan Gov. Gretchen Whitmer asked that the State of the State be moved to Feb. 12, to avoid conflicting with the national address. 
Just hours before the SOTU, Senate Minority Leader Chuck Schumer of New York said on the Senate floor that the president talks about unity in his annual addresses to the nation but "spends the other 364 days of the year dividing us." He accused Trump of "blatant hypocrisy."
Trump responded on Twitter:
The Associated Press contributed to this report.