Public visitation today for Rep. John Dingell in Dearborn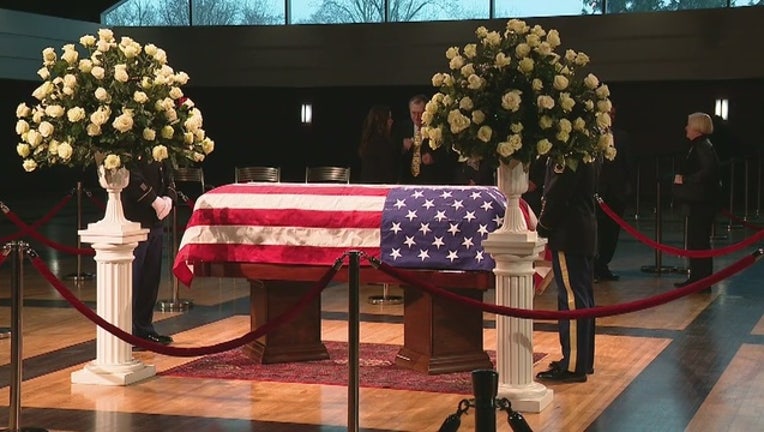 article
DEARBORN, Mich. (FOX 2) - A visitation will be held today in the hometown of former Rep. John Dingell, the longest-serving member of Congress in history. He died last week at the age of 92.
The visitation is from 11 a.m. - 8 p.m. at the Ford Community and Performing Arts Center in Dearborn, Mich. Dozens of his former constituents lined up to pay their respects, passing his flag-covered coffin and offering condolences to his wife and family.
Dingell's casket was in a ballroom at the center in Dearborn. Outside the room, mourners viewed oversized photos of his life and 59-year career in Congress. 
The visitation is the first of many public events this week. On Tuesday, a funeral mass will be held at 11 a.m. at Church of the Divine Child, also in Dearborn. Both the visitation and the funeral mass are open to the public. 
Following the Tuesday service, Dingell's casket will be flown to Washington and will be driven past the United States Capitol on the East Plaza.
On Thursday, February 14, a funeral mass will be held at Holy Trinity Catholic Church in Washington, D.C. This event is also open to the public. A reception at Georgetown University will follow the service with further details to come.
Vice President Joe Biden, Rep. John Lewis of Georgia and Rep. Fred Upton of Michigan are scheduled speak at the Tuesday service in Dearborn. Former President Bill Clinton, Rep. Steny Hoyer of Maryland and former House Speaker John Boehner of Ohio will speak at the Washington service Thursday.
Dingell represented parts of southeastern Michigan in Congress for nearly 60 years before retiring in 2014.
He served in Congress longer than anyone in United States history. He was a proud World War II veteran, public servant and Michigander. The Democrat was first sworn in as a member of the House in 1955, taking over the seat his father John Dingell, Sr. held for more than two decades. His wife, Debbie, currently holds his seat.
Along with his wife, Dingell is survived by two daughters, two sons, one of whom served 15 years in the Michigan Legislature, and several grandchildren.