Puppy Bowl XIX will feature 122 puppies from 67 shelters, referee says: 'They're all stars'
It's the three-hour matchup that everyone will be watching on Sunday: Puppy Bowl XIX. (Did you assume we were talking about Super Bowl LVII here?)
Puppy Bowl, the original and longest running call-to-adoption TV event, is returning for its 19th year Sunday, showcasing more puppies, more shelters and rescues, and more inspiring adoption stories. 
Puppy Bowl referee Dan Schachner will return for his 12th year of overseeing the stumbles and tumbles, calling all the puppy penalties and touchdowns while sportscasters Steve Levy and Taylor Rooks return to provide play-by-play commentary.
"Puppies will always give you a surprise," Schachner told FOX Television Stations. "Just when you think you figured out everything that puppies could possibly do on a field, the next year will come along and they'll do something crazy like take a bath in the water bowl for 10 minutes, and you're like, 'Wow, what's the penalty for that?'"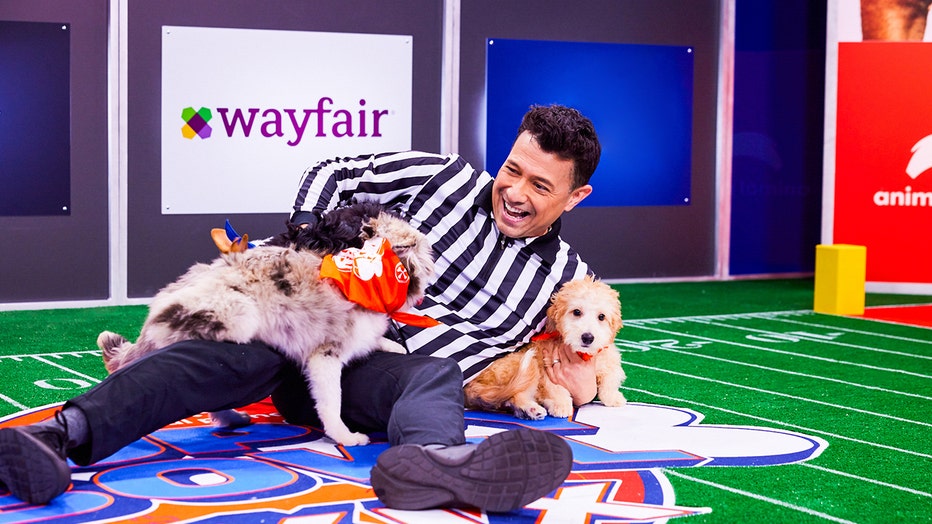 Dan Schachner plays with dogs during Puppy Bowl (Credit: Credit: Jeremy Freeman / Animal Planet)
The puppy players from Team Ruff and Team Fluff will take the field in the Puppy Bowl stadium to win the Wayfair "Lombarky" trophy.
"Puppies kicking field goals, puppies chewing on the pylon, puppies jumping over each other like they're hurdles to get to the end zone; It's really, really fun to watch and you got to stay on your toes," Schachner continued. 
In addition to the ear pulls, tail tugs, sloppy kisses, and puppy penalties, this competition will highlight the incredible work of rescue and shelter workers who dedicate their lives to helping animals find their forever homes. Puppy Bowl XIX will feature 122 puppies, 67 shelters and rescues across 34 states — and for the first-time will feature a Native American animal organization and a puppy player from Dominica, West Indies.
Dan Schachner will ref the game for 12th year straight. (Credit: Credit: Jeremy Freeman / Animal Planet)
Schachner shared his favorite part of reffing the family-friendly event: watching the new roster appear every, single year. 
"My point is to try to tell their backstories, advocate for them if I can. They all have different stories," Schachner added. 
During the game, audiences will also meet eleven special needs puppy players looking for their forever homes that will include Julius, a hearing-impaired Dalmatian, Marmalade, a sight and hearing-impaired Border Collie/ Australian Cattle Dog; Mykonos, an American Staffordshire Terrier/ Bulldog with a cleft palate, among others.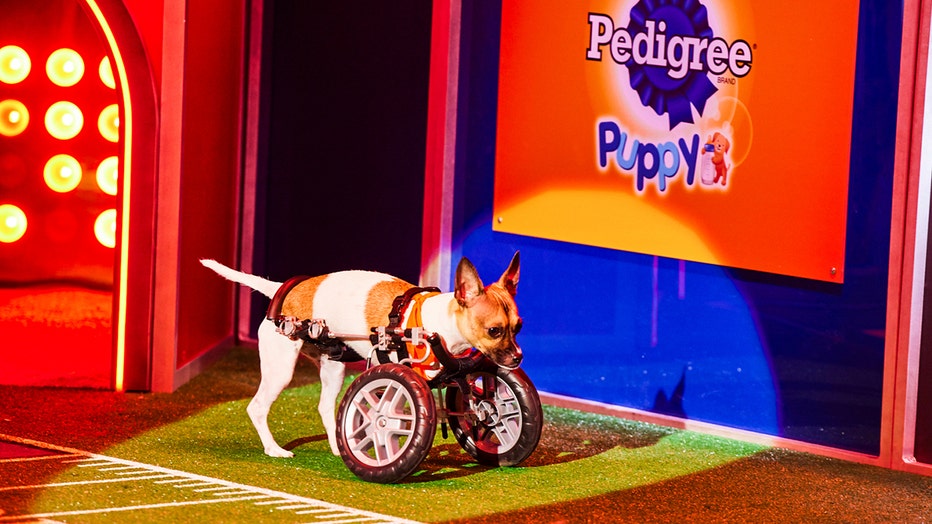 Joey, a special needs puppy, featured in Puppy Bowl XIX (Credit: Credit: Elias Weiss Friedman / Animal Planet)
Other fan-favorite elements return, including the Kittie Halftime Show, the Puppy Cheer Squad, the coveted water-bowl cam, the slo-mo cam, in addition to a new backstage look at the puppy players' red-carpet arrivals ahead of the game.

"Let's face, they're all stars in their own right," Schachner shared, adding, "There's always something new; there's always something to surprise you."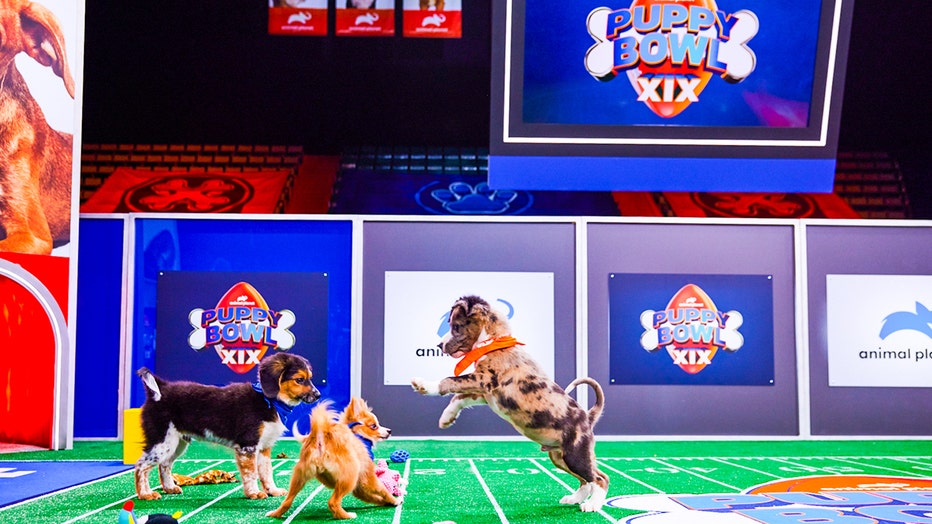 Wolfie, Pickles and Bleu play together during Puppy Bowl XIX (Credit: Credit: Jeremy Freeman / Animal Planet)
You can watch Puppy Bowl XIX on Sunday, February 12 at 2 p.m. ET on Animal Planet, with a pre-game show at 1 p.m. ET on game day. For the first time ever, the family-friendly game will also be simulcast across Discovery Channel, TBS, discovery+ and HBO Max.
RELATED: Super Bowl 57: All you need to know
Super Bowl kicks off at 6 p.m. ET on FOX.