Recipe: Shrimp and crab fondue dip with Cajun pita bread
DETROIT (FOX 2) - After a successful week on FOX's Next Level Chef, Pilar Gaines shares how to make shrimp and crab fondue dip with Cajun pita bread.
Ingredients:
For the fondue mixture
8 oz cream cheese
½ cup heavy cream
3 tbsp mayonnaise
1 tbsp olive oil
1 tsp garlic powder
2 tbsp grated Parmesan cheese
1 cup grated white cheddar cheese
¼ tsp parsley
2 tbsp minced garlic (½ Tbsp for Cajun butter)
1 cup diced large raw shrimp
½ cup of lump crab meat
1 tomato (diced)
For the Cajun pita bread
4 pieces of pita bread
Cajun butter
Minced garlic
Cajuns seasoning
½ stick butter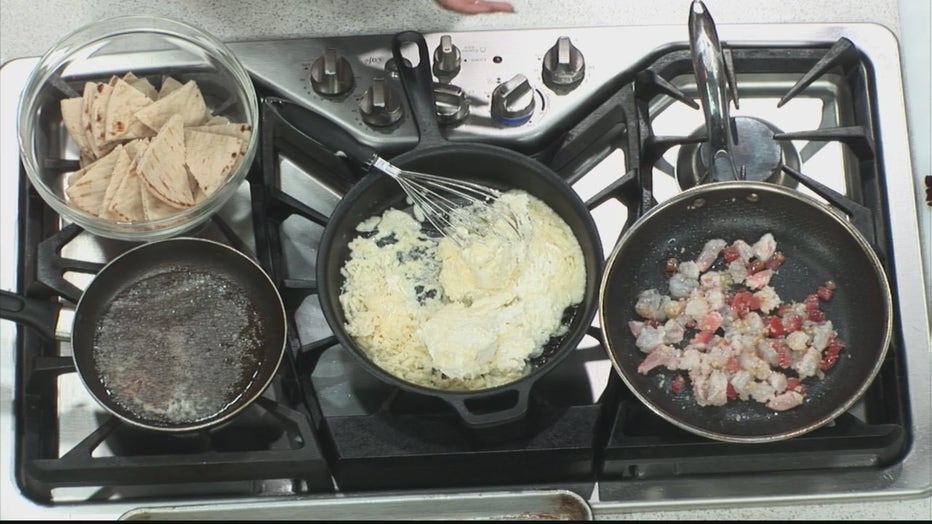 Directions:
Make the fondue mixture
In a non-stick skillet, combine cream cheese, heavy cream, mayo, 1 tsp olive oil, and 1 tsp garlic powder.
Melt over medium heat and whisk until smooth.
Add the remaining ingredients to the mixture, saving half of the diced tomatoes and parsley for garnish.
Transfer mixture into an oven-safe baking dish
Bake for 15 mins at 400F
Make the Cajun pita bread
Add the butter, Cajun seasoning and minced garlic in saucepan and mix until butter is melted
Cut Pita bread into triangles (approximately 4 pieces per pita)
Preheat: oven to 400F
Brush Cajun butter on pita bread
Place pita bread on a baking sheet and bake in oven until warm for approximately 10 minutes
Garnish the fondue dip with remaining tomatoes and parsley
Serve with warm toasted pita bread.