Reported cases of measles reach 34 in metro Detroit area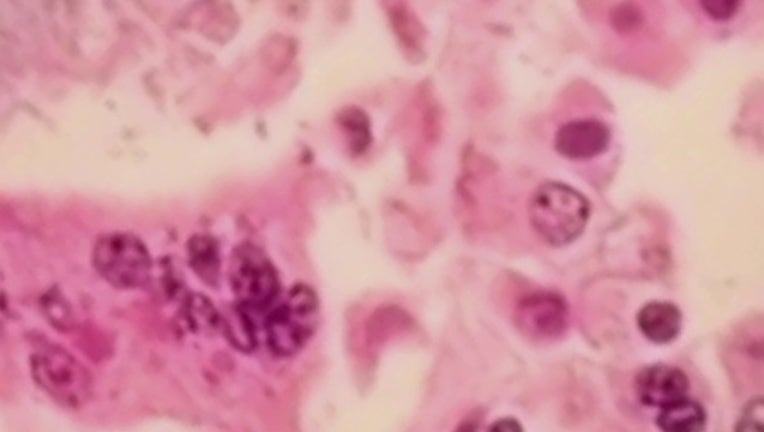 article
FOX 2 - There have been four additional cases of measles reported in the metro Detroit area bringing the total to 34.
All four came from Oakland County, bringing the number of confirmed cases to its highest number since 1991, according to the Michigan Department of Health and Human Services when 65 cases were  reported. There are 33 cases in Oakland County and one reported in Wayne County.
Infected individuals range in age from 8 months to 63 years old. Nationally, there have been 387 cases of measles confirmed in 15 states this year.
MDHHS is working closely with Oakland and Wayne county health departments to identify possible exposure locations. Known exposure sites in Oakland County are listed at Oakgov.com/health. Additional sites of potential exposures may be identified.
April 1
•    Yeshivas Darchei Torah School, 21550 West 12 Mile Road, Southfield, 9 a.m. - 2 p.m. 
March 29 
•    Congregation B'Nai Israel: 15400 W. 10 Mile Road, Oak Park, 5:30 - 8 p.m. 
•    Bais Haknesses Hagrah, 14561 W. Lincoln Blvd., Oak Park, 7 - 10 a.m. 
•    Beaumont Medical Building, 1st Floor: 3535 W. 13 Mile Road, Royal Oak, 2:30 - 5 p.m. 
•    Yeshivas Darchei Torah School, 21550 West 12 Mile Road, Southfield, 9 a.m. - 7 p.m. 
March 28 
•    Bais Haknesses Hagrah: 14561 W. Lincoln Blvd., Oak Park, 7 - 10 a.m. 
•    Yeshivas Darchei Torah School: 21550 West 12 Mile Road, Southfield, 9 a.m. - 7 p.m. 
•    Congregation B'Nai Israel: 15400 W. 10 Mile Road, Oak Park, 5:30 p.m. - 8 p.m. 
The measles vaccine is highly effective and very safe. A single dose of measles vaccine protects about 95 percent of children, but after two doses, almost 100 percent are immune. The first of two routine childhood measles vaccine doses is given at 12-15 months of age. A second vaccine dose is given before the start of kindergarten, between ages 4 and 6. MDHHS follows Centers for Disease Control and Prevention guidance and does not recommend routine measles vaccinations for children less than 12 months of age unless there is a suspected measles exposure; there is thought to be an imminent measles exposure such as being in areas of known measles; or international travel planned.
For international travel, infants as young as 6 months should be vaccinated against measles. Measles vaccine, or other acceptable documentation of immunity to measles, is recommended for all persons travelling internationally. 
You cannot get measles from the vaccine. It is effective when given within 72 hours of exposure to prevent illness. In addition, immune globulin (Ig) treatment is effective within six days of exposure for high-risk individuals. Talk to your healthcare provider to determine if immune globulin is right for you. 
High-risk individuals include those who are unvaccinated or unsure about vaccination status, pregnant women and those who are immune-compromised (have a weakened immune system due to illness and diseases like HIV, malnutrition and/or medications).
The Oakland County Health Division (OCHD) is offering vaccination at their offices in Southfield and Pontiac on Monday, 8:30 a.m.- 6 p.m. and Tuesday-Friday, 8:30 a.m.- 5 p.m.. For more information, call 800-848-5533. Please note these offices are not testing centers:
•    North Oakland Health Center, 1200 North Telegraph Road, Building 34 East, Pontiac
•    South Oakland Health Center, 27725 Greenfield Road, Southfield
OCHD is also offering vaccination clinics April 3 and April 4 at Young Israel of Oak Park, 15140 West 10 Mile Road, Oak Park, 2:30 - 4:30 p.m.
The Wayne County Health Department offers walk-in vaccination at 33030 Van Born Road, Wayne on Monday, Tuesday, Thursday and Friday, 8 - 11 a.m. and 12:30 - 4 p.m. and on Wednesday, 11 a.m. - 2 p.m. and 3:30 - 7 p.m. Call 734-727-7101 for more information.
Measles is a highly contagious, vaccine-preventable disease that is spread by direct person-to-person contact, and through the air.
The virus can live for up to two hours in the air where the infected person was present. Symptoms of measles usually begin 7-14 days after exposure, but can appear up to 21 days after exposure and may include:
•    High fever (may spike to over 104˚F).
•    Cough.
•    Runny nose.
•    Red, watery eyes (conjunctivitis).
•    Tiny white spots on the inner cheeks, gums, and roof of the mouth (Koplik Spots) 2-3 days after symptoms begin.
•    A rash that is red, raised, blotchy; usually starts on face, spreads to trunk, arms, and legs 3-5 days after symptoms begin. 
If symptoms develop, residents are urged to call their doctor or emergency room before arriving so they can take precautions to prevent exposure to other individuals.
For more information about measles, visit CDC.gov/measles. For more information about Michigan's current measles outbreak, visit Michigan.gov/MeaslesOutbreak.