Royal Oak teacher pranks students with absurd April Fools' spelling test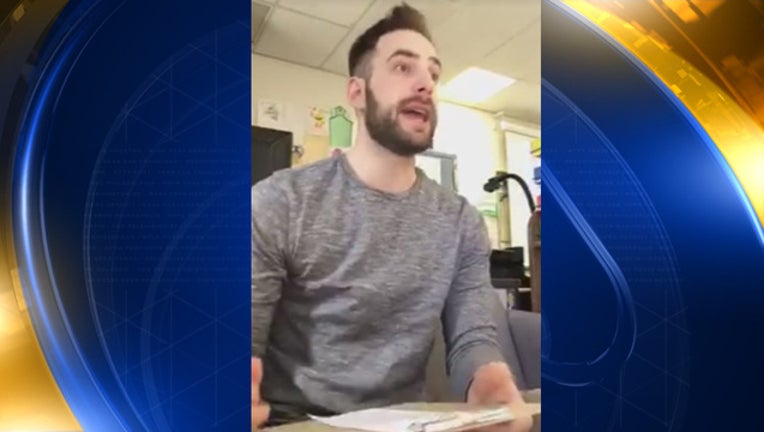 article
(WJBK) - A Michigan teacher's April Fool's Day prank is going viral. The Royal Oak elementary teacher pranked his students with an absurd spelling test that included words like "Blorskee," "Speekuszlmn," and "Rol-aska-tox."
Mr. Dombrowski recorded himself spelling the words out while the students graded their own tests (and he spells out every word with a straight face). Adding to the hilarity, you can hear the confusion and the occasional groans from the students in the background.
Finally, after getting through all 10 words, Mr. Dombrowski confesses to the class.
"Your next word, number 11, is -- April Fools' -- because this is an April Fools' joke!" he shouts. You can immediately hear the screams from the students.
"It's not even April!" one student shouts.
"Close enough," Mr. Dombrowski responds.
"Congratulations. Turn in your tests; this will be on your report card," he adds quickly before the video cuts off.
He posted the video on his Facebook page, where it's been viewed almost 2 million times.
Here's a list of all the words Mr. Dombrowski had on his test. Think you'd get any right?
Blorskee: I lost my blorskee at the carnival.
Tangeteen: I eat my spaghetti with a tangeteen.
Speekuzslmn: "Look! There's a speekuzslmn!" ("There's silent letters at the end of that one," Mr. Dombrowski points out.)
Wazamata: A student said they were sick, I said, 'Wazamata with you?'
Slipert: Be careful when you're sleeping, there might be a slipert in your house.
Chchch: The horse was angry so I said, 'Chchch.'
Rol-aska-tox: Rol-aska-tox was surprised when Jinx took the crown.
Speenuch: My favourite food is speenuch and artichoke dip.
Shabolaskp: Be careful you do not catch shabolaskp. (Yep, more silent letters.)
Gürrr: My friend told me a secret. I looked at her and said, 'Gürrr?'
According to a staff directory, Mr. Dombrowski teaches at Oakland Elementary in Royal Oak.
Click here to watch if you can't see Mr. Dombrowski's video above