I-696 reopened after semi truck fire at Mound Road
FOX 2 (WJBK) - Several hours after a semi-truck fire shut down the westbound lanes of I-696 at Mound, the Michigan Department of Transportation said the accident has been cleared and the freeway is open again.
The fire was first reported on fire at 4:49 a.m. on Wednesday, according to traffic monitoring system Total Traffic. As crews work to put out the flames, westbound I-696 was closed between Mound and 11 Mile Roads.
Firefighters managed to put out the fire around 6:10 a.m., but the freeway remained shut down until around 1:20 p.m.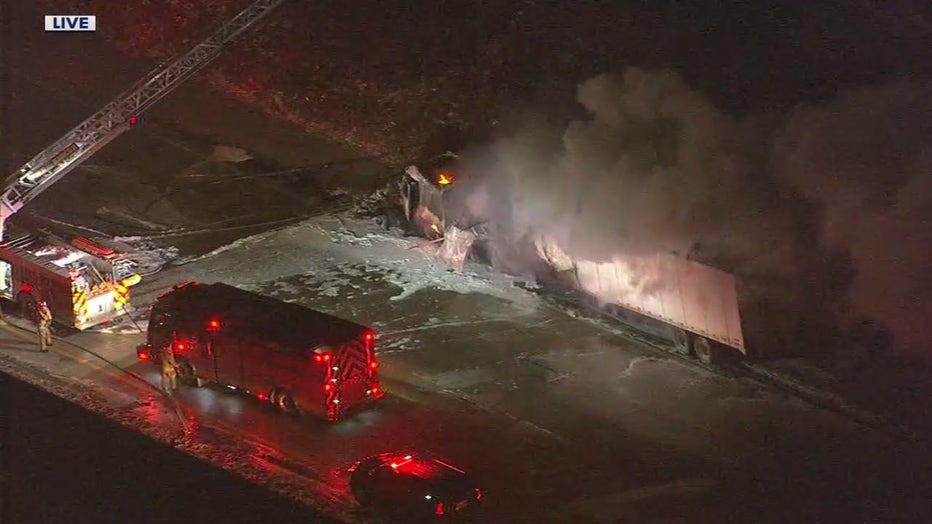 The vehicle fire, which happened in Warren, grew due to the truck's cargo - which included wood pallets. 
The closure caused stopped traffic from Van Dyke and drivers had to use 11 Mile to get around it and were advised to avoid the area.
While traffic has not been affected in the eastbound lanes, drivers are reminded to be aware of being distracted by the scene. Many accidents are caused by losing focus on the road across from other accidents.
There were no injuries and no other vehicles in the crash, state police confirmed.