Sen. Stabenow: Give me 'five minutes' with Larry Nassar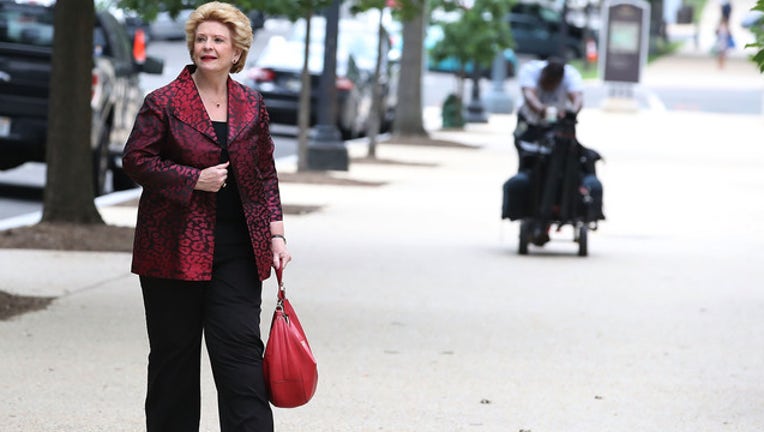 article
CHARLOTTE, Mich. (AP) - U.S. Sen. Debbie Stabenow says she was disappointed that an enraged father was prevented from punching Larry Nassar in a Michigan courtroom last week, saying she "would have liked five minutes" with the disgraced sports doctor accused of sexually abusing more than 260 women and girls.
"All of us understand how destructive and how outrageous this perversion and (Nassar's) actions have been," Stabenow, a Michigan Democrat, said Wednesday during a news conference in Washington.
Randy Margraves, whose three daughters say they were assaulted, lunged at Nassar in an Eaton County, Michigan, courtroom last Friday but was prevented from reaching him by sheriff's deputies. Margraves had asked the judge for five minutes alone with Nassar in a locked room - a request the judge denied.
Dad of sex assault victims who went after Nassar: I am no hero
"As a mom and as a grandmother who now has a young granddaughter in sports, I thought, you know, I would have liked five minutes with this guy," Stabenow said of Nassar. "I only wish that the security had been a little slower in constraining (Margraves) 'til he could have gotten a couple of punches out."
Margraves later apologized and said he had lost control.
On Thursday, Margraves said he's grateful for $31,000 in online donations, but that he doesn't want the money. Margraves, who had no role in the GoFundMe effort, thanked fellow members of the International Brotherhood of Electrical Workers. He said refunds are available, and any money remaining after March 9 will be donated to Lansing-area groups that help victims of physical abuse.
Dad who lunged at Nassar offers GoFundMe refunds or will donate to charity
Nassar, 54, was a Michigan State University doctor who molested gymnasts and other women and girls. He has been sentenced to decades in prison for sexual assault and child pornography crimes.