Shooting suspect who had bond reduced, accused of domestic violence 1 day earlier
DETROIT (FOX 2) - Patrice Young and her family want Torrion Hudson back behind bars.
"Then for us to see and hear that he was released, it just opened up the hurt all over again," she said.
Hudson is the man accused of choking, shooting and robbing Kyla Moore before leading police on a chase Dec. 21st. but he was identified as a suspect in a domestic violence spat the day prior.
The victim is Young's 18-year-old niece.
"He eventually struck her with an open hand," said Cmdr. Kurt Worboys, DPD. "(It) escalated to closed fists, strikes above the head, grazed her with a pistol across the head, and then fired several shots at her."  
The woman's aunt says she was grazed by a round. Worboys says the woman declined medical treatment and declined to cooperate with investigators and make a statement against Hudson.
Her family says DPD should've submitted a warrant to the Wayne County Prosecutor's Office anyway.
FOX 2: "How is she doing?"
"She's okay she's scared," said Young. "She's shook up. That was traumatic."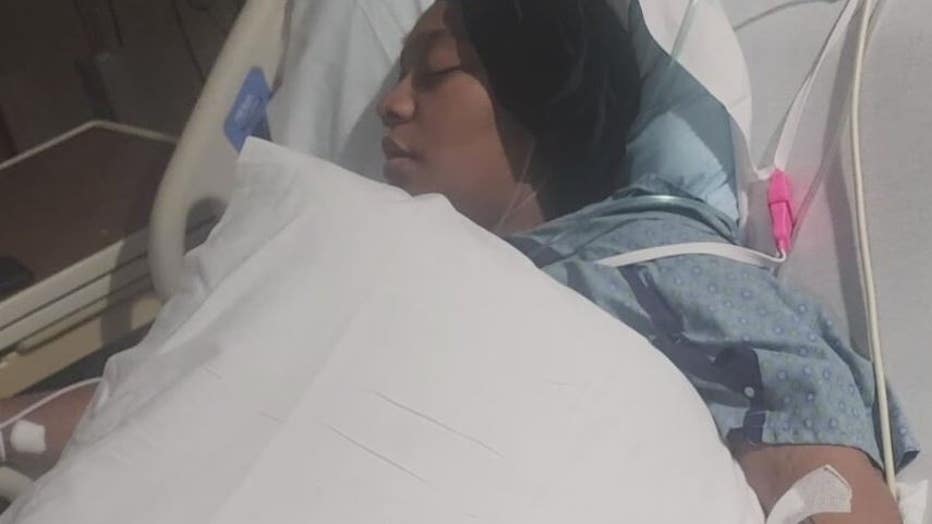 But would the woman's cooperation have prevented the violence at a Livernois gas station the next day?
"I do still believe it still would have occurred because we would've had to get him in the custody," said Worboys. "I mean he was out about doing his thing. Even if she had cooperated, and it would've taken a day or so to get the warrant submitted. He already had a warrant out for his arrest for fleeing and eluding."
Torrion Hudson was arrested and charged for shooting Kyla Moore during that gas station robbery.
He was released from jail and placed on GPS tether and house arrest Jan. 11th after posting a $250,000 bond.
A bond that was lowered from an initial $1 million. Worboys says the domestic violence victim's cooperation is critical now to close the case and get Hudson back behind bars
"I think having an extra charge on him or several charges because of what he did to this young woman would give a judge cause to revoke his bond and put him in custody," he said. "Again that's up to the courts, but I think that's something that would help make that decision."
"He needs to be locked away for good," said Young. "There should be no reason at all that he's out. 
"Because, from what I understand he might be on house arrest or on tether. That has never stopped anybody who wanted to do something. If you want to do it, and you put your mind to it, you're going to do it."