Small, single-engine plane crashes in backyard of Detroit home on east side
DETROIT (FOX 2) - A small plane crash-landed on Detroit's east side with two people aboard Wednesday night, three miles from City Airport, police said.
The crash happened in a backyard in the 12100 block of Duchess with a small plane. The plane clipped a tree and narrowly missed power lines before landing and got wedged between a garage and a fence.
Detroit Police Chief James White said it was amazing the pilot and passenger weren't injured.
"You've got power lines, you've got trees, you've got the garage," White said. "He came in right over a tree, hit the tree, and the branches fell on top of the garage. He clips the garage as he goes down. The plane is actually wedged between the gate and the garage. It is absolutely amazing I have never seen anything like it."
The FAA and the NTSB are both going to get involved and the plane has to be removed from the yard. It will require a crane to hoist it up and on to a tow truck to get it out.
Detroit police said there were no injuries. There is no information yet as to what the circumstances of the crash were.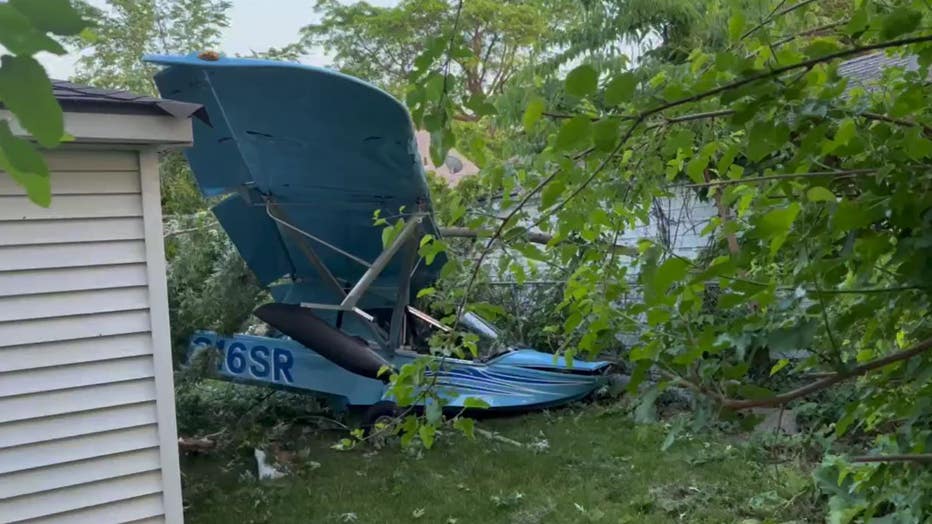 Photo still taken from video courtesy Metro Detroit News
"I don't like to use the word luck, but nobody got injured, nobody got hurt," said Detroit Fire Chief James Harris. "No chemical spill, it was just one of those fortunate situations.
"We don't know what caused the crash, but we are just thankful that nobody got hurt, especially no civilians that time of the day. It is near a park, it is near a school, it could have been a lot worse."
According to the plane number, it was a fixed-wing single-engine two-seat plane privately owned out of Grosse Pointe Shores. According to flight information, it departed from Troy, but the destination is unknown.
Stay with FOX 2 for more information as it becomes available.