St. Olaf student charged for terroristic threats after custodians tip off police
NORTHFIELD, Minn. (FOX 9) - A discovery by St. Olaf College custodians has lead to a student being arrested and charged Monday with conspiracy and terroristic threats.
Waylon Kurts, 20, is charged with three counts of conspiracy and a count of terroristic threats related to the case. According to the criminal complaint filed on Monday, Kurts was busted after custodial workers found boxes for high-capacity magazines in a garbage can outside a dorm at St. Olaf College on Wednesday, April 5.
The boxes led police to Kurts' dorm room where they say they found a cache of items including a tactical vest, empty ammunition boxes, gun magazines, knives, propane canisters, lighter fluid, a list of St. Olaf Public Safety radio frequencies, and a notebook with "extensive writings."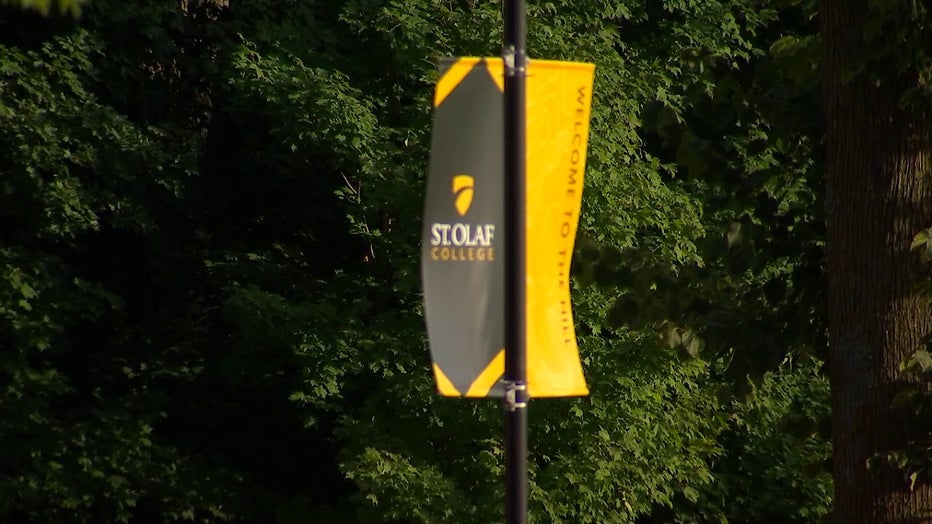 Reviewing the notebooks, police say there was a hand-drawn map of a campus building with a path of travel, a plan to steal ammunition from Walmart, a list of radios he could purchase, and instructions for Kurts to create a "shoot house" to train. Police write "shoot houses" are indoor firing ranges that are "typically used to train military and law enforcement personnel in close-quarters combat."
During interviews, the charges state that Kurts told investigators he was a "gun enthusiast" and believed everything he had in his dorm was within college policy. Kurts added that he kept high-capacity magazines and ammo off campus at a Burnsville business. 
However, when speaking with police, business employees said they didn't have storage lockers but did recognize photos of Kurts, who had used their firing range before.
Kurts was immediately suspended and removed from the campus at that point. He wasn't arrested by Northfield police until the following day after police got a search warrant and seized his vehicle. 
On his phone, police say they found conversations with a "co-conspirator" that discussed ways to prepare for the shooting without being noticed by authorities and buying guns.
In Kurts' vehicle, there was a small notebook with "extensive notes on combat and guns" along with a page titled "things to be good at" discussing shooting people.
Speaking with FOX 9, his defense attorney, Paul Rogosheske, told FOX 9 there are "holes" in the investigators' case and he believes the investigation will show Kurts is not a harm or a threat to anyone. Rogosheske said Kurts was in his second year at St. Olaf after a "stellar" first year, and he believes Kurts will be exonerated.
Northfield Police Chief Mark Elliott confirmed to FOX 9 the suspect was planning something but stopped short of saying it was an event planned for the campus. He said the investigation is ongoing.
A spokesperson for St. Olaf said they are cooperating with police on the case. An alert was sent out to students last week on the incident.
He is being held in Rice County Jail.