State Democrats work to expand hate crime law to include sexual orientation, gender identity
FOX 2 (WJBK) - After a rise in hate crimes in Michigan --several lawmakers are introducing legislation to expand some current laws.
"We had an isolated incident a few years ago, where a gentleman disguised as a woman, covering his face, walked into the mosque," said Rexhinaldo Nazarko. "Fortunately he was stopped, he was halted in his tracks before anything could happen. Fortunately, no violence occurred."
Nazarko is with EMGAGE a Muslim-American voter mobilization and issue advocacy organization that supports the effort by Democrats in the State House to expand hate crime laws.
FOX 2: "What have you seen, are hate crimes on the rise?"
"I can speak to the hate crimes faced by the Muslim community in Michigan," he said. "Especially after the advent of Christchurch (New Zealand) we saw a rise of incidents across our places of worship, and a lot of our mosques developed a sense of paranoia, especially during our holy month of Ramadan."
"Hopefully this legislation can provide some peace of mind for people who need it."
Related: Man charged with synagogue threats held on $1M bond - flips off judge, makes anti-Semitic remarks
The language in the Michigan Hate Crime Act as it's written, would expand which categories would be protected under Michigan's Ethnic Intimidation Statute – that would now include things like sexual orientation, gender identity and expression, physical or mental disability, ethnicity, and age.
A second bill deals with the vandalism of communal property - including houses of worship, cultural or community centers, and businesses - and under this bill… these actions could more easily be designated as hate crimes.
"We can demonstrate that Michigan's justice system will treat hate crimes with the seriousness and severity that they are due," said State Rep. Noah Arbit (D-West Bloomfield).
"The story is very personal to me," said State Rep. Ranjeev Puri, (D-Canton). "In fact the reason I decided to run for office is rooted in a hate crime tragedy."
Also see: Oakland County Hate Crime Unit handling case where Dearborn man allegedly made threats at Jewish temple
Republican State Sen. Jim Runestead weighed in on the issue, questioning the opposing controlling party's intentions.
"They are going to be having hearings on this kind of garbage that will basically make anything that the Democrats don't want to hear a felony with a $10,000 fine," he said. "This is par for the course of what I am seeing from the Democrats across the nation. They do not want you to be able to speak online, they want everything shut down, censored. They don't want you to be able to speak to the media, they want every single thing locked down so that they can control every message, every communication in the nation."
The bill should be heard in committee in Criminal Justice Committee in June.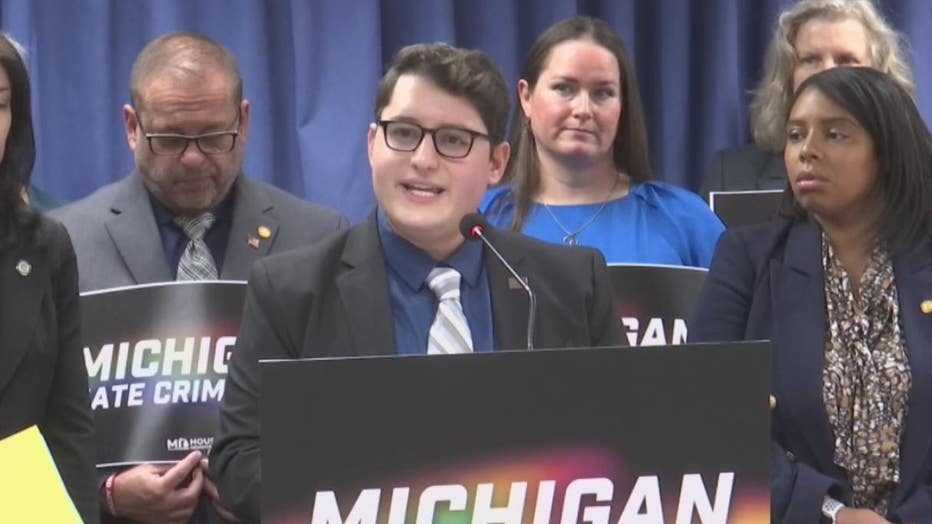 State Rep. Noah Arbit (D-West Bloomfield).